Your car's paint job is one of the easiest things that can be damaged. A stray tree branch or a bird passing by can lead to hours of cleaning or hundreds of dollars spent at the detailer – so what can you do to protect your ride? Applying a ceramic coating is a reliable option that many of us don't consider because of the costs associated with getting it done at the dealer or because we're worried we'll mess it up. Keep reading, and we'll share what ceramic coating is, how you can apply it at home, and our three favorite products on the market.
What Is a Ceramic Coating?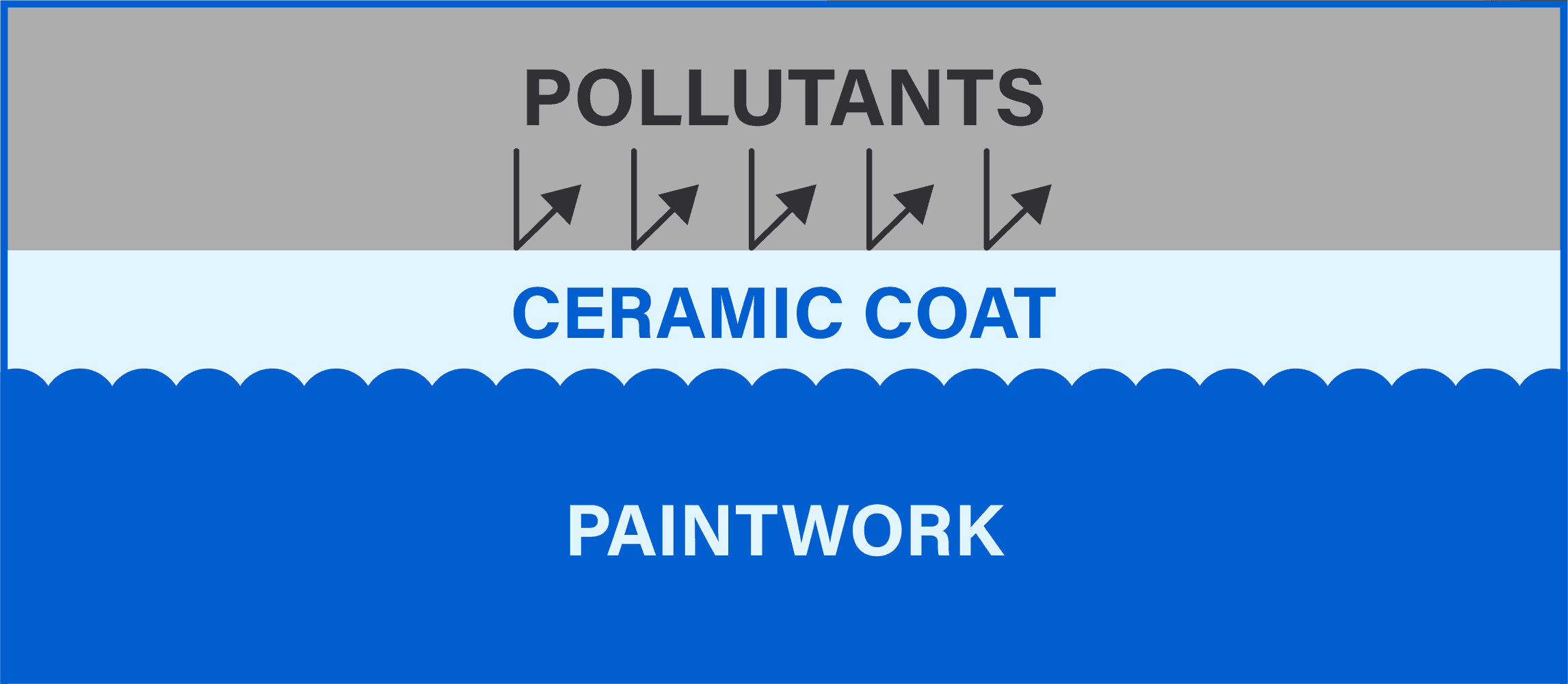 Before we explain how to ceramic coat a car, you should first know what a ceramic coating is and what sets it apart from other detailing methods. The Drive describes it as "a long-term nanoscopic exterior automotive paint treatment and protectant that is applied in a liquid form and cures to form a hard layer on top of the paint."
This small protective shell surrounds the vehicle and prevents or reduces damage to the paint job. What sets ceramic apart from wax coating is that once it has bonded, it can't simply be wiped away like wax, so you won't need to reapply it several times a year.
How To Ceramic Coat Your Car: A Step-by-Step Guide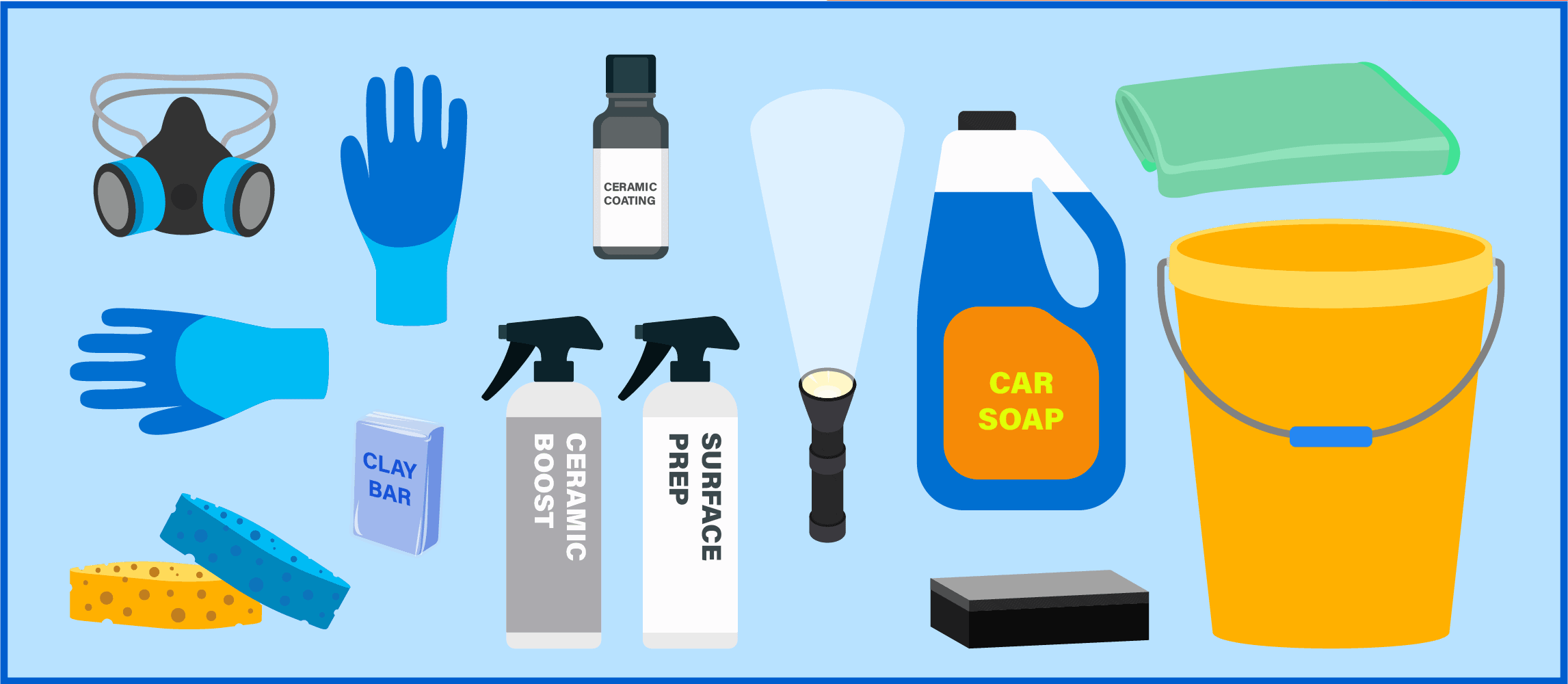 The first step to successfully ceramic-coating a car is gathering all required materials. Here are all the essentials:
Gloves
Sponges
Wash bucket
Car soap
Polisher
Flashlight
Ceramic coating kit
Mask or ventilator
1. Prepping your vehicle for ceramic coating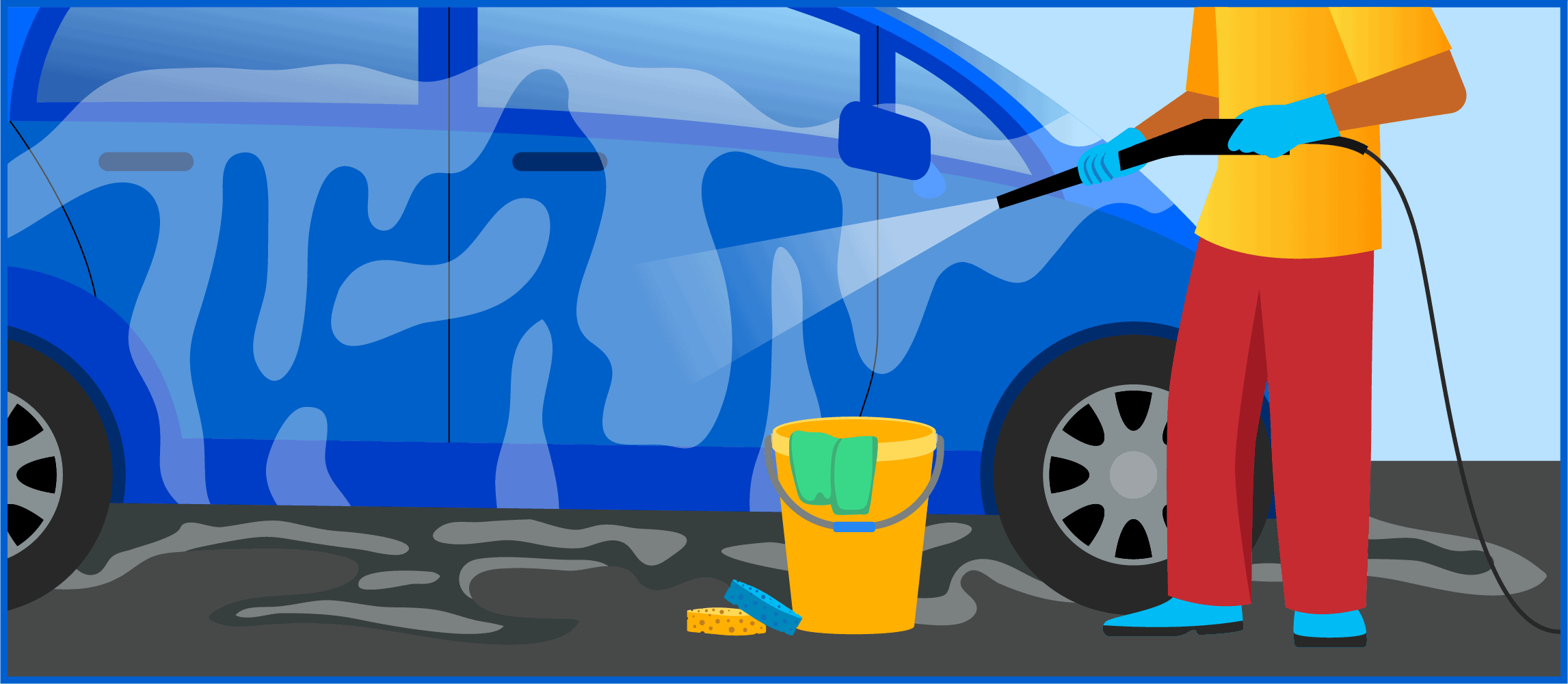 Now that you've gathered everything, the most important step is getting your car clean and ready for a ceramic coat. If you don't properly detail and clean your car, you'll end up with ceramic compound mixed in with whatever dirt and grime is already stuck to the vehicle. If you've never detailed a car before, we recommend that you follow a more comprehensive guide for more detailed advice. But here are the basic steps for ceramic coat prep:
Wash your vehicle with automobile soap.
Dry with a microfiber cloth to give it a streak-free finish.
Use a clay bar on every surface to remove any remaining dirt and provide a clean surface for the ceramic coat. Feel around for any bumpy spots, those are leftover stuck-on pieces and should be gone over again with the clay bar or mitt.
Touch up any spots that need paint (you won't be able to after the coating has been applied)
A thorough cut and polish may be necessary for the best results for older vehicles. Newer vehicles can get away with spot polishing on problem areas.
Park your car in a covered, shaded, and well-ventilated area and allow it to cool between 50 and 70 degrees Fahrenheit if it has been out in the sun.
2. Applying the ceramic coat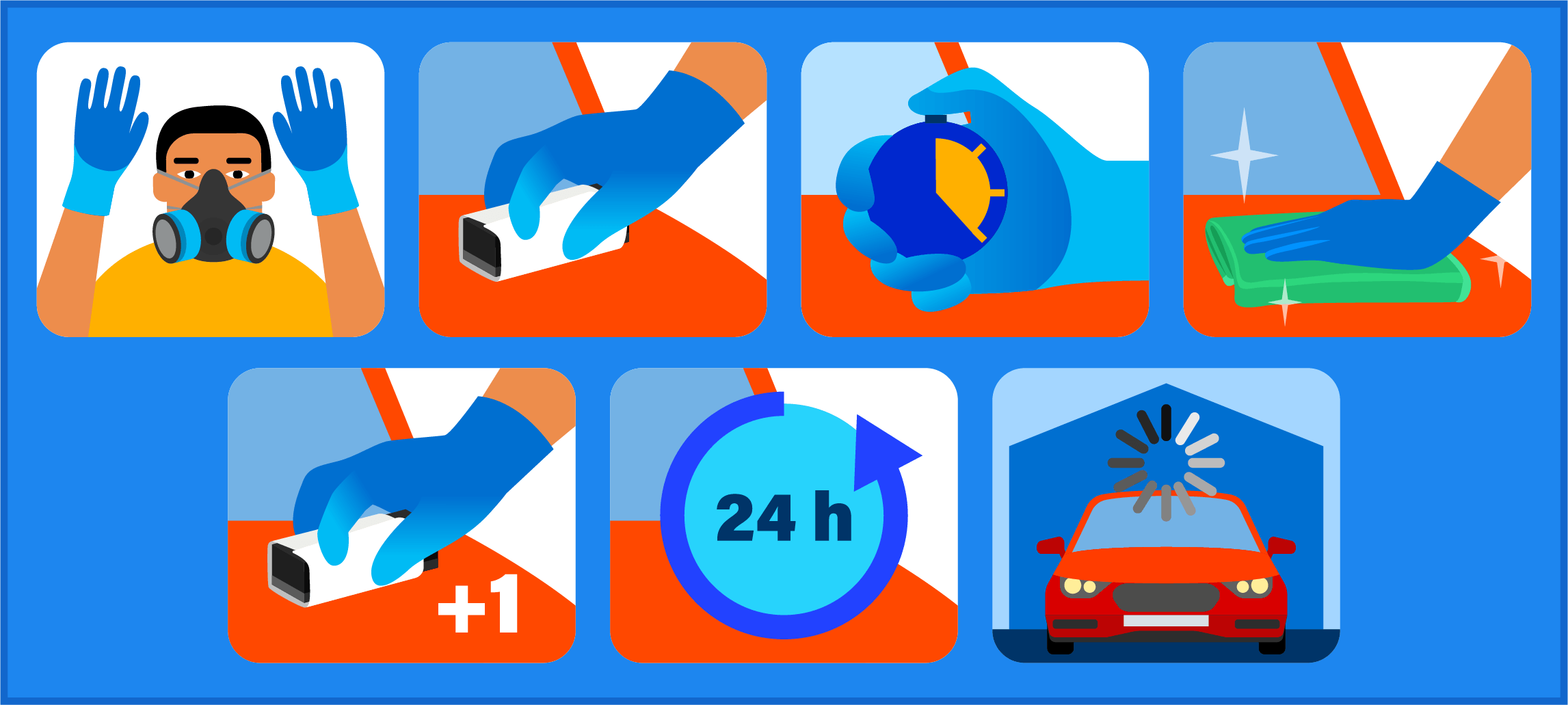 Congratulations! You've just finished the job's most time-consuming and tedious part, so now you can apply the ceramic coat. However, don't get too excited – this is one of those DIY jobs that should be done with extra care and attention to avoid any damage to the vehicle or yourself. Not following the manufacturer's directions on your ceramic coat kit can damage your vehicle and create much more work for you in the long run.
1. Put on your protective gear: Get started by wearing the right clothes. Long-sleeved shirts and long pants are crucial to protect your skin from irritation. Then, put on your gloves and mask, double-checking to make sure you are working in a space with proper ventilation (after all, you're ceramic coating your car, not your lungs!).
2. Grab your applicator and get to work: You've got a sparkling clean car, safety gear, and a ceramic coat kit, so all that's left is to follow the manufacturer's instructions and wipe on your applicator. Ethos Car Care recommends that you "wipe it onto a smaller area, say 3' x 3', in straight lines that slightly overlap. You'll feel it applying properly if the applicator glides smoothly. If it's dragging, use a few more drops."
3. Let it sit: Once you've completed applying it to the small work area, leave the product to sit as long as you're directed. Keep an eye on it! Leaving the applicator on too long will lead to it drying and hardening before you can finish.
4. Wipe down the coating: Now that the applicator has sat on the vehicle for an appropriate amount of time, use your microfiber cloth to wipe off any excess residue. Take your time and use a flashlight to check over your work – after all, they don't call it "detailing" a car for nothing, right?
5. Repeat the process: Continue to work in small sections until you've covered the entire exterior of your car with the ceramic coat. After finishing, you'll likely be exhausted and ready to throw in the towel for the day, but if you really want to protect your paint, another coat is recommended.
6. Let the coating cure: While it may look completely dry, it can take up to 24 hours for the ceramic coating to completely bond to the car. With that in mind, plan to apply a ceramic coat to your car when you know you can leave it sitting for about a day afterward.
7. Protect your coat: With all that work behind you, the last thing you want is to let it all go to waste. For at least two weeks after, Window Kote Tinting suggests that you "avoid leaving your car parked outdoors or in the sun for long periods of time, and don't wash your car until the curing process is finished." When these extra steps are followed, and the whole process is completed correctly, learning how to ceramic coat a car is a time investment that can protect your vehicle's exterior for as long as two years.
How Much Does It Cost to Ceramic Coat a Car?
You've now seen how much work goes into ceramic coating a car, so you're still on the fence about whether or not to do it yourself; the cost might decide for you. According to Ethos Car Care, having a ceramic coat applied to your vehicle in a professional detailing shop can cost anywhere from $1,500 to $5,000, depending on your location and vehicle size and condition. Leaving the task to a professional shop can provide peace of mind for someone who doesn't have the time to DIY it or is worried about damaging their vehicle.
The biggest benefit of learning how to ceramic coat a car is that you can save thousands of dollars. When you buy your own supplies to do so, you're likely to spend under $100. If you've got the time and willingness to apply a little elbow grease, why not follow our instructions and give it a try?
How Long Until You Can Wash Your Car After Ceramic Coating?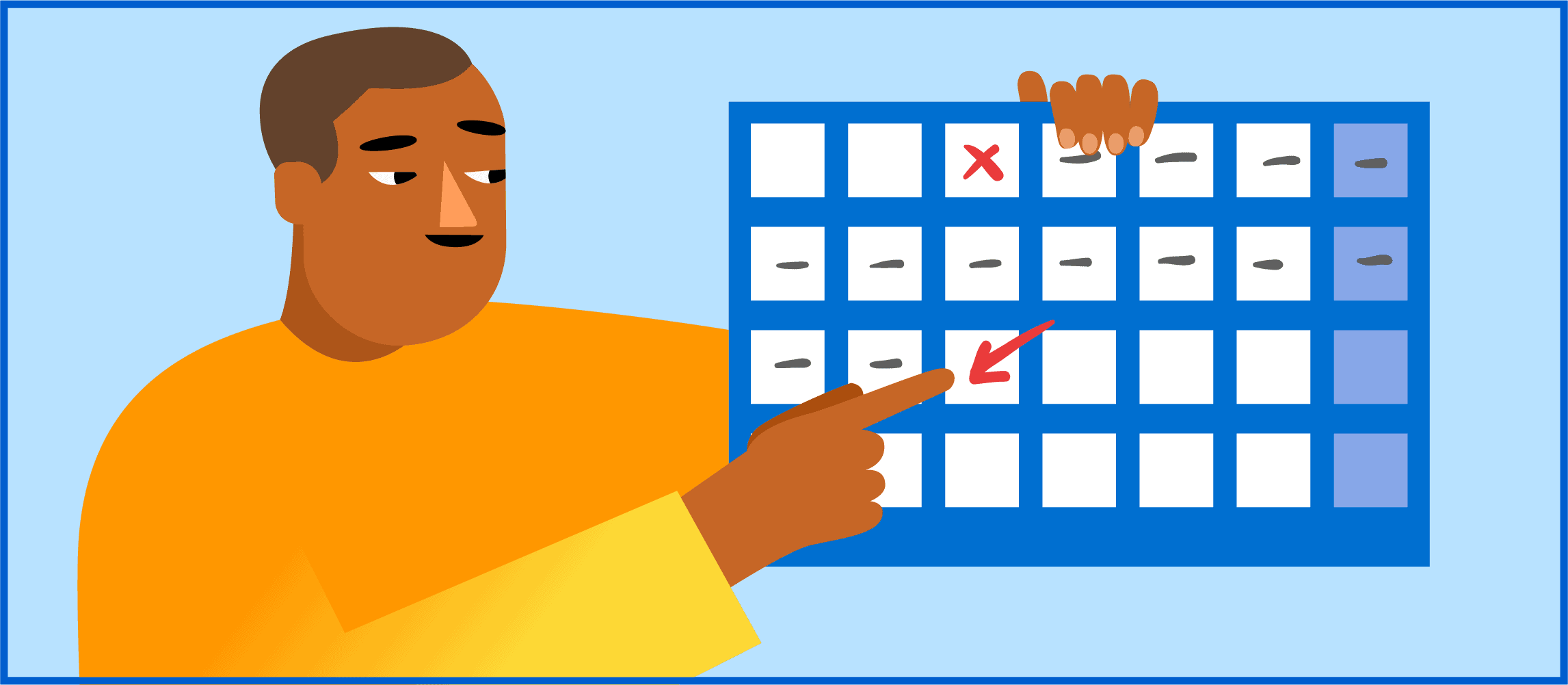 You may be wondering how long you'll have to wait before you can wash that beautiful new ceramic coat on your car. The Drive tells us that the general consensus is to wait at least a full week before you consider driving your car in the rain or taking it into the car wash. Protect your vehicle further by keeping it out of the sun when you park, ideally in a covered garage.
When choosing whether or not to ceramic coat your car, keep in mind this period where you'll have to be extra careful – after all, it's a lot of work to end up going to waste. If you're a daily driver who is commuting to and from work every day, your boss probably won't like hearing that you can't come to work because you don't want to ruin your fresh ceramic coat in the rain! Plan to get it done when you have access to another vehicle, or while you'll be working from home or on vacation.
Ceramic Coating Products We Recommend
Ready to buy a ceramic coat kit and get your car so shiny you can see your reflection in it? These are our recommendations for the best products on the market, based on our in-depth research:
If you're on a budget and want to apply your ceramic coat skills yearly, Weiruxin has a dependable all-in-one kit that lasts about a year. The most incredible part is that you'll be paying half the price of the usual mid-range kits – this one goes for under $25! Don't think you'll be missing half the components you need to get the job done either, as the kit comes with towels, gloves, and even microfiber cloths for you to wear while you work.
Try this affordable and reliable product first for someone starting off on their detailing journey and doesn't want to dive in head first.
You may just end up finding out that you've got a knack for it, like one Amazon user who left a five-star review: "This ceramic coating was easy to apply and to my amateur eye delivered amazing results. Very hydrophobic and provides a nice gloss finish. It also revitalizes old faded plastic as well. I coated the entire exterior and interior of my car on one bottle. This is definitely taking the place of wax in my household."
Adam's UV Graphene Ceramic Coating Kit
Adam's UV Graphene Ceramic Coating is a clear, nanocrystalline coating that protects your vehicle from weather, chemicals, and UV rays while repelling water, dirt and other contaminants. Providing 10H hardness, 7+ years of protection even in the harshest conditions.
Buy from Amazon
We earn a commission if you make a purchase, at no additional cost to you.
03/21/2023 10:35 am GMT
If you already have experience detailing a car and want to graduate from wax, treat yourself to a more premium product like Adam's UV graphene ceramic coating kit. What sets this product apart is Adam's Polishes patent pending "Ceramic Glow Technology" – when you apply the coating and look at it under the included UV light, you'll be able to see where you've already applied it! You'll be happy you double-checked your work. They promise your car will be protected for seven years or more in just one application of their product. For a little over $100, you're getting an overall easier application process and some added benefits for those who are a little more detail-oriented.
Proje Premium Car Care Deluxe Ceramic Kit 5-Piece
Proje Ceramic Coating is a protective layer over your car's clear coat. The formula creates a coat of armor that is resistant to outside harmful elements and intensifies the gloss of car's surface.
Buy from Amazon
We earn a commission if you make a purchase, at no additional cost to you.
03/21/2023 10:15 am GMT
Has your car already gone through years and years of waxing and detailing? It may be better suited to PROJE's premium car care kit, which comes with a prep spray that they say "removes old polish, wax, and grime while revealing imperfections and scratches that become clogged contaminants over time." Refresh your vehicle and give its coat a new lease on life, or set up your new car for 12 months of top-of-the-line protection with this kit.
Many reviewers rave about how easy it is to use and how effective it is at removing old layers of wax and other contaminants that have been left behind from years of road time. Here's one from a seasoned ceramic coat user: "I've used dozens of ceramic coatings. I literally only squirted 6 drops on the foam applicator per panel. On the hood, I did it in three separate places and did 1 at a time. I will put this in the top two as far as easy to use and results. Don't hesitate to buy this. You will not be disappointed. Just follow the directions."