Cleaning your tires is an essential part of vehicle maintenance. Because they're constantly in contact with the road, they build up an enormous amount of run-of-the-mill dirt and debris, as well as shavings given off by the rotors, dust from the brake pads, and road salt in the winter.
Keep reading and we'll explain why this is a problem, how to address it by regularly cleaning your tires and wheels, and what products to use to clean your tires as effectively as possible.
Why Clean Your Tires?

Dirt and debris that build up on your tires can contribute to damage over time, creating pits in your wheels and significantly shortening your tires' lifespan. The most damaging forms of debris that your tires are exposed to regularly are road salt and brake pad dust, but even regular old dirt can contribute to wear and tear.
How Often to Clean Your Tires
It's recommended that you clean your tires and wheels a minimum of twice a month to ensure they don't experience excessive premature wear due to the build-up of dirt and debris. This will also ensure that they operate at optimal performance and, if your car's appearance is a concern for you, that they look as good as they possibly can.
In addition, if you're cleaning your entire car, it's a good idea to start with the tires as they're most often the dirtiest part of the car and are the closest to the ground (ideally, you would be working your way up from the bottom to top). Otherwise, you might end up with dirt and grime splattering onto your clean car, which would be
Tools and Materials Required to Clean Your Tires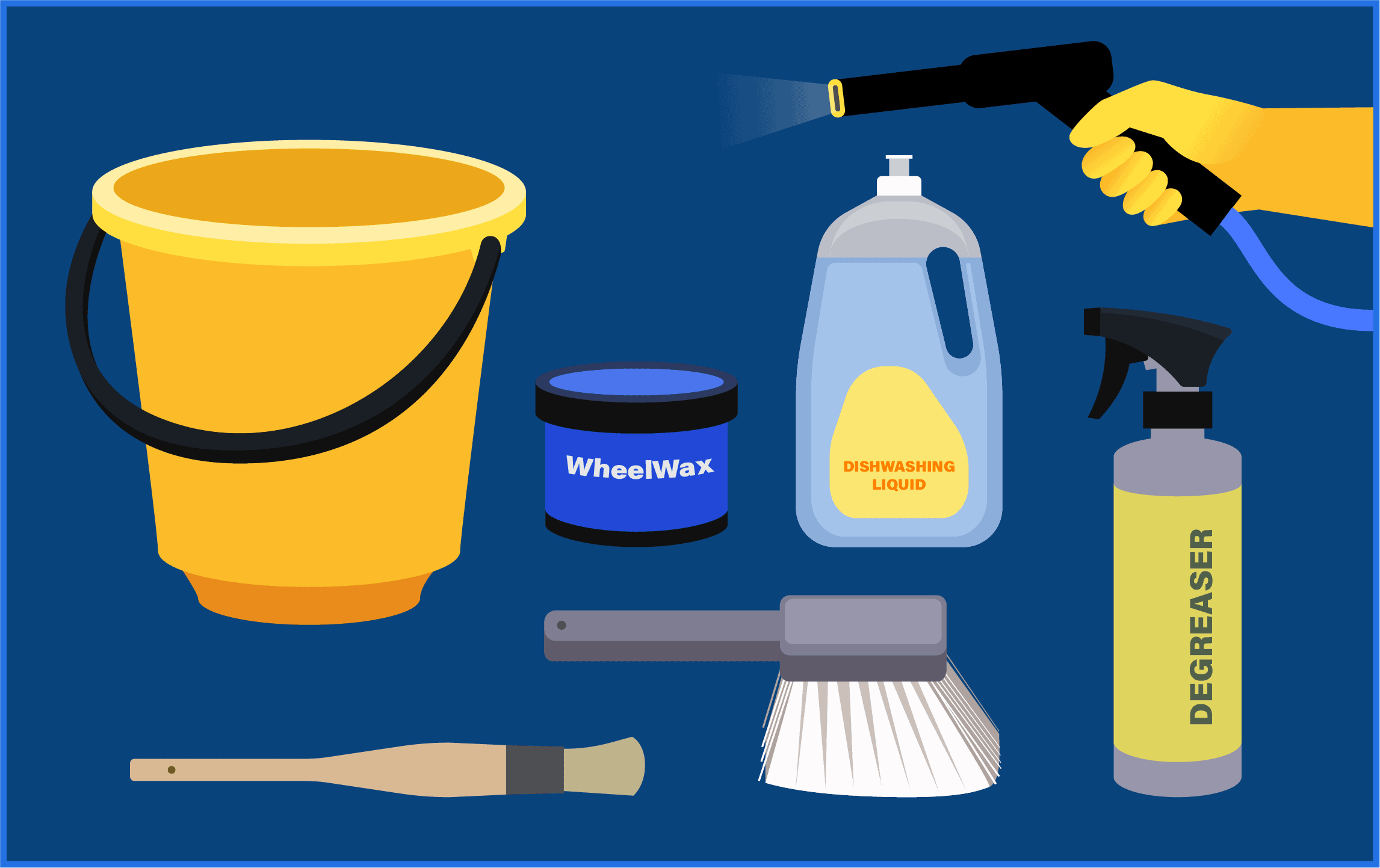 Here's a list of all the supplies you'll need to do an effective, thorough job of cleaning your tires:
Hose with a spray nozzle
Bucket
Clean microfiber towels (these should only be used for cleaning tires–if you use them on other parts of your car afterwards, built-up grit and grime can damage your car's paintwork)
A brush with soft or medium-hard bristles
Dish soap or degreaser
Warm water
And here are some additional, optional tools and materials that we nonetheless recommend because they'll make the whole tire-cleaning process a lot easier:
Smaller brushes to reach crevices on the wheels
Wheel cleaner
Wheel wax
Lug-nut brush
Pressure washer
Foam pads or waxing mitts
Wheel brush
How to Clean Your Tires: Step-by-Step Guide

Here's our foolproof, step-by-step explanation of how to clean your tires and wheels so they look as good as the day you bought them:
1. Choose the right location for cleaning your tires
Although it's easiest to clean your car right in the driveway, keep in mind that "car washes are legally required to collect gray water from their washing bays, recycling the water and disposing of the cleaning agents in the proper way," according to Family Handyman. If you're using any heavy-duty chemicals for cleaning, you'll want to follow these guidelines to prevent runoff from damaging the environment.
2. Prepare to start cleaning
Gather up all your cleaning supplies and materials in advance (see the above section for advice on what you might need), so you don't get to any of the steps on this list and end up having to scramble for the required tool(s). Also, before you begin cleaning, you should let your tires and wheels cool completely–don't start this process fresh off the road.
3. Rinse off your tires
Using a hose with a spray nozzle or, better yet, a pressure washer, start by rinsing the tires off from as many angles as you can, especially focusing on the inside of the rims where lots of dirt can build up. The more grime you're able to remove during this step, the less work you'll have to do on each of the next steps, so it's worth being as thorough as possible here. (An additional note: it's a good idea to keep your tires wet throughout the process of cleaning them to minimize friction and reduce the likelihood of damaging the tires through abrasion.)
4. Wash each of your tires
Going through them one by one, you'll want to start by washing your tires because you will be cleaning the wheel face last. Keeping the tire wet, scrub it thoroughly with your soft/medium-hard brush and a gentle detergent. Before you rinse off the detergent suds, we'd recommend letting it sit on the tire's surface for several minutes to let it work. If your tires are dirty, you may have to repeat this step to clean them thoroughly.
5. Wash each wheel
Washing the wheels is integral to cleaning your tires. Start by wetting your wheel, again scrubbing it with the detergent you used on your tires, or with a wheel cleaner if you've purchased a specialized product. You can use a smaller brush to reach any crevices that your standard brush can't get to and scrub. As with the tires, repeat this process as needed to get things completely clean.
6. Dry everything off
Use a clean, dry towel to dry the tires and wheels one by one.
7. Optionally, apply wax to the wheel
You may or may not want to use wheel wax, but if you do, you'll want to apply it about three to four times a year. (The benefit of wheel wax is that it can make future cleanings a whole lot easier, requiring only pressure washing and drying, as opposed to scrubbing with detergent.) Apply your chosen wheel wax using a foam pad or a waxing mitt, following the instructions on the container for optimal results. Then remove the excess wax using another clean, dry towel.
How to Clean Tire Sidewalls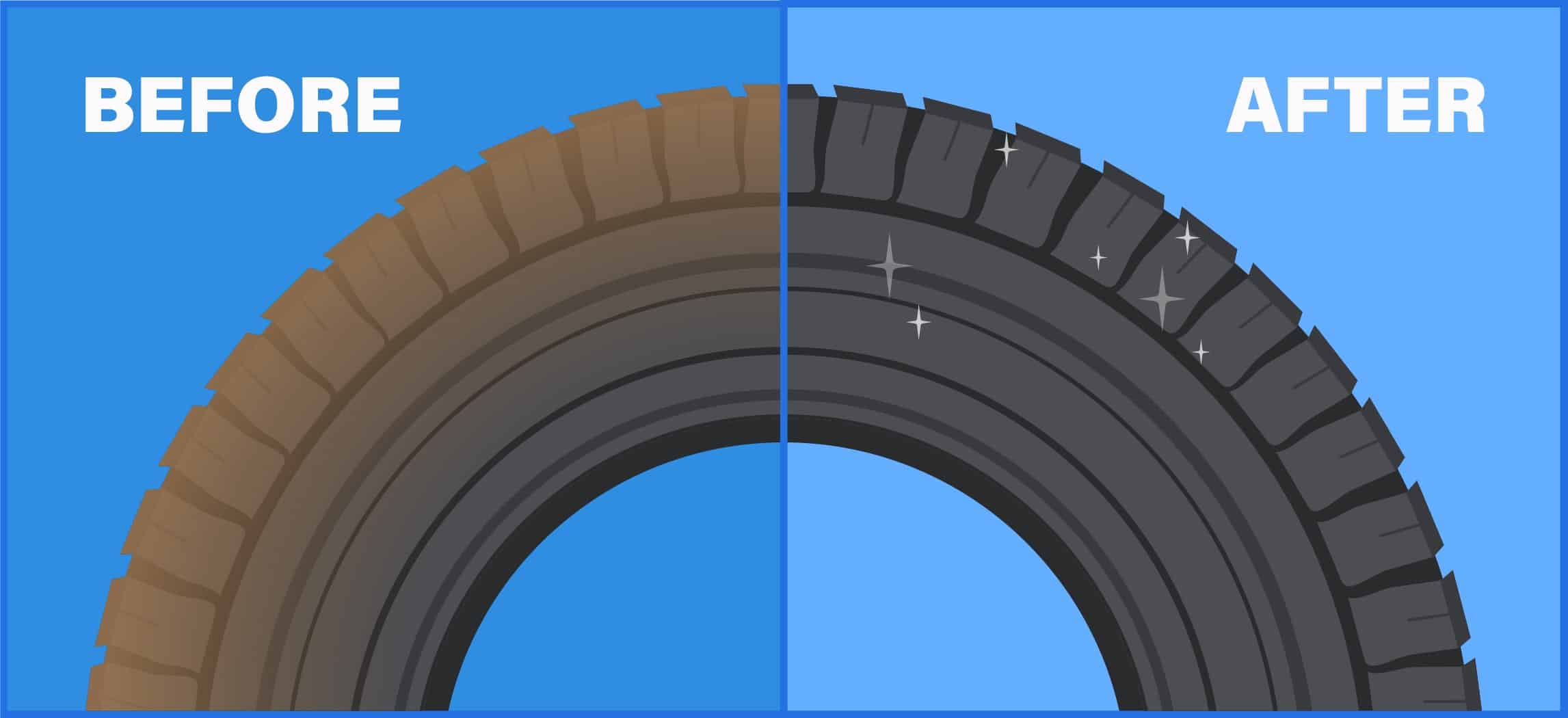 As described by Sonsio, the sidewall of a tire "is the smooth, vertical area on the side of the tire between the edge of the tread and the bead of the tire, which does not include any area where tread grooves are still visible." Tire sidewalls tend to turn brown in a phenomenon known as "blooming," which is caused by antiozonants present in the rubber. These substances have been added to prevent destructive drying/cracking of the rubber, but have the unfortunate side effect of turning your tires brown as the antiozonants oxidize over time.
Although blooming is inevitable, the brown appearance can be minimized, and the process can even be delayed with regular cleaning and dressing, following the steps we've described above. According to a blog post on the subject from Adam's Polishes, "Removing the blooming is really a simple process–the use of a good degreasing agent . . . and a stiff bristle Tire brush should be more than enough to remove even the worst blooming within a few treatments."
How to Clean Tires with Household Products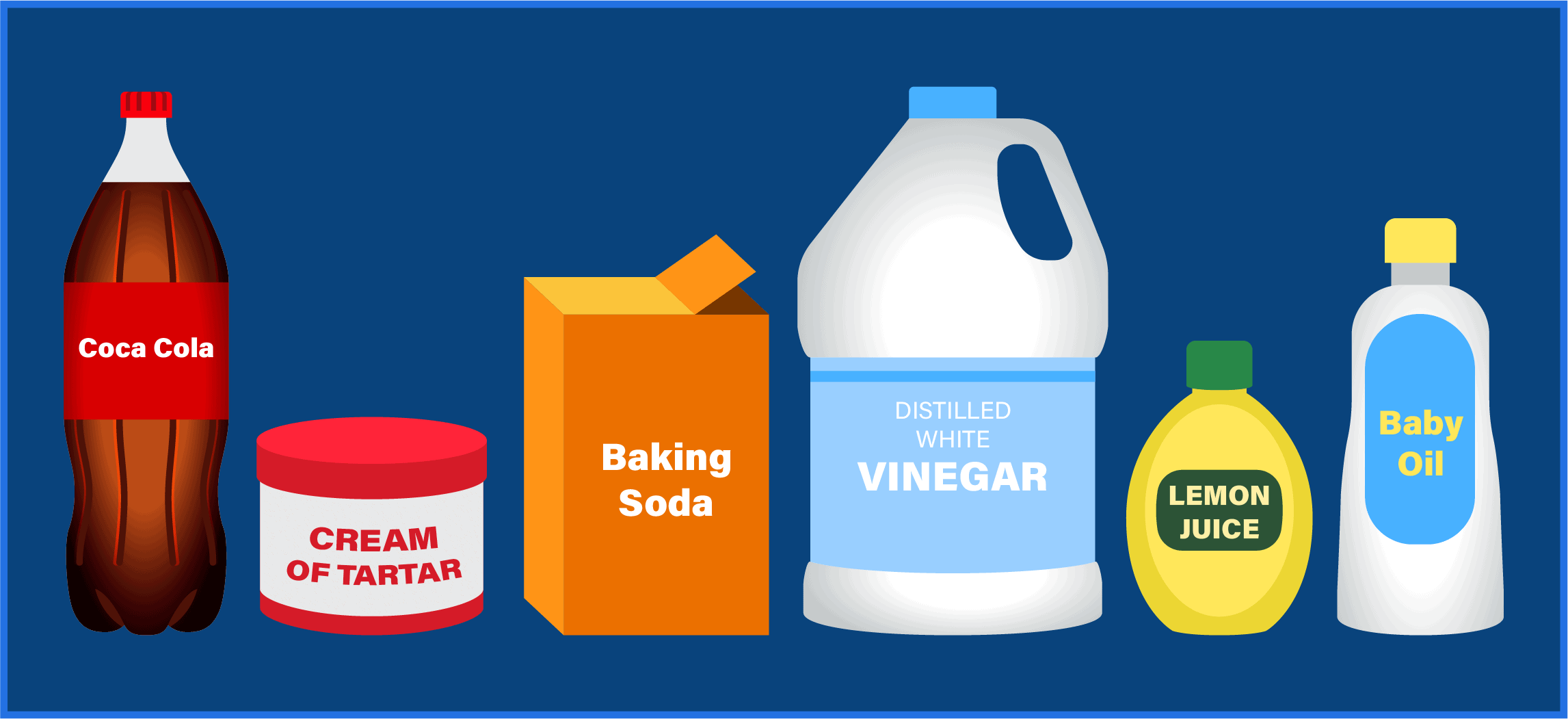 There are numerous methods for cleaning your tires with various mixtures of household products. We've already mentioned dish soap, but here are a few other homemade blends that will also work, courtesy of Charm City Circulator (check out their article for the specific ratios and explanations of how to use these mixtures):
Lemon oil, dish soap, and borax
Baking soda and dish soap
Lemon juice and baking soda for removing stains from wheels
Coca-Cola, white vinegar, and dish soap for removing rust from screws and lug nuts
Cream of tartar to remove rust from rims
Baby oil and dish soap for lubrication, protection, and added shine
How to Clean Tires without Water
Perhaps your region is going through a drought, you don't have a spot with good drainage where you can wash your car, or you don't have access to a hose. Whatever your reason for attempting a waterless tire wash, not to worry–as long as your tires aren't too dirty (think: absolutely caked with mud), it's a surprisingly straightforward and effective process with the right supplies.
Start by covering the tire in a degreaser and letting it soak in for a while, then brush the tires with a hard brush. Wipe the tire with a microfiber towel that has been dampened with a no-rinse solution. Then dry your tires with another clean towel and, optionally, cover them with tire dressing, which you should let dry before you get back on the road. You can also use a mix of baking soda and white vinegar or even a regular old dryer sheet for a waterless tire clean.
Tire Cleaner Products We Recommend
Ready to purchase a tire cleaner that'll leave your tires perfectly pristine? Here are our recommendations for the best tire cleaners on the market, based on in-depth research:
Our Pick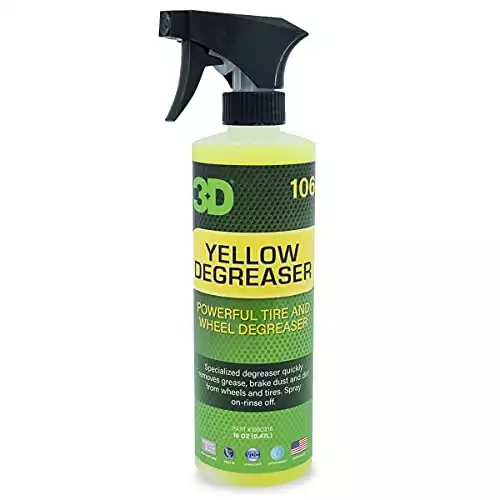 What sets this tire cleaner apart is that it's an all-in-one product for less than $15. You can use 3D Yellow Degreaser to clean both tires and wheels, instead of buying a separate tire cleaner and wheel cleaner, and it even removes rust without causing damage. The yellow color is important: "The more yellow you see on your wheels and tires after spraying means the degreaser is doing its job to clean all the dirt, grease, grime, rust, and iron build-up that has been sitting and eating at the surface." This product is made in the U.S., and, most importantly, it does an impressive job of removing grime while minimizing effort on the user's part.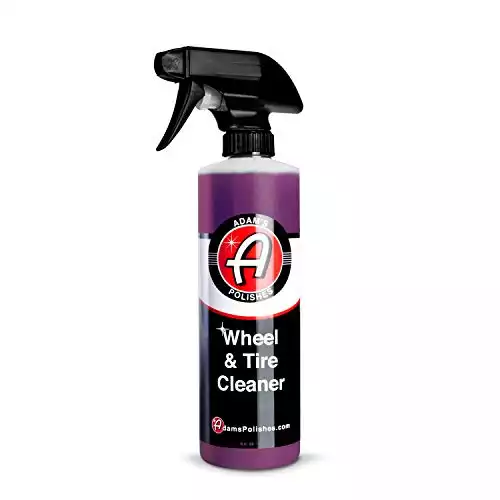 Adam's Wheel & Tire Cleaner 16oz - Professional All in One Tire & Wheel Cleaner
Safe on clear-coated, powder-coated, chrome, alloy, and painted wheels. Most wheel cleaners can be harmful to your wheel finish and dissolve more than what you wanted to clean off! Adam's Polishes Wheel & Tire Cleaner gets to work fast and dissolves stubborn metallic contamination.
Buy from Amazon
We earn a commission if you make a purchase, at no additional cost to you.
05/26/2023 12:30 am GMT
We're also big fans of this combination wheel and tire cleaner from Adam's Polishes, a well-known brand with a well-earned reputation. It's effective on grime without requiring much scrubbing from the user, while also being pH-neutral and gentle on your tires and wheels. As described by Adam's Polishes, this product "contains a blend of alkaline-concentrated solvents and surfactants to create a high sudsing formula and removes silicones, greases, wax build-up, polymers, and any previously applied dressings." Adam's cleaner also does a great job of reversing brown tires and restoring them to a pristine, black finish.
To quote one of the thousands of positive Amazon reviewers: "I've tried a number of wheel and tire cleaners and Adam's has continually shown to work the best. I wanted to try and switch to another less expensive product but they just don't do the same job . . . I've compared it to other products for wheels on the same vehicle and Adam's gets out the brake dust and dirt the others leave behind."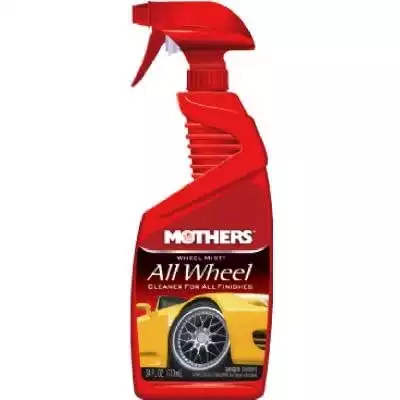 Mothers 05924 Foaming Wheel & Tire Cleaner - 24 oz.
Safe for painted, clearcoated, color coated, steel, modular, chrome, or factory coated wheels and hubcaps
Unique spray on, hose off design safely penetrates, dissolves and suspends all types of brake dust, grease, dirt, and grime
Buy from Amazon
We earn a commission if you make a purchase, at no additional cost to you.
05/26/2023 12:40 am GMT
Here's a slightly more affordable but still potent tire cleaner. It's non-acidic, so it's safe on painted, clear-coated, color-coated, steel, modular, chrome, and factory-coated wheels and hubcaps. (However, note that it's not for use on polished or roughcast aluminum, billet, or anodized wheels, nor for motorcycle wheels or components.)
You simply spray the foaming cleanser all over the tire and wheel, scrub it with a brush to loosen stuck-on debris, and then hose it off to "safely [penetrate], [dissolve] and [suspends] all types of brake dust, grease, dirt, and grime." You don't even need to hand dry your wheels after using this product thanks to its "unique spot-free rinse"–just let them air dry, and you're all set.