Electric vehicles are becoming more and more popular as consumers prioritize clean energy and vehicle performance, especially considering recent increases in the price of gas. In just a year, from 2021 to 2022, the share of electric vehicle sales increased from 2.7 percent of the total auto market to a whopping 5.6. That means they almost doubled their share of sales in this relatively brief period. According to Forbes, "more consumers, businesses and municipalities are looking to electric power as the future of transportation." This trend is only expected to continue.

A potential challenge: keeping your E.V. charged
Although a huge benefit of owning an electric vehicle (E.V.) is that you avoid paying exorbitant gas prices, some challenges come with the switch to an E.V. as well. One of the most significant challenges of owning these green automobiles is ensuring that the car remains charged, which requires consistent access to electric vehicle charging stations.
In the next section, we'll explain what an electric vehicle charging station is. If you continue reading, we'll also describe the various types of chargers and explain how to install a Level 2 E.V. charger at home to make charging your E.V. that much easier.
What Is an Electric Vehicle Charging Station?

Put simply, an electric vehicle charging station is exactly what it sounds like: it connects electric vehicles to a source of electricity so that they can charge up. It's equivalent to refueling at a gas station but for an electric car. According to Tech Target, "Some charging stations have advanced features such as smart metering, cellular capability, and network connectivity, while others are more basic."
Another term for an E.V. charging station is "electric vehicle supply equipment." They may charge fees for their use or be free and even government subsidized. There are several different categories of E.V. chargers, classified as Level 1, Level 2, and Level 3 chargers. We'll define those categories in more detail in the section below.
Level 1 vs. Level 2 vs. Level 3 Chargers

Here's our quick guide to the key differences between these two types of electric vehicle chargers:
1. Level 1 Home chargers:
When you purchase an electric vehicle, you'll often receive this type of charger with your new car. It's intended for use at home with standard, 120-volt A.C. power outlets. On average, for every hour you use them to charge, you'll get roughly five miles of range in your car. This is a very slow charging rate and is the biggest downside of these standard-issue E.V. chargers.
2. Level 2 Home chargers
Level 2 chargers use 240-volt A.C. outlets. This means that using a Level 2 charger requires you to install a 240-volt electrical outlet if you only have standard 120-volt outlets at present (keep in mind that many new homes are required to include these types of outlets).
Despite the initial added labor they may require, Level 2 chargers are definitely worth it–for starters, they provide about 10 to 20 miles of additional range with every hour you use them to charge your car (read the next section for more details on why they're worth it!). They are the most common of the three types because they mix convenience and accessibility with faster-charging speeds than Level 1s.
3. Level 3 Home chargers
Also known as D.C. fast chargers, Level 3 chargers use a 480-volt, direct current (D.C.) plug. According to Tech Target, Level 3 chargers can "provide up to 40 miles of range for every 10 minutes of charging but are not compatible with all vehicles." Hence, they're not as versatile or accessible for most people as Level 2 chargers. They're also a poor choice for home use because they'd be very expensive to power and are incompatible with the average home's electrical system.
Why choose a Level 2 charger?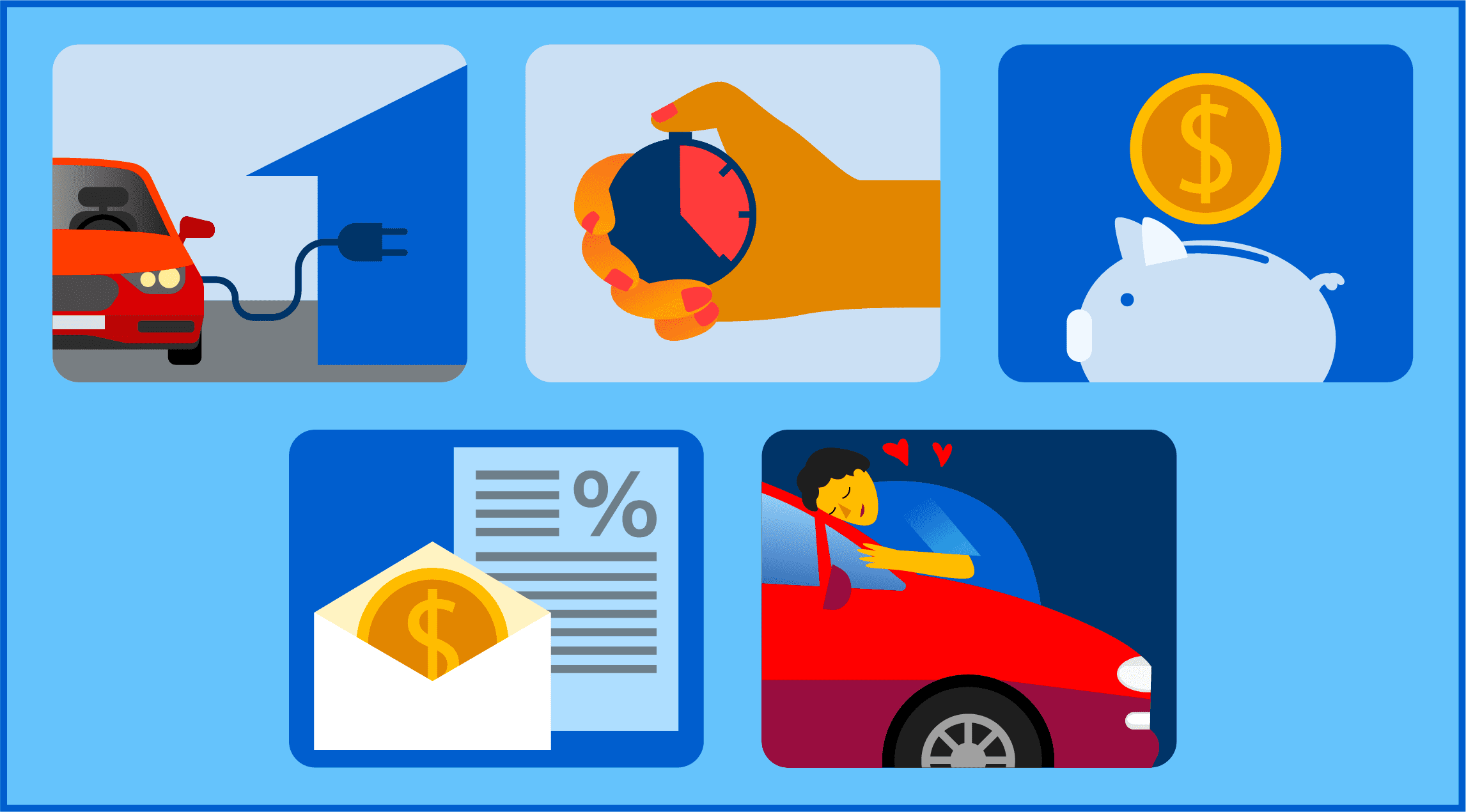 There are tons of reasons to choose a Level 2 charger over a standard-issue Level 1 charger:
1. Charging at home should be your priority
You may be wondering why it makes sense to invest in the best possible home charger. It's because home is where you should be doing most of your charging, whenever possible. According to Car and Driver in their article on the subject, at-home charging "has two significant benefits: Charging can be accomplished when the vehicle is otherwise parked, and home charging is substantially cheaper (roughly one-third the cost) of D.C. fast-charging."
2. They charge your E.V. much faster
Depending on which product you use, a Level 2 charger can charge your vehicle two to eight times as quickly as a Level 1 charger. In practice, a Level 1 charger takes about 11 to 20 hours to fully charge a vehicle, while a Level 2 charger only takes three to eight hours to do the same. In case you're curious, here's a calculator that estimates how fast a Level 2 charger will be compared to a Level 1, depending on your particular year, make, and model of an electric vehicle.
3. They allow you to time charging strategically to save money
You can strategically charge your electric vehicle at low-rate times, thereby incurring lower electrical costs in addition to spending less time charging your car. Some brands of Level 2 chargers even allow you to program your own custom charging schedule to automate charging your vehicle at low-rate times. It's no wonder that EvoCharge describes having a Level 2 charger as "like having your own gas pump in your garage, but it is a smart appliance that charges your vehicle."
4. Subsidies and financial incentives can help cover installation costs
If you don't presently have a 240-volt electrical outlet at home, you might be worried about the cost of installing one. But there may be ways to lower installation costs, such as local, state, or federal subsidies and/or financial incentives, as well as rebates provided by utility companies in your region. You can learn more about the tax and rebate incentives for electric vehicle chargers that might be available in your state here.
5. Most importantly, you'll enjoy your car much more
Mia Yamauchi at Plugless Power put it perfectly when she wrote that a "Level 2 charger can help you get more enjoyment out of your awesome spaceship car. Remember, it's a one-time home process that provides years of convenience. It future-proofs your home, and makes it easier to stay fully charged . . . The perfect charging setup literally takes everything you love about your E.V. to the next level."
How to Install a Level 2 Charger at Home

You'll need to know how to install your Level 2 charger to create the ultimate at-home, lightning-fast E.V. charging station.
1. Ask: will a Level 2 charger blow your fuse?
Before you begin the process of installing your Level 2 charger, it's important to make sure that your home's electrical system has the capacity to accommodate it. Here are some questions to ask yourself before you proceed:
Does your home pull enough amps of current?
Most homes are wired to pull 100 amps or 200 amps of current, while most Level 2 E.V. chargers pull around 30 to 50 amps. This extra electrical load will be added to your existing appliances, which means you'll almost certainly need a 200-amp electrical panel to ensure you don't blow a fuse every time you charge your car. You can hire a professional electrician to make this upgrade if your home has only a 100-amp electrical panel.
Does your electrical panel have the space to hold more additions?
Even if you already have a 200-amp panel, physical space is also a concern–you need to make sure that all the circuit breakers are not already occupied. You may need to consult an electrician to check whether you have adequate space left to add an E.V. charger.
2. If you don't have a 240-volt outlet, get one installed by a professional
We wouldn't recommend doing this yourself unless you're a licensed electrician, but a professional can easily install a 240-volt outlet where you can plug in your Level 2 charger. But be sure to check your garage before you do this because many garages (especially newer ones) come with this type of plug.
3. Purchase a Level 2 charger and follow instructions for set-up
The most user-friendly Level 2 chargers won't require you to do much more than plug them into your 240-volt outlet–it doesn't get much simpler than that. Other Level 2 chargers may have additional set-up requirements, whether syncing the charger with an app on your phone or physically installing it a certain way in your garage so that it's secure.
In other words, it depends on which product you choose (not sure where to start? Check out our guide to the best Level 2 home chargers in the last section of this article). Be sure to read the instructions that come with your charger of choice for a specific guide that will ensure it's set up to function optimally.
The Best Level 2 Home Chargers
Now that you understand everything you'll need to know about what Level 2 home chargers are and how to install them at home, you may be looking to purchase one of your own. If so, here are our top three choices when it comes to level 2 home chargers, based on tons of research and honest customer reviews:
Our Pick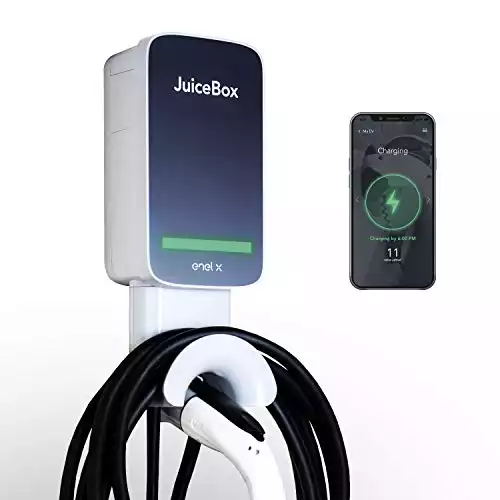 If you have plenty of cash to spend on a top-of-the-line Level 2 home charger, you can't go wrong with the JuiceBox 40, which is still the most affordable Level 2 charger at this level of quality. It has WiFi connectivity and an associated JuiceNet app that allows you to "control and monitor charging remotely, get notified when your car is fully charged, set reminders to charge, and more." It's even voice control capable via Amazon Echo/Alexa.
But the best thing about this product is that you can schedule your charging times so that you're charging when electricity rates are at their lowest, which will save you even more money than you've already been saving since you switched from gas-powered vehicles. Installation is super simple if you have a NEMA 14-50R outlet–just plug it in, and it's ready to go. In addition, there are several variations of this product in addition to the 40-amp version linked above: a 48-amp version or a cheaper 32-amp version.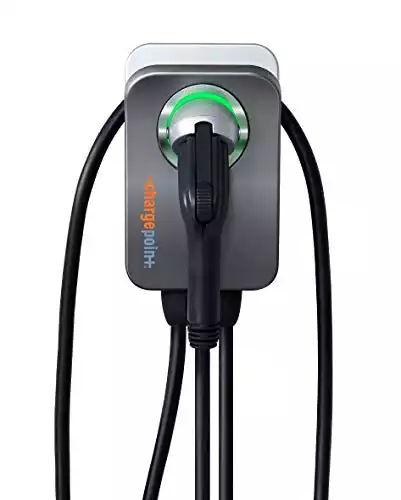 ChargePoint Home Flex Electric Vehicle (EV) Charger, 16 to 50 Amp, 240V, Level 2 WiFi Enabled EVSE, UL Listed, ENERGY STAR, Indoor / Outdoor, 23-foot cable
Level 2, 240 volt electric vehicle (EV) charging station charges any EV up to 9X faster than a normal wall outlet, with flexible amperage settings up to 50 amps (16/24/32/40/48/50 Amp) and plug-in or hardwired installation. Use the ChargePoint app to pick the right amperage for your home after installation.
Buy from Amazon
We earn a commission if you make a purchase, at no additional cost to you.
05/28/2023 12:20 am GMT
ChargePoint is perhaps best known for being responsible for thousands of public chargers across the U.S., and their Home Flex Level 2 charger is connected to the same app that all these public units use. When you connect your charger to the app, you can see data like the charge time, charge-rate graphs, and total energy output during the charge. Like the JuiceBox, you can also set things up so that your car charges at times when electricity is the cheapest. You'll also benefit from the three-year warranty and 24/7 customer support that come with this product.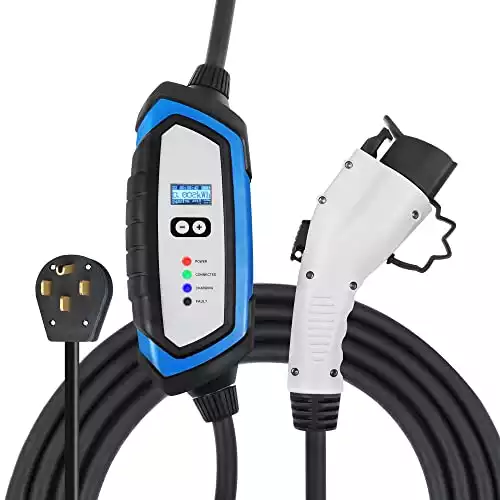 This is our recommendation for readers who want to purchase a Level 2 charger but are on an extremely limited budget. It doesn't include WiFi like the much costlier JuiceBox or ChargePoint products, but it does allow you to track your energy usage. It comes with an LCD screen that shows details like the voltage, amperage, charge time, energy in kWh, and temperature, which is quite an impressive feature considering the cost. Keep in mind that its cord can reach up to 21 feet and that you can also choose a slightly cheaper 16-amp version of this product or a slightly more expensive 40-amp version.