Flat tires are a challenge that any regular driver will face at least a few times in their life. That's why it's a great idea to teach yourself how to change a tire (in the safest manner possible!) before you deal with a flat. But if you've already found yourself dealing with a flat tire, not to worry.
In this article, we'll list everything you'll need to change a tire, provide a step-by-step guide on how to change a tire, and offer our top three product recommendations for the process.
What You'll Need to Change a Tire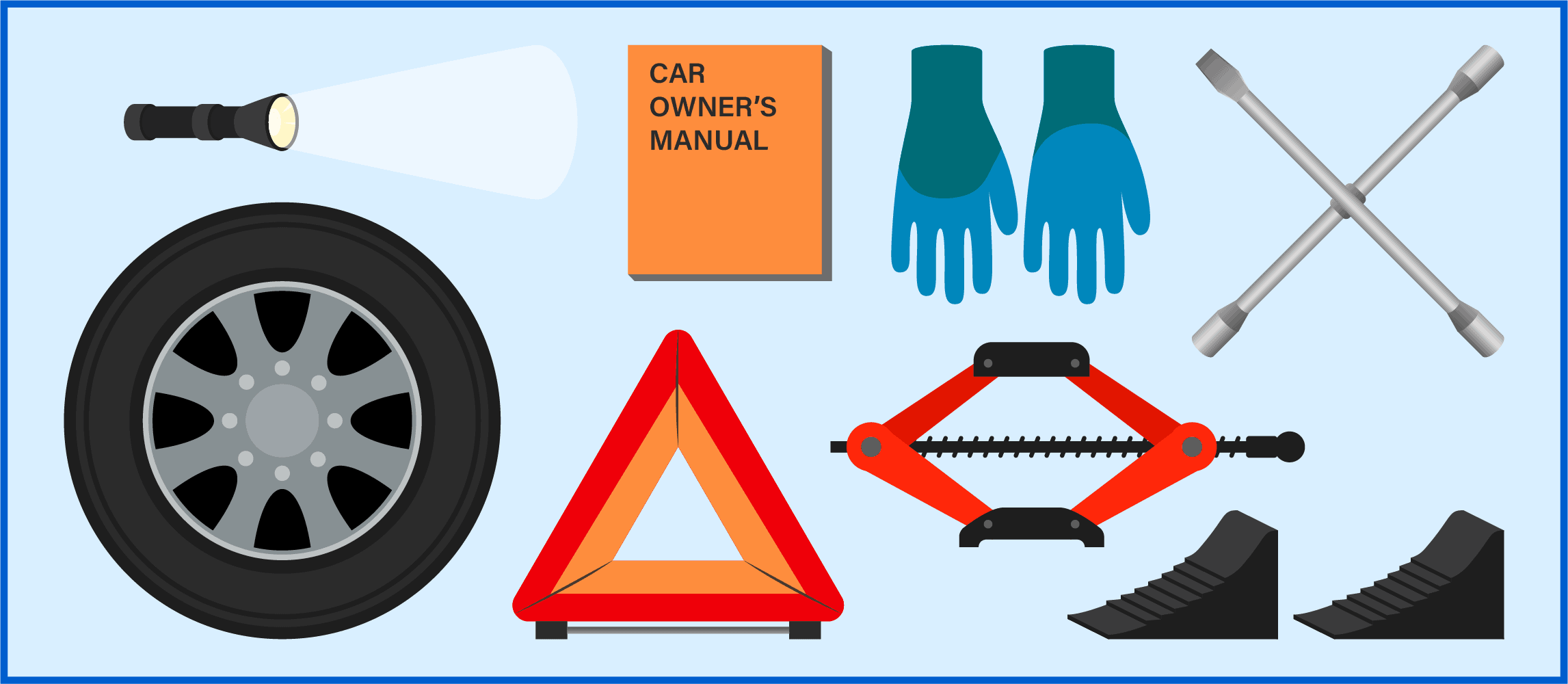 Start by gathering everything you'll need to change a tire–here's a list of absolutely essential items required for changing a tire:
Jack
Lug wrench
Spare tire (make sure it's adequately inflated)
Manual for your car
And here are some additional tools and equipment that could help your tire change go even more smoothly, particularly if you've broken down on the side of the road where it's dark and/or you're facing inclement weather:
Gloves
Flashlight (if it's dark and you're by the side of the road)
Reflective triangles (another safety item)
Wheel wedges
Raincoat or poncho
A note on safety and reaching out for help if needed: Consumer Reports' project leader for tire testing notes that although "changing a tire is a straightforward task in perfect conditions," the reality is that "often the location is dangerous, such as a busy roadway, or there's a wrinkle, such as when you find out your car doesn't have a working spare tire."
That's why "it's wise to know how to change a tire, but it's just as important to know when to summon help and who to call." If you're in a situation where you can't safely change your tire on your own, you'll want to know who to call for help (AAA, for example), so make sure to figure this out ASAP.
Step-by-Step: How to Change A Tire
After a Flat, Start by Parking Safely

One of the most important steps in changing your tire after it goes flat is making sure you're parked as safely as possible, which can be challenging if you're driving somewhere with lots of traffic or can't pull over right away. Here's our advice on parking safely in this situation:
When you notice your tire is going flat, maintain a firm grip on the wheel with both hands while gently removing pressure from the accelerator.
Look out for the first flat location that's as far from moving traffic as possible, and pull over there.
You may not be able to pull over if you're, for example, on a narrow road; if that's the case, Consumer Reports recommends that you "put on your hazard lights using the red triangular button on the dash, move to the roadside, and limp the car to a safer area." Keep in mind that the more you use the flat tire, the more risk there is of damaging the wheel in the process.
Don't open your car door to get out of the vehicle until you're absolutely sure no cars are going by.
To give other drivers a heads up that you're pulled over, in addition to leaving your hazard lights flashing as a warning, you should also place reflective triangles behind your car. The faster the speed limit on the adjacent road, the more advance warning other drivers will need; if you're parked next to a highway, you should make sure the triangles are roughly 100 feet behind your car.
Especially if you're parked next to a busy road and have decided that you cannot change your tire yourself, you will be awaiting assistance. Make sure you don't wait in your car or in front of the vehicle, in case another car hits it. You should situate yourself behind your car, farther away from the road than the car itself.
If you have wheel wedges (it's always a good idea to keep a set in your car!), you should use them to keep your car from rolling, in addition to the parking brake.
Once You're Parked Safely – How to Change A Tire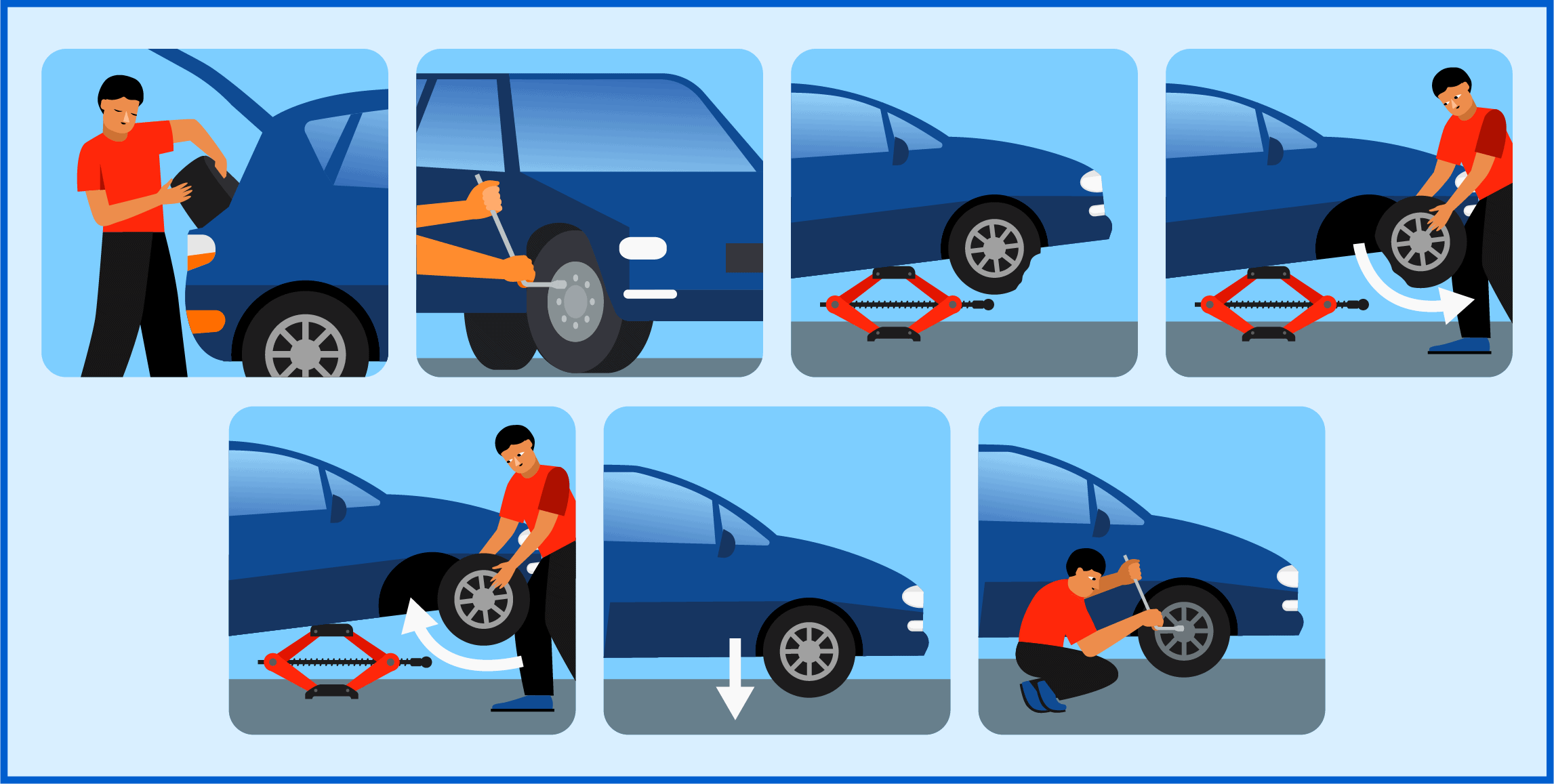 Assuming that you have all the necessary tools and equipment to change a tire and are parked safely, here's how to go about the process of changing your tire:
1. Find your spare tire: If you've never had to locate your car's spare tire, you might not know exactly where the spare tire is stored within the vehicle. The spare tire is often stored in the bottom of the trunk, underneath a floorboard cover made of cloth or plastic. However, the location of the spare can vary depending on your car's make and model, so you may have to do a bit of searching.
2. Partially loosen the lug nuts: Start by prying the hubcap off with the flat part of the tire iron so you can access the lug nuts. Then, loosen the lug nuts partway using the tire iron to turn them counterclockwise. Make sure you don't remove them all the way–they should be loose enough to turn them with your hands, but still tight enough that they're not just spinning around.
3. Place the jack under your car frame: There is a divot in the jack that should go right under your car frame's metal rim. You might have to use a flashlight (if you have one) to make sure you're putting it in the correct spot. To find it, WikiHow recommends, "Touch the area directly behind the metal body of your exterior to feel and look for a thin, metal length. This is your frame. Set the jack underneath the frame right next to the tire you're replacing."
4. Use the jack to lift your car off the ground: Turning the jack handle in a clockwise direction will lift your car up into the air, including the tire, which should be about 6 inches above the ground.
5. Remove the loosened lug nuts and tire: Since the lug nuts are already loose, it shouldn't require much effort to take them off entirely. Once the nuts are off, remove the tire and take the wheel off the axle. You can place your lug nuts in the upside-down hubcap for safekeeping, so they don't get lost in the commotion.
6. Put the spare tire (or "donut tire") on your car: If you're not sure which way to put the spare on, keep in mind that the valve stem should be facing out when you put it on. Make sure to align the lug nut bolts with the holes on the spare tire and then slide it on. Note that there are risks to using a donut tire for extended periods, so you'll want to change it out as soon as you can–we'll explain this in more detail later in the article.
7. Put the lug nuts back on: Use your hands to tighten the nuts partway, enough to keep the spare tire in place. You're not going to tighten them fully until the car is back on the ground.
8. Lower the car on the jack: Now that your spare tire is on, you can lower your car by turning the jack counterclockwise until the tire has been lowered to the ground. To avoid serious injury, make sure that as you do this, no part of your body is under the vehicle at all, just in case the jack slips while you're lowering the car. Once the car is fully lowered, you can safely remove the jack and put it away.
9. Fully tighten the lug nuts: Use your tire iron to finish tightening the lug nuts, using as much pressure as possible to make sure they're the tightest you can get them to be. You should tighten every one of the nuts about four times to start, going back and forth between opposite nuts, so they're all tightened evenly. Then go around in a circle to make sure they're as tight as possible.
10. Put away all your supplies and flat tire: Make sure you pick up all your supplies and your old, flat tire and take them away with you.
Be sure to check out our guide on how to clean your tires and how to test the tread depth using the Tire Penny Test.
How Long Does It Take to Change a Tire?
Following the above steps to change a tire should take no more than 15 to 30 minutes. However, factors such as weather or traffic can easily make the process take longer. Following the instructions step-by-step is key to your safety when you get back on the road, so taking your time, remaining calm, and ensuring each lug nut goes back on correctly should be your priority.
Want to make sure you're prepared? Bridgestone recommends practicing changing your tires a few times in your garage or driveway to get the hang of it.
Some Risks of Using Donut Tires
It's best practice to have a spare tire that closely matches the ones on your vehicle, but in most cases, a spare "donut" tire can work as a temporary solution. If you do find yourself in a situation where a "donut" is your only option, keep these safety tips from Top Driver in mind:
Make sure the tire pressure of the donut is 60 psi.
Keep your speed under 50 mph.
Check your owner's manual to see the maximum distance you can travel on your donut.

While driving on a spare, the vehicle will handle differently, and extra precautions should be taken while braking or cornering. With all of this in mind, you must limit your risk by making every effort to get your tire replaced as soon as possible.
Tire-Changing Products We Recommend
Looking for the best products to assist you in replacing a tire? We've gathered a few recommendations based on in-depth research to help you get the job done:
One of the most intimidating and exhausting aspects of changing a tire is jacking up your car. Thankfully, there are accessible and affordable options like FEANISIFEI's 12V electric car jack that lend a helping hand. The hydraulic tank can lift a sedan or SUV that weighs up to 11,000 pounds within two minutes and also serves as an inflatable pump capable of generating 150 psi pressure. Powered by either your car's cigarette lighter or battery, this is a versatile product that will make you feel like you've got an extra set of hands helping you change your tire.
Even in the most spacious vehicles, you'll want to maximize every bit of trunk space by consolidating your emergency roadside tools. We recommend using the highly-rated 14-inch universal folding lug wrench from WorkPro–at only $16, this is a must-have for anyone shopping for a new or spare lug wrench.
Here is one of the thousands of five-star reviews on Amazon: "I picked this up as a gift for my daughter for Christmas. For her, this was a fantastic grab as she has different lug nuts on the front and back of her vehicle which we found out after a flat tire. Item is constructed very well and everything functions as it should. We have used this on and off quite a few times on different cars and trucks, and there are no signs of wear or cracking which can be common with this style of wrench. Items also came packed in a nice travel/storage pouch!"
As we've stressed throughout the article, keeping yourself and others on the road safe while changing a tire is paramount. One of the best ways to prevent your vehicle from possibly rolling away is these heavy-duty wheel chocks from MaxxHaul.
From their description, they use an "all weather construction and a rubber traction pad that make them the perfect choice to keep your vehicle or trailer secure in any climate." Lightweight, durable, and with a built-in handle, these wheel chocks are a fantastic option for anyone looking for extra protection while changing a tire.