Looking for an inexpensive (but high quality) traffic school course? Not interested in getting ripped off or paying more than you have to?
We get it. That's why we've decided to make our traffic school promo code available to anyone who searches for it.
You won't have to search through endless coupon sites for promo codes that don't work. Instead, simply scroll down to find a working promo code and lower your traffic school cost right on this page.
Before You Get Your Traffic School Coupon, Read This
Before you get your code, here's something you should know…
The cheapest traffic school is usually NOT the one you want to take.
Why?
Because a lot of scammy/unethical traffic schools bait you in with a low-priced cost. Then when it's time to checkout they slam you with extra charges and fees for stuff you don't even need.
For example, a lot of traffic schools include an extra charge for expedited or same-day submission. However, the ONLY thing that matters is the date you complete your course.
There is NO expedited processing in the California court system, and there is NOTHING a traffic school can do to speed this up.
Of course, they rely on you not knowing this. And when stuff like this happens, that $6 price you thought you'd pay can quickly balloon to $30+ as a result of sneaky or dishonest fees.
Best Online Traffic School Cost
At Best Online Traffic School we don't believe in any of these slimy or unfair practices. That's why we have extremely transparent pricing and a low, fixed cost of $19.99.
Our traffic school is California DMV Certified (#E1314) and accepted by ALL California courts and counties. You can find us on the DMV Approved Traffic School List. We're also one of the only traffic schools in the state to provide the course in English, Chinese, and Spanish with free audio narration.
Here's a breakdown of everything our cheap online traffic course includes: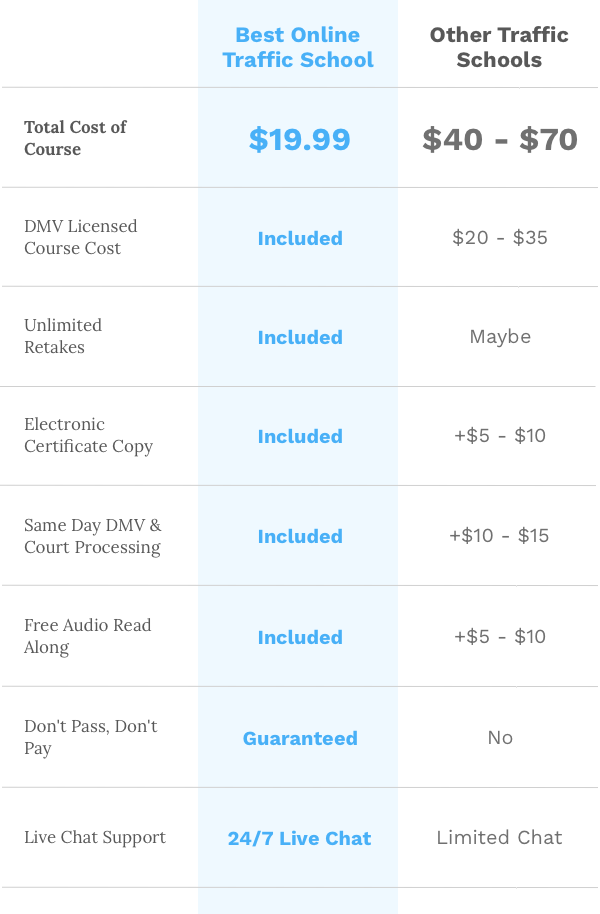 But that's not all you get. California drivers absolutely love our traffic school course because:
Signing up is free – no credit card required
Our "Don't Pay Until You Pass" Guarantee means you pay NOTHING until you actually pass
Our material is incredibly easy (99% pass on the first try)
You can complete our course in one sitting (average completion time is 2-3 hours)
We offer same-day Electronic Submission to the Court & DMV (you're safe even if today is your deadline)
Free audio read along (perfect those who prefer to listen than read)
Our course is compatible with every device and completely self-paced (no timers)
We offer unmatched 24/7 customer support (we want to make sure you pass as quickly as possible so that you can move with your life)
And of course, we strongly believe in transparency and trust.
We promise NO hidden fees or sneaky upgrades for things you don't need to pay extra for – ever. Anything extra we offer is to only save you stress and time.
Get Your Online Traffic School Coupon Code Here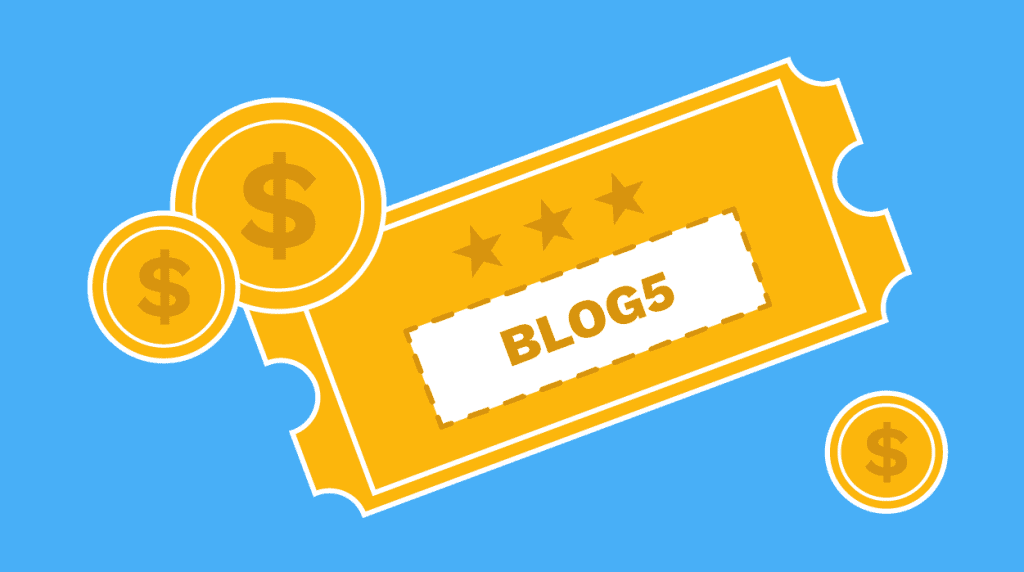 Ready to get your code? You'll find it below.
(If you skipped to this section you'll want to at least make sure to check out why you SHOULDN'T pick the cheapest traffic school. This is mentioned above).
To activate our traffic school coupon code:
Use "BLOG5" at checkout to save $0.50 off our Best Online Traffic School Course.
Note: Our promo code cannot be stacked with other promotions or offers. This promo code is valid until this blog post is live on our website.
Remember, you can only apply the traffic school promo code when making the payment for the course. This happens after you pass the final exam.
Once you've passed your course, simply put in the coupon code and you're all set.
If you're ready to get started and knock out your California court obligation today, click below to sign up: