Live in California? Wondering what is California traffic school? Not sure if you should take it?
This post will explain everything you need to know about taking traffic school – whether it's because you received a traffic ticket, for insurance purposes, or for any other reason.
What is Traffic School in California?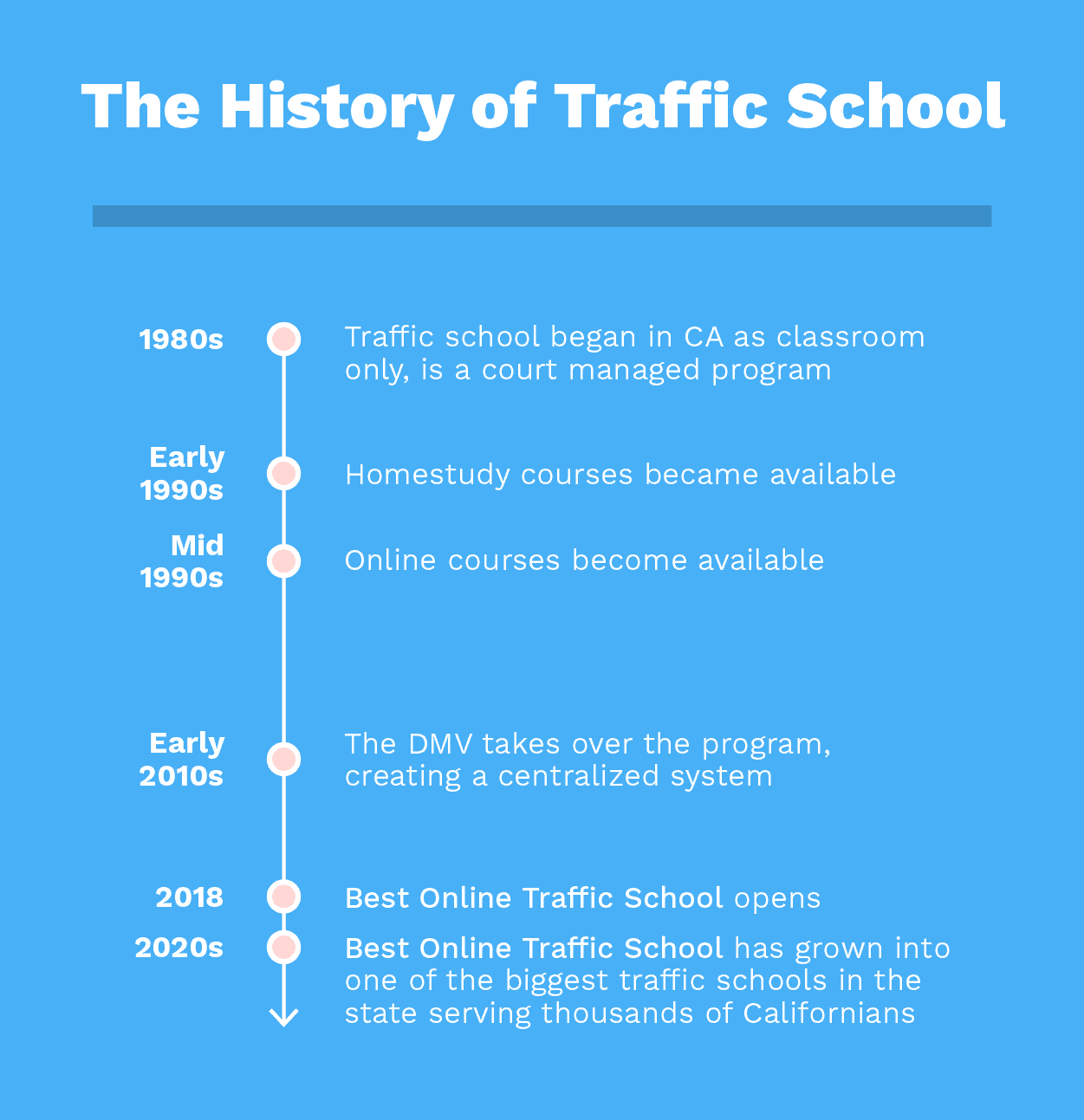 Simply put, Traffic School is a short course designed to improve your driving skills. This includes education on California driving laws, regulations, how to drive safely, and more.
Traffic School in California first began in the 1980s, available only as a classroom-based course. In the early 1990s, home study courses became available, and by the mid-1990s online courses start to appear. During this period, the California state courts monitored the traffic school program which meant each school had to be individually approved by each court.
In the early 2010s, the California DMV took over the responsibility of the program from the court. They centralized the submission system so if traffic school was licensed by the CA DMV, then they could submit to any court in the state. They also eliminated the need for students to mail-in certificates to the court.
Fast forward to today and online traffic schools are by far the most popular and convenient option.
California Traffic school comes with many benefits, such as allowing you to mask a citation and remove points from your driving record (explained below). This is different from a defensive driving course, which may not have the same impact on your record and insurance.
How Does Traffic School Work?
Many people initially think traffic school is a complicated or intimidating process – but it's actually pretty straightforward.
Traffic school really just comes down to three simple steps:
Pass the course (typically takes a few hours)
If you are taking traffic school for a traffic ticket, then you will first need to pay an initial fine and plead guilty to your ticket. The clerk will then determine whether you're eligible to take traffic school. If you are eligible, you need to pay a traffic school court administrative fee. Once that's done, you're all set to take a licensed traffic school course.
Once you've started traffic school, you will typically have a list of modules you need to take covering different driving topics. Each module will have its own quiz. Once you pass all the quizzes, you will take a final exam that covers everything you've learned.
Attendees typically must complete traffic school by a certain deadline (as stated on their court notice). However, courts may allow you the option to file for an extension.
For a full breakdown of how Traffic School works, view our How It Works page here.
Should I Go To Traffic School?
There are many benefits to attending traffic school in California, and if you've received a ticket then you will almost always want to attend traffic school.
We'll start off with the most common case, which is that the vast majority of California drivers take traffic school because they've received a traffic violation such as a speeding ticket.
This is important because if you complete the course from an officially licensed traffic school, you will mask your traffic violation, hide your point from appearing on your public driving record, and avoid the hefty insurance spike that normally comes from receiving a traffic ticket.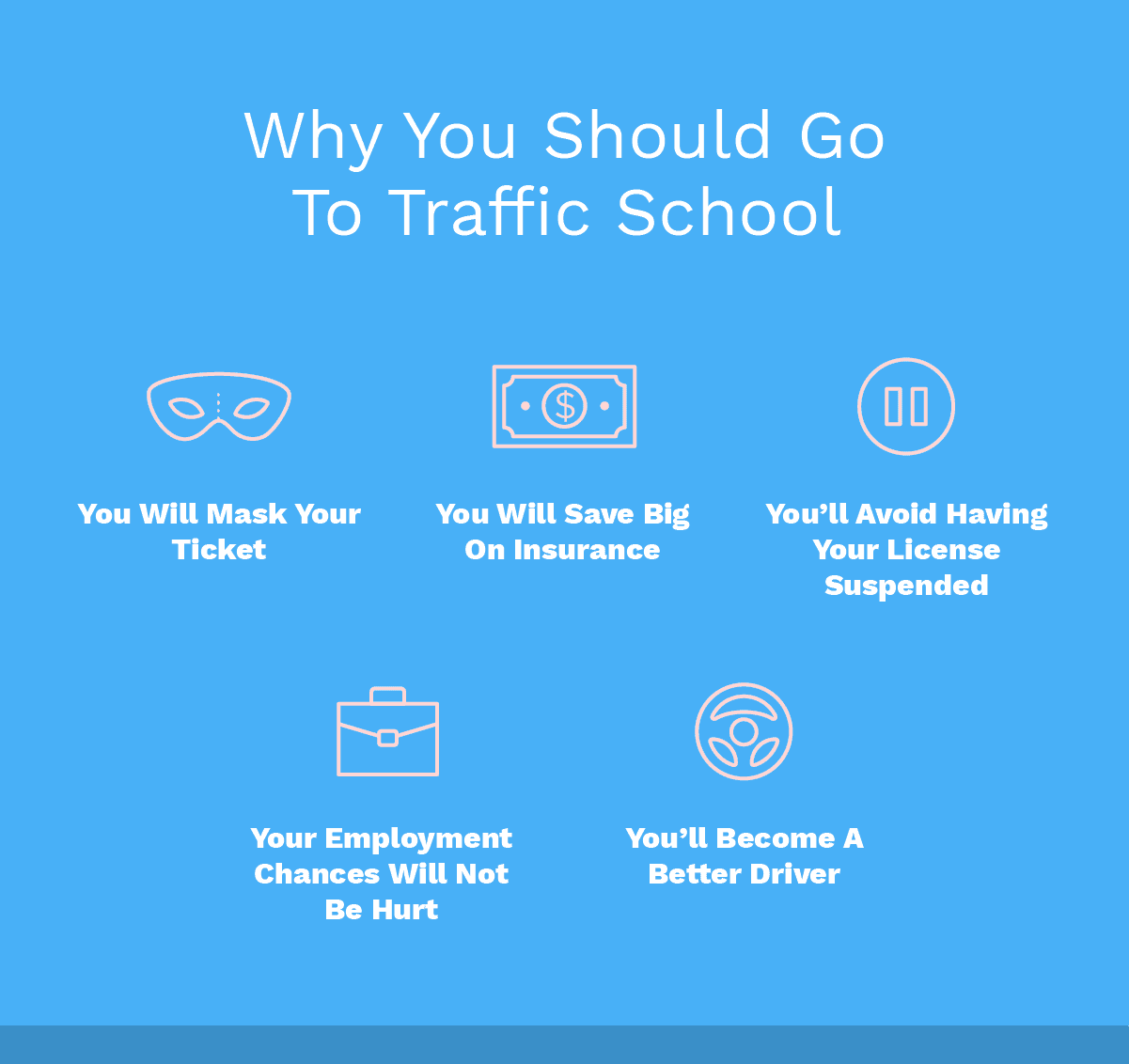 Not just that, but if you've received a ticket there are some big downsides to NOT attending traffic school, such as:
Paying hundreds or even thousands of extra dollars in increased insurance rates
Your driver's license being suspended
Employers discovering your violation on a background check
Another reason to take traffic school in California is to potentially lower their insurance rates. If you'd like to do this then make sure you first contact your insurance provider and ask your agent if you qualify for a reduction in your rate.
And although less common, some people choose to take California online traffic school willingly to improve their driving knowledge and prevent accidents in the future.
For a full breakdown of whether you should go to traffic school, click here in some situations.
What Types of Traffic schools Are Available?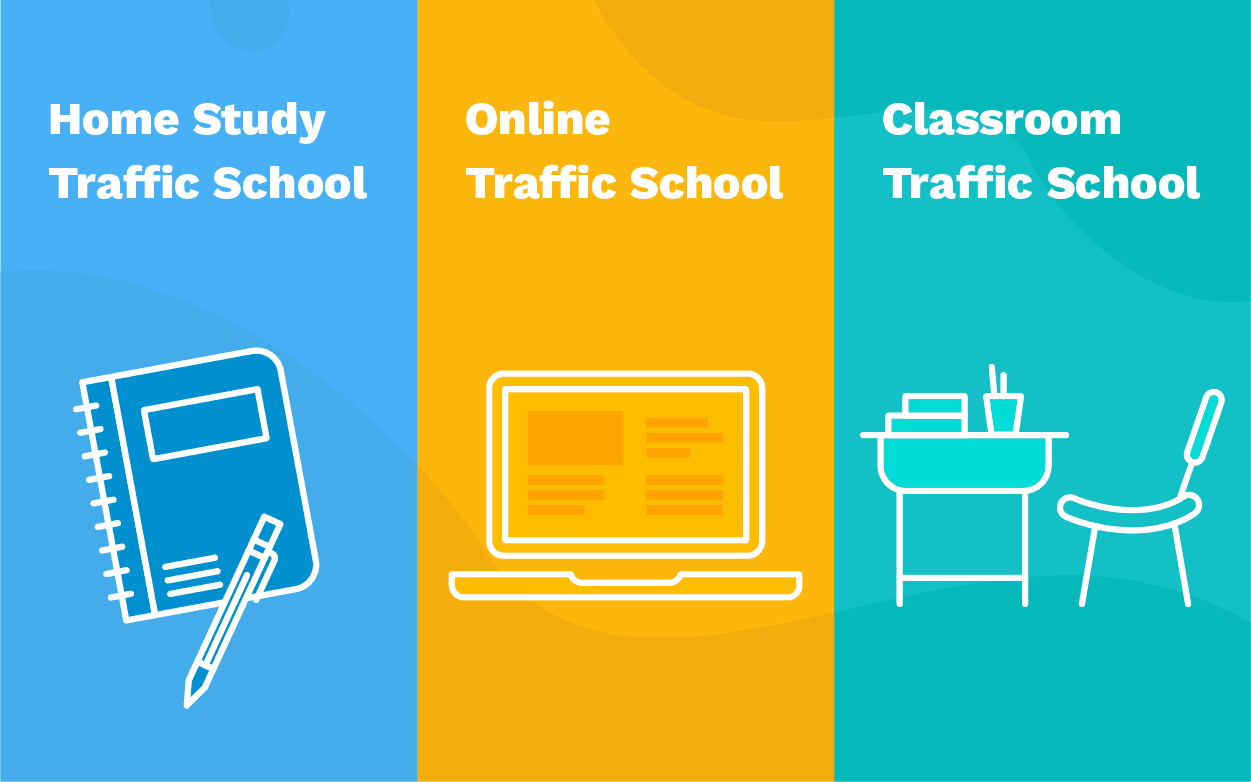 Traffic School is typically offered in three different ways:
An online course you can take from home (the best option)
A classroom-based course you need to physically attend (typically takes 8 hours)
A home-study course with a physical booklet (requires the purchase of extra materials)
The first option is by far the fastest and most convenient way to take traffic school. That's because you can take it from the comfort of your own home. You only need to pay a single one-time registration fee and you can usually finish it in one sitting!
If you choose to take traffic school online, make sure the traffic school you choose:
Is licensed by the California DMV and accepted by all California courts
Meets all of the California DMV's requirements
Is both reputable and highly rated by California drivers
For a list of accepted California traffic schools, click here.
For a full breakdown of the three types of traffic schools (and how to find the best traffic school near you) click here.
What Will I Learn Inside Traffic School?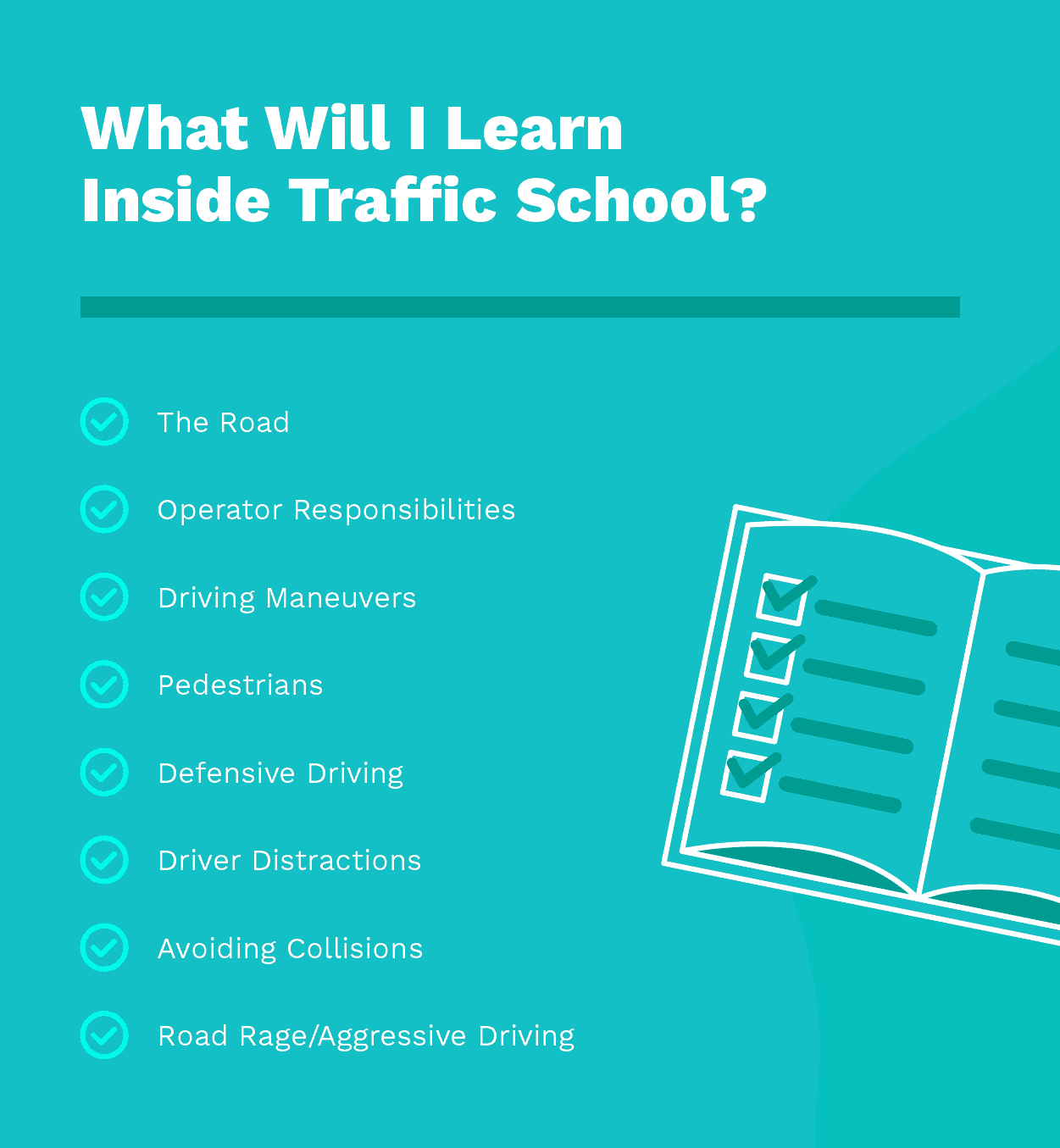 Traffic school will teach you about California driving laws, regulations, best practices, and more.
For an in-depth view of what you can expect to learn, here's a list of the exact topics Best Online Traffic School covers:
Careless driving and its consequences
Operator responsibilities
Pedestrians
Driving maneuvers
Avoiding collisions
Road rage/aggressive driving and avoiding it
Driver distractions
The vehicle
The road
The driving environment
At Best Online Traffic School, we've designed our course to be both speedy, educational, and painless while also fulfilling all court and DMV requirements.
Is California Online Traffic School Easy?
If you feel intimidated at the thought of taking traffic school, then here's good news:
Online traffic school is not only fast and cheap to attend, but it's also very easy to pass!
At Best Online Traffic School we've structured our material to easily guide you from start to finish. All you need to do is follow along and you'll be able to easily pass the final exam. In fact, 99% of our students pass on the first try.
We also offer unlimited retries and a one-of-a-kind Don't Pay Until You Pass Guarantee, meaning you don't have to pay anything until you're actually done with traffic school. No credit card is required to sign up!
Ready To Get Started?
Traffic school can be quick and painless – and we'll prove it.
Best Online Traffic School is an officially licensed traffic school by the California DMV (#E1314). We're here to make your traffic school experience as easy as possible.
Take our course as many times as you need to – and pay nothing until your final exam is finished. We remove all the pressure so that traffic school is entirely painless.
Once you've passed your exam, our low flat fee of just $14.99 will include all of the following:
Same-day Electronic Submission to the Court and DMV
Unlimited Retakes
Free Electronic Certificate Copy
24/7 Live Chat & Support
Secure Payment Processing & Encryption
Start and stop as you please
Free audio read along
Plus, our average completion time is short – meaning you can get it done in a single session.
Ready to see how quick and easy traffic school can be? Just click the button below to sign up and fulfill your court obligation in record time: