What is "Distracted Driving"?
Being a safe, careful driver can already be difficult even without any significant distractions. Driving while distracted makes driving more difficult and, most importantly, more dangerous. Distracted driving is driving while engaging in any behavior that could potentially take your attention away from the most important area of focus: the road in front of you. Like reckless driving, driving while distracted is a huge mistake. It endangers not only yourself, but also any passengers you may be carrying, nearby pedestrians, and other drivers.
What Kinds of Distractions Are There?
In the context of driving, there are three key forms of distraction to make sure to avoid. These are:
Visual distractions, which involve moving your gaze away from the road
Cognitive distractions, wherein your mind is not focused on driving
Manual distractions, when your hands are not on the wheel as they should be
Many real-life distractions can involve multiple kinds of distraction. For instance, texting and driving involve all three. That's why, when you think of distracted driving, it's probably the first thing that comes to mind. There have been numerous campaigns against texting and driving. Because it requires you to look at a screen, type using your hands, and think about what you're writing, texting and driving is the most serious form of distracted driving, to be sure. But there are other ways that distraction can manifest for drivers, all of which may also have serious (even life-threatening) consequences. These include:
Looking at sights outside your car
Listening to music, including using your radio, phone music player app, MP3 player, or CD player
Taking care of your appearance— fixing your hair, checking your makeup in the mirror, etc.
Communicating over amateur radios (e.g. ham radio device) or holding a cell phone, even hands-free—this is still a risky distraction
Trying to retrieve an object (e.g. from your glove compartment) while driving
Eating or drinking
Reading maps or other materials
Conversations with passengers
Watching videos
Dealing with strong emotions (which can cause road rage)
Distracted Driving Statistics 2022
Understanding the serious danger posed by distracted driving is a crucial part of minimizing, and eventually ending, the problem. Statistics can help to illustrate the severity as well as the consequences of this major safety threat. Here are some of the most notable statistics regarding the subject:
Here are more statistics on the risks and prevalence of texting and driving. And check out this article for general statistics on car crashes.
Graphs Showing Trends in Driver Cell Phone Use and Crashes from 2005 to 2018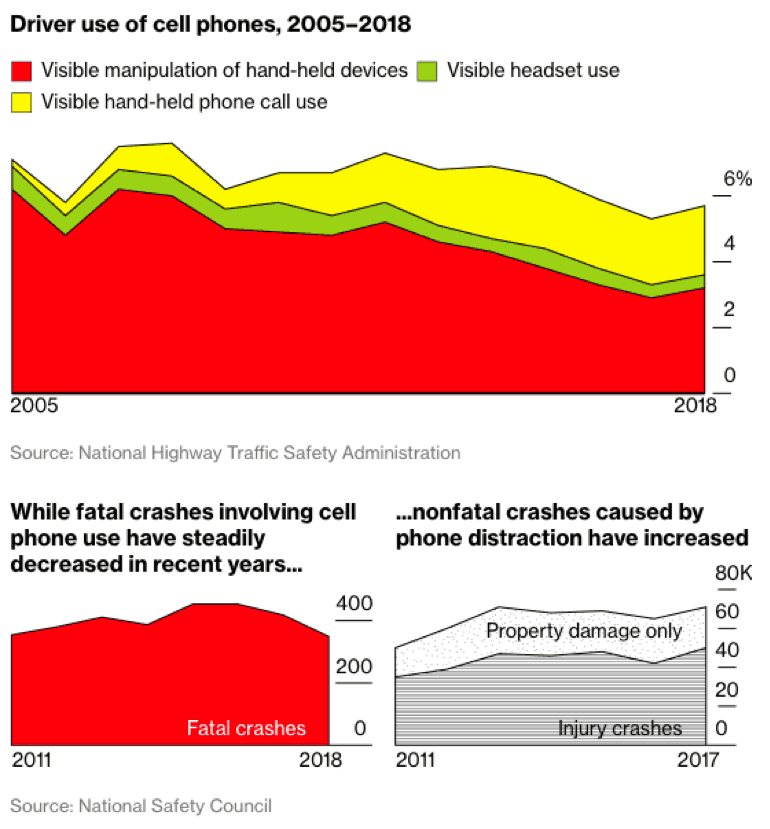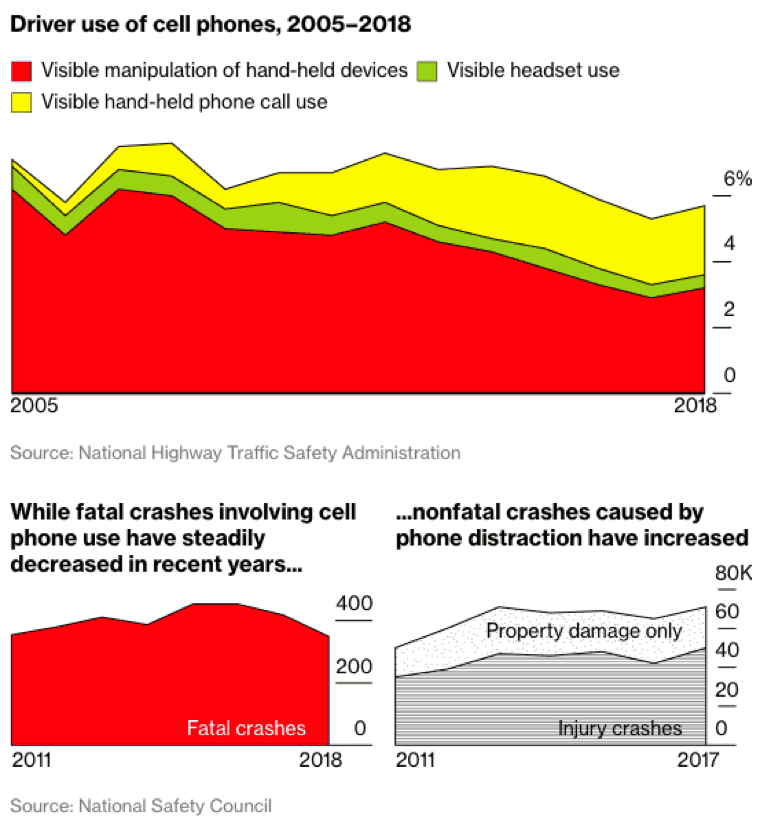 Statistics on Distracted Driving Among Teenagers
Teenagers are particularly susceptible to distracted driving—thus, it's crucial to educate both teenagers and parents on those serious risks. In fact, education is so important that some experts on the issue think that it could be more effective in addressing the problem than even sanctions. So here are some key statistics on this aspect of the issue:
Distracted Driving Laws
Laws about distracted driving vary by state as well as locality, approaching the problem with different kinds of legal strategies and methods of enforcement. Here are some notable examples of laws regarding distracted driving:
Where to Find More Info on Distracted Driving Laws by State
GHSA also offers a list of details on each state's distracted driving-related laws, including hand-held bans, all cell phone bans for school bus drivers and/or novice drivers, and text messaging bans. The AAA Digest of Motor Laws also provides a more detailed list of state-specific laws on distracted driving in the United States. And for even more information on distracted driving laws in your state, check out the Governors Highway Safety Association's (GHSA's) list of State Highway Safety Offices, and contact them if needed.
Tips to Avoid Distracted Driving
Our primary goal is to reduce the prevalence of distracted driving, so we've assembled some useful tips for avoiding driving distractions:
According to the National Transportation Safety Board (NTSB), beginner drivers should not drive between the hours of midnight and 5 a.m., as these are the highest risk driving times.
Use any vehicle controls (e.g. mirrors, radios, heating and air conditioning, and the like) before you start driving, or once you are done and have parked.
Whenever possible, do not have your cell phone out while you are driving. Instead, let calls go to voicemail, and wait to make calls or send text messages once your car is parked.
Do not fix your appearance or check your reflection in the mirror while driving.
Anytime you do need to use your cell phone while driving, wait to do so until there's an appropriate place to pull off the road and park your car.
Especially with younger drivers, try not to have many passengers in the car. As described above, for teenagers, having more passengers in the car increases the risk of car crashes. That is why the NTSB recommends that novice, young drivers holding provisional licenses should have restrictions on their number of passengers. Specifically, without an adult driver over the age of 21 to supervise, those with provisional licenses should carry only one passenger under the age of 20 until they have an unrestricted license, or until they have been driving for 6 months—whichever period of time is longer.
While driving, never reach down next to or behind the seats, retrieve items from the glove compartment, and so forth. Remember: your hands should remain on the wheel, and your eyes should stay on the road.