From 2016 to 2018, more bicyclists died in traffic accidents across California than in any other three-year period in the past 25 years.
Traffic accidents were the cause of death for 455 cyclists in that time period, according National Highway Traffic Safety Administration — the highest number since the mid-1990s, when cities started implementing extensive safety infrastructure for cyclists. Even though this data is now a few years old, it's the most recent that we have available due to reporting delays — and it shows a troubling trend. Bike accidents — especially fatal ones — are on the rise, both in California and across the nation.
Experts aren't sure what's causing the rise in bike accidents, but they have some theories: People are driving more than they used to, distracted driving is more common in the age of smartphones, and cycling is increasing in popularity. But no matter what's causing the increase in cyclist injuries and deaths, the sobering bottom line is this: Drivers are far more likely to be unhurt in collisions involving pedestrians and cyclists, and it's on them to drive safely and carefully to keep roads safe for everyone.
Want to learn more about bike accidents in California and nationwide? Read on for the latest statistics.
Bike Accident Quick Facts

Cyclists killed in 2020: 1,260
Cyclists injured in 2020: 425,910
Increase in cyclist fatalities from 2019 to 2020: 5 percent
Estimated annual cost of bicycle crash injuries and deaths: $23 billion
How Many Bicyclists Are Killed Each Year?
The number of bicyclists who are killed each year varies greatly depending on your data source. Data tends to be incomplete for at least several years, meaning we're just beginning to get an idea of how many bicyclists were killed and injured in 2020, even though it's now 2023.
According to the National Safety Council, 1,260 bicyclists died in bike accidents in 2020. Of those, 806 involved a motor vehicle. That's a 16 percent increase from 2019, and a 44 percent increase in the last 10 years.
According to the National Highway Traffic Safety Administration, 932 bicyclists were killed in motor vehicle crashes in 2020. That would be an 8.9 percent increase from 2019.
Regardless of the exact number of deaths, it's estimated that bicyclist deaths make up an average of about 2 percent of all motor vehicle crash fatalities nationwide each year.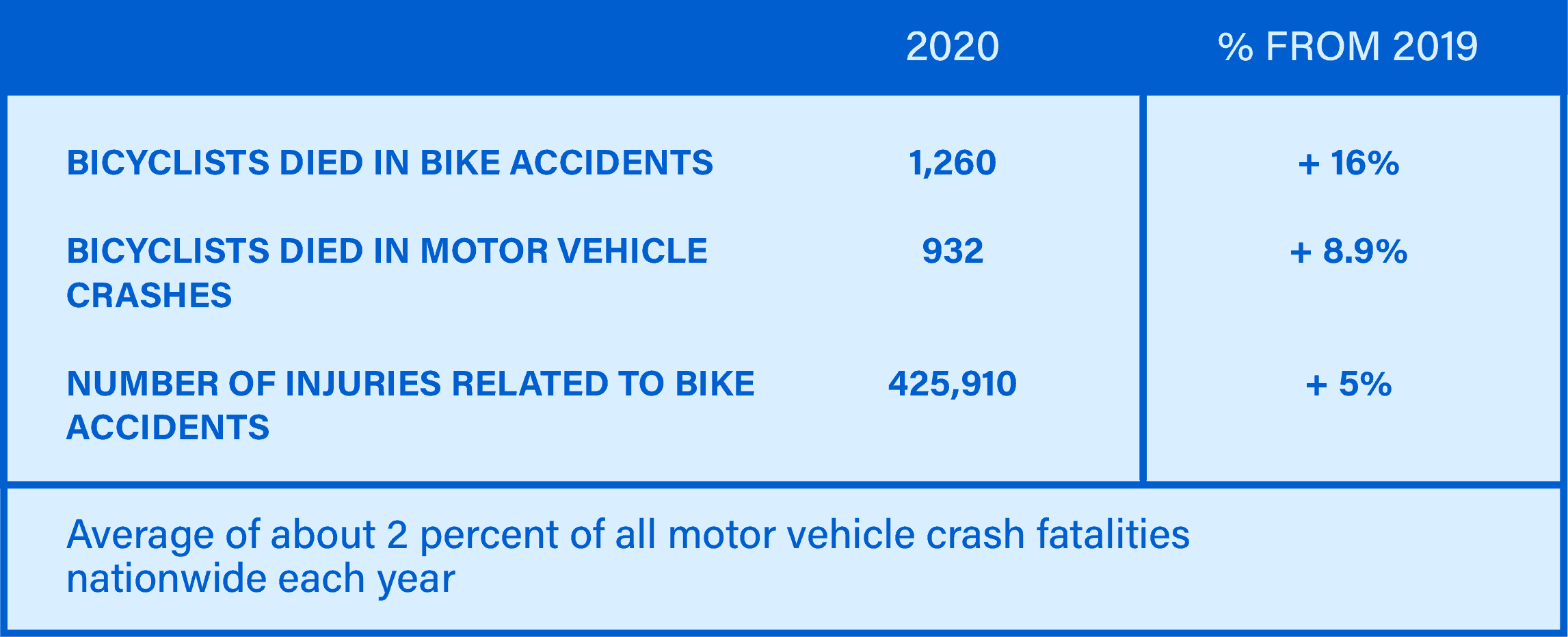 How Many Bicyclists Are Injured Each Year?
According to the Consumer Product Safety Commission, emergency departments across the U.S. treated 425,910 injuries related to bicycles and bike accessories in 2020.
While bike accident fatalities have been increasing for several years, preventable, non-fatal injuries from bike accidents have actually declined by 39 percent from 2011 to 2020. However, 2020 was a more dangerous year than usual — the number of injuries related to bike accidents grew 5 percent from 2019, despite trending downward in the long-term.
Who Is Injured and Killed in Bike Accidents?
According to the Centers for Disease Control and Prevention, the risk of injury or death in a bike accident varies by factors like age and sex.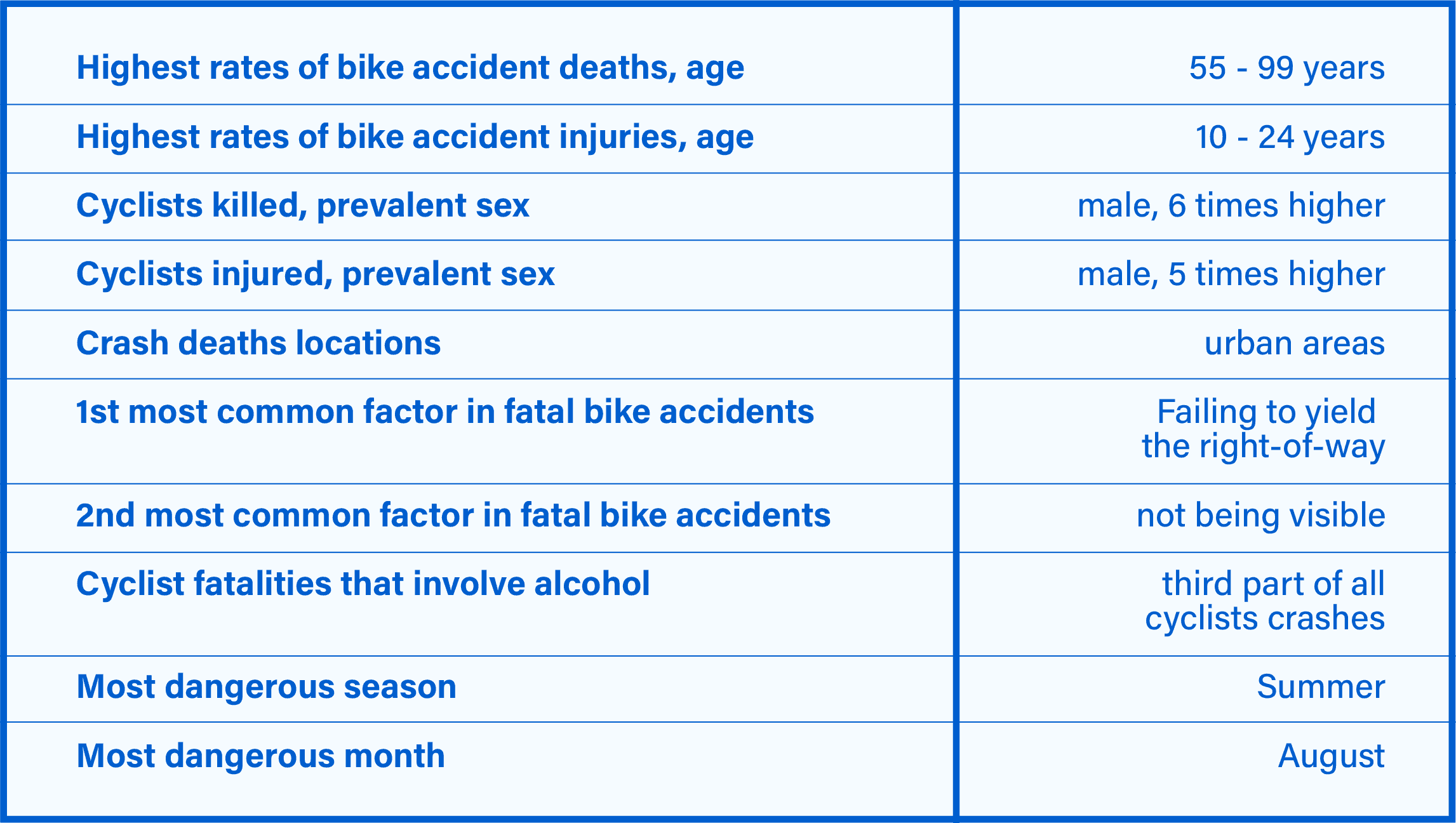 The highest rates of bike accident deaths are among adults ages 55-69.
The highest rates of bike accident injuries are among adolescents, teens, and young adults. People ages 10-24 account for about a third of all bike accident injuries seen in emergency rooms across the U.S.
Male cyclists are killed at a rate 6 times higher, and injured at a rate 5 times higher, than female cyclists.
Nearly 3/4 of bicycle crash deaths happen in urban areas.
Failing to yield the right-of-way is the most common factor in fatal bike accidents. Second is the cyclist not being visible.
About 64 percent of bike accident deaths happen on sections of roadway away from intersections. Experts say this is because traveling speeds tend to be faster in these areas.
About a third of all cyclist fatalities involve alcohol — either for the motor vehicle driver or the cyclist.
Cyclist deaths are more common during summer months in the U.S. Deaths begin increasing in May, and remain high through September. The month with the highest number of deaths is August, while the fewest deaths occur in February.
Bike Accident Injuries and Deaths in California
California is one of the most dangerous places to ride a bike in the U.S. Its 118 bike accident deaths in 2020 account for just over 4 percent of the total motor vehicle accident deaths in the state — more than twice the national average. Of all cities in California, Los Angeles sees the most fatal bike accidents: 106 in 2020, up more than 50 percent since 2008.
According to the California Department of Public Health:
The rate of cyclist injury across the state was 34 per 100,000 people in 2013.
The highest rates of injury in California cyclists are seen among those ages 15-24 — especially if they've been drinking before cycling.
Part of what makes California so dangerous for cyclists is its high population and high number of large cities. In fact, California is home to 14.5 percent of regular bike riders in the U.S. Meanwhile, Los Angeles alone contains 28,000 miles of street lanes, but only 0.6 percent of them have any added infrastructure to make them safer for cyclists.
What Causes Bike Accidents?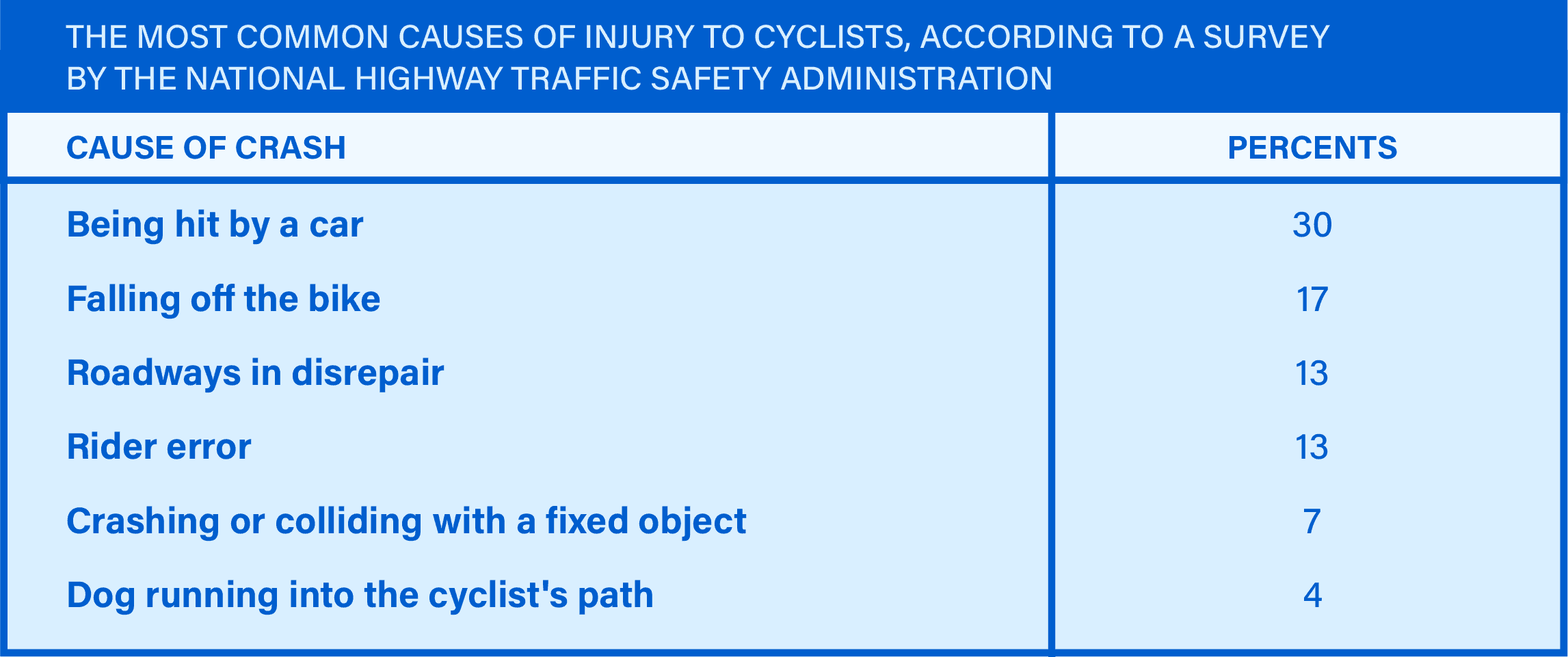 According to a survey by the National Highway Traffic Safety Administration, the most common causes of injury to cyclists are:
| | |
| --- | --- |
| Being hit by a car | 30 percent of injuries |
| Falling off the bike | 17 percent of injuries |
| Roadways in disrepair | 13 percent of injuries |
| Rider error | 13 percent of injuries |
| Crashing or colliding with a fixed object | 7 percent of injuries |
| Dog running into the cyclist's path | 4 percent of injuries |
Data also shows that alcohol is frequently a factor in bike accidents, especially those that cause a cyclist's death. A 2019 report by the Insurance Institute of Highway Safety (IIHS) found that more than 60 percent of deaths of cyclists 16 and older involved alcohol in some way — whether because the cyclist was intoxicated or because the crash involved a drunk driver in a vehicle.
Is Bicycling Getting More Dangerous?

While nonfatal injuries in bike accidents are trending downward, deaths have been steadily increasing since about the mid-1990s. Experts aren't exactly sure why, but they have a number of theories:
There are simply more cyclists on the roads. Cycling has been increasing in popularity for years, especially in urban areas where fatal bike accidents are most common. Depending on the source of the statistics, there's been around a 9.5 percent increase in the number of Americans who cycle on a regular basis. With rising gas prices and climate change fears, many commuters (especially in big cities) are turning to cycling as a more affordable, greener way to commute.
People are driving more. Experts have seen an increase in the number of miles Americans have driven in recent years. From 2021 to 2022, it's estimated that Americans drove 4.2 percent more, an increase that translates to billions more miles on the road.
Drivers are more distracted by technology. It's likely that the highest numbers of technology-related distracted driving deaths are behind us — those numbers peaked in 2018 and have been declining since states began introducing legislation to ban screen use while driving. However, distracted driving still accounts for hundreds of fatalities per year, even with the total numbers trending downward.
E-bikes are becoming more common. Electric bicycles, or bikes with integrated electric motors that can reach speeds of up to 28 mph, are becoming much more common. It's estimated that sales of e-bikes will reach over 40 million units in 2023, a 21 percent increase since 2014. Because bike accidents are most deadly in places where both vehicles and cyclists travel at higher speeds, prevalence of e-bikes may contribute to higher numbers of cyclist deaths.
How to Avoid Bike Crashes
Everyone who uses public roadways shares the responsibility to keep them as safe as possible. This includes cyclists, drivers, pedestrians, and anyone else on the road. Here's how to stay safe and avoid bike crashes whenever possible.
How Cyclists Can Avoid Bike Crashes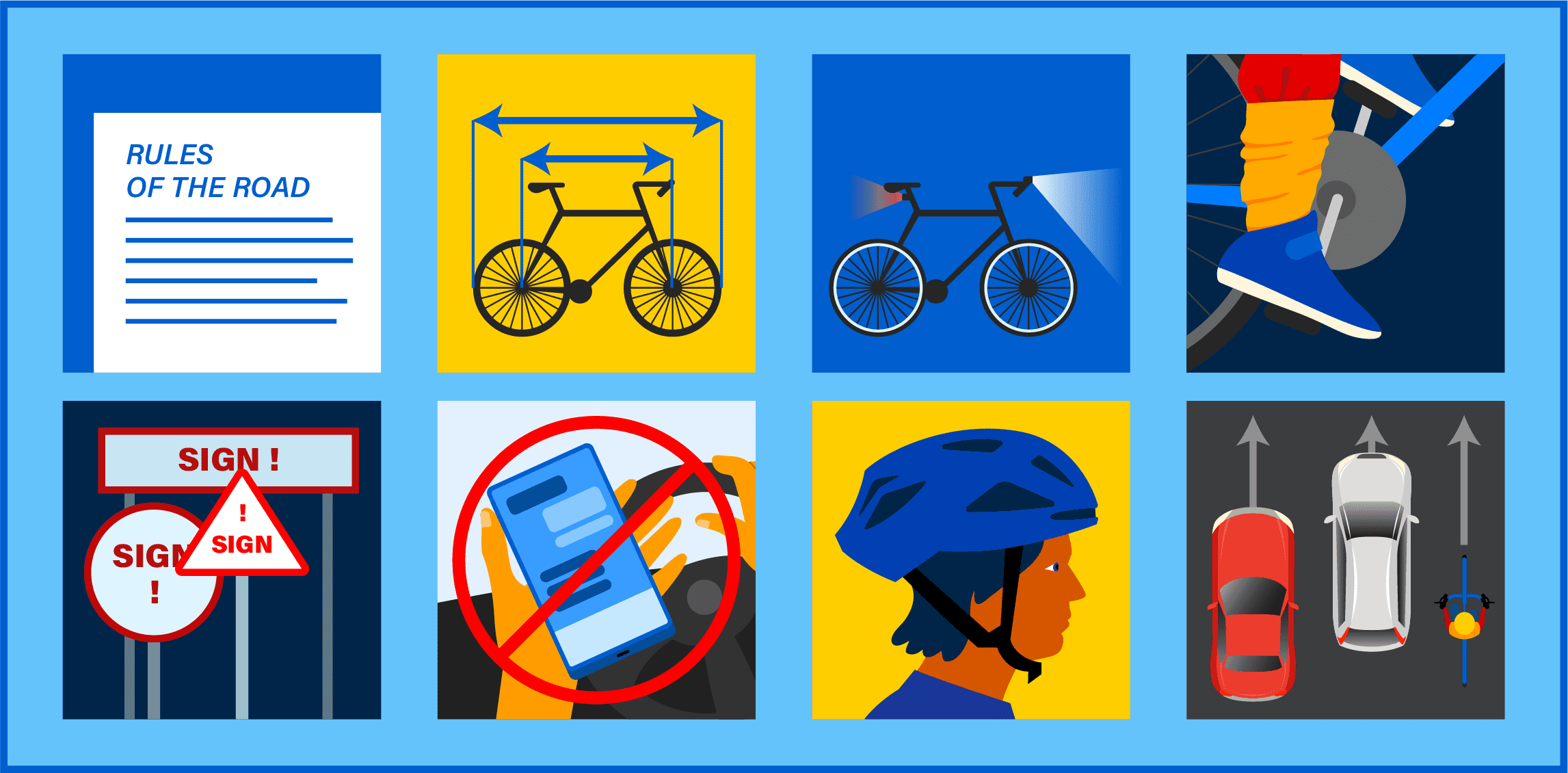 All states require bicyclists on the roads to follow the same rules and responsibilities as drivers. The first (and most important) thing cyclists can do to avoid crashes is to know and understand all rules of the road.
Additionally, cyclists can use these tips to stay safe when riding on public roadways:
Ride a bike that fits you. Too-big bikes are more difficult to control.
Ride a bike that is in good repair, with all equipment operating properly.
Wear brightly colored and reflective clothing to make yourself more visible while cycling.
Use active lighting when cycling after dark.
Only ride a bike with one rider per seat. Keep both hands on the handlebars unless signaling a turn.
Tuck in pant legs and shoelaces so they don't get caught in the wheels or chain while cycling.
Plan your route ahead of time, and whenever possible, cycle on routes with less traffic and/or slower speeds. If it's possible to get to your destination using bike lanes or bike paths away from vehicle traffic, always choose that option, even if it takes a bit longer.
Ride with the flow of traffic, in the same direction as vehicles.
Obey all street signs, signals, and road markings, just like a vehicle.
Don't text or listen to music while cycling.
Always assume that vehicle drivers can't see you and act accordingly.
Be aware of bicycle laws in your state.
According to research from multiple agencies, one of the best ways cyclists can protect themselves in crashes is by wearing a helmet. One analysis by Attewell, Glase, and McFadden found that helmets reduced the risk of head injury by 60 percent, and brain injury by 58 percent.
Different bike helmets are made and fitted in different ways. Be sure to follow the manufacturer's instructions to properly fit your helmet and wear it every time you ride a bike. While helmets are required in many states, you should wear one to protect yourself regardless of the law in your area.
How Drivers Can Avoid Bike Crashes
Drivers can also help keep the road safe by knowing the rules of the road, taking extra steps to share the road with cyclists and pedestrians, and driving defensively. Here are some tips drivers can use to help avoid bike crashes:
Yield to cyclists the same ways you would yield to other vehicles.
Don't underestimate cyclists' speed.
Avoid turning in front of a cyclist on the road or a sidewalk. Wait for them to pass or turn before making your turn.
When turning right on red, carefully check around and behind your vehicle for cyclists approaching from your right-rear. You should always look left-right-left and behind before beginning your turn.
In parking lots, at stop signs, or when parking, always look carefully around your vehicle in all directions, paying special attention to cyclists, before making any kind of maneuver.
Obey all speed limits and adjust your speed according to road and weather conditions.
Do not drive or park in bike lanes. Even if the law allows it, look for alternatives that will allow you to keep bike lanes clear for cyclists.
Give cyclists plenty of room. Do not pass them too closely, and treat them like you would another vehicle when passing — only do so when you have plenty of room to move safely into an adjacent lane.