In the U.S., we have made significant strides in reducing the incidents of drunk driving over the last 30 years. Groups like Mothers Against Drunk Driving (MADD) have led the charge in trying to help educate and curb dangerous driving habits, leading to a 50% reduction in deaths since 1980.
Even so, the problem is far from being solved.
In 2017 alone, nearly 11,000 people died in drunk-driving car accidents including more than 200 children under age 14. To help stop drunk driving, we must continue to draw attention to its deadly effects and uplift organizations working within our communities to stop it once and for all.
In our new infographic, we highlight some of the starkest facts about drunk driving over the last few years. Using the latest research, we calculated the immense impact and the epidemic of deaths caused by reckless behavior behind the wheel.
Drunk Driving Statistics [Infographic]

What is Drinking and Driving?
One of the significant causes of road accidents aside from texting and drinking before driving is drunk driving.
Drinking and driving fall into one of two categories: 1) driving under the influence (DUI) or 2) driving while intoxicated (DWI). Drinking alcohol and driving any motorized vehicle is a serious crime but can be fatal for other drivers, or innocent bystanders who encounter a drunk driver.
DUI and DWI mean that a person operates a motorized vehicle with a blood alcohol content (BAC) level of at least 0.08 percent. The smallest amount of alcohol can lead to a hazardous situation. Although a driver may not exhibit any of the warning signs of being drunk, they are equally as dangerous. Alcohol is absorbed into the bloodstream between 30 minutes to 2 hours, which enough time for the harmful effects to escalate. Therefore, no one should drink and drive because it is extremely dangerous.
Dangers of Drinking and Driving
1. Reaction Time Is Slow
Drinking slows a person's reaction time down, which can be fatal if the driver needs to slow down suddenly or brake.
2. Lackluster Coordination
Motor skills are negatively impacted while drinking. Many telltale signs that a person has been drinking is their inability to stand up straight or walk in a straight line.
3. Reduction in Concentration
The attention span is greatly reduced by drinking. This can negatively impact how a driver reacts to traffic lights, other drivers, or traffic signs.
4. Vision Problems
An impaired driver may have blurred vision and uncontrolled eye movement. The ability to accurately judge the distance of other vehicles and objects will be much more challenging, if possible, at all when drinking.
5. Impedes Judgment
A person's judgment may be slowed down or blocked completely, which may cause a person to overlook a potentially dangerous situation.
How Blood Alcohol Content (BAC) Levels Affect Driving
Alcohol can negatively impact many of your senses after only one drink, but legally a blood alcohol content (BAC) level of 0.08 percent means impaired.
BAC of 0.02 is significantly lower than the 0.08, but a person may still experience a lack of judgment. There may also be increased feelings of relaxation, a rise in body temperature, increased mood swings, impaired vision, and the inability to multi-task.
BAC of 0.05 is another level where the person experiences a lack of judgment, but it is accompanied by exaggerated behavior, impaired coordination, lack of motion detection, alertness, decreased muscle control, and delayed response time.
BAC of 0.08 is the legally impaired limit. A person may experience a reduction in muscle coordination, little to no judgment, impaired reasoning, lack of speed control and, and inability to process information.
BAC of 0.10 is one step above the legal limit of DUI and DWI. A person may show poor coordination, reduced reaction times, inability to control their vehicle, and slurred speech.
BAC of 0.15 is even further past the legal is when there may extreme loss of balance, virtually no muscle control, vomiting, impaired vision, and hearing. The attention span is reduced, which also makes it almost impossible to drive.
The Impact of Drunk Driving
29 People Die in Drunk Driving Accidents Every Day in the United States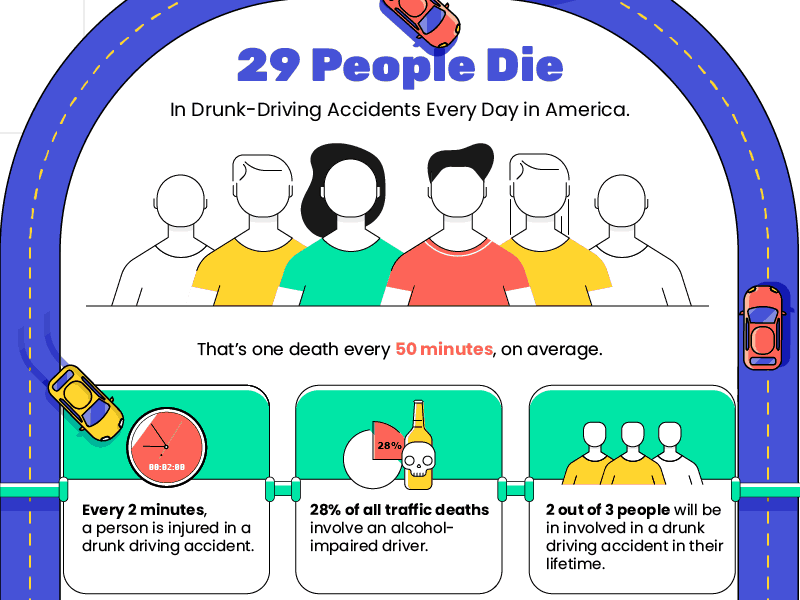 Although groups like Mothers Against Drunk Driving (MADD) have worked tirelessly to combat the problem of drunk driving, 29 people will die in drunk driving accidents.
10,874 people died in 2017 from drunk driving accidents.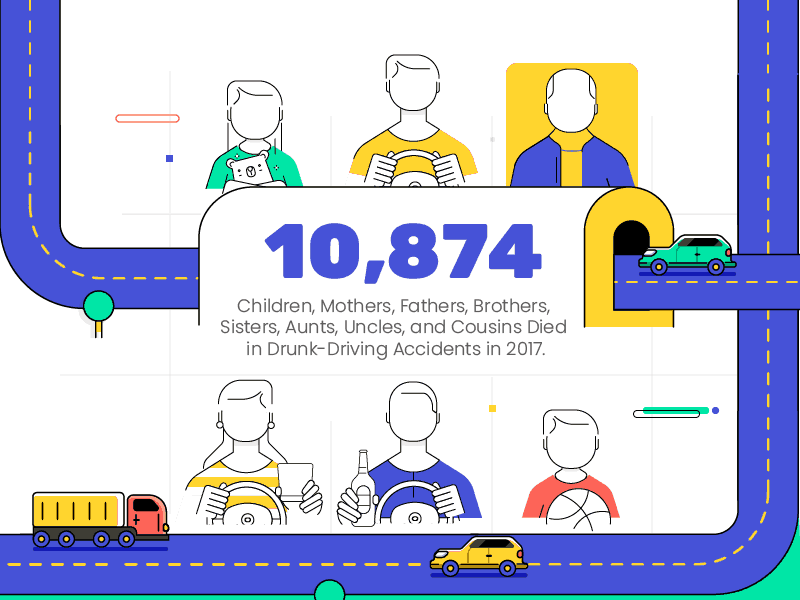 This number is more than just a data point because it means someone's family member, friend, neighbor, or co-worker. The person who chose to drive while drunk is left to deal with the aftermath of how their actions claimed the life of an innocent person.
Drunk Drivers Make Our Roads Unsafe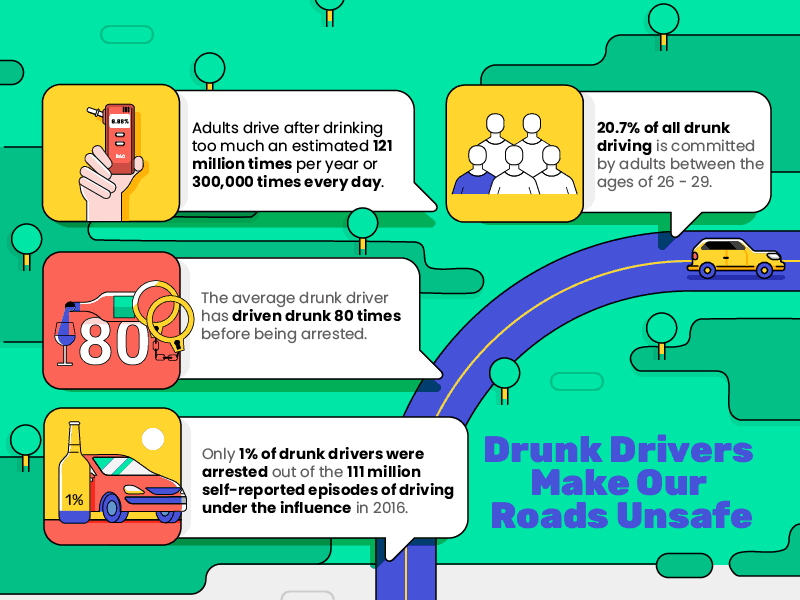 People drink and drive all of the time, an estimated 300,000 per day, but only 1% of drunk drivers are arrested. In America, it is likely for almost everyone to encounter someone swerving erratically from lane to lane who has had too much to drink, at least once.
Repeat Offenders Drive Up the Danger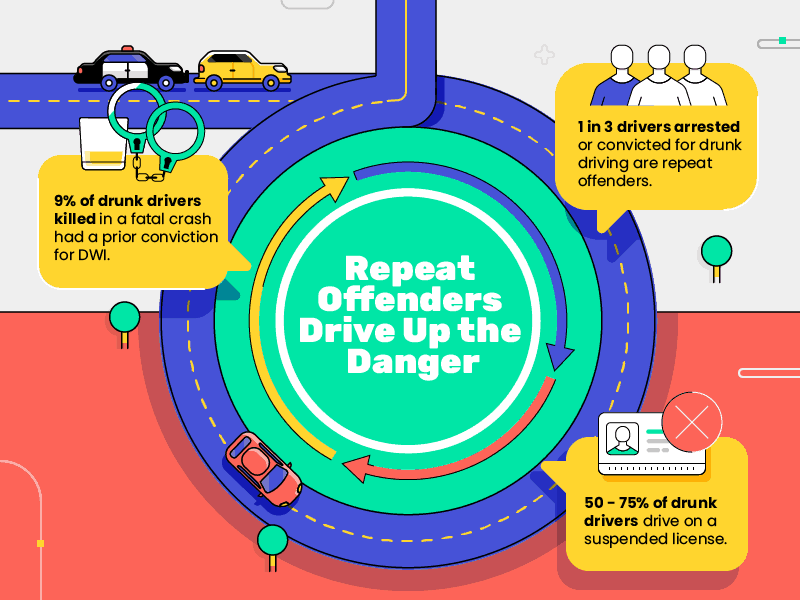 One hard truth is that most people who have a problem abusing alcohol will continue to have a problem unless they get help. A larger percentage of drunk drivers are already driving on a suspended license.
We All Pay the Price for Poor Decisions
The amount of money spent on motor vehicle crashes in the United States is double the amount of money the federal government sets aside for spending on veterans. However, there could never be a price tag placed on the lives lost in these types of accidents.
Please Drive Responsibly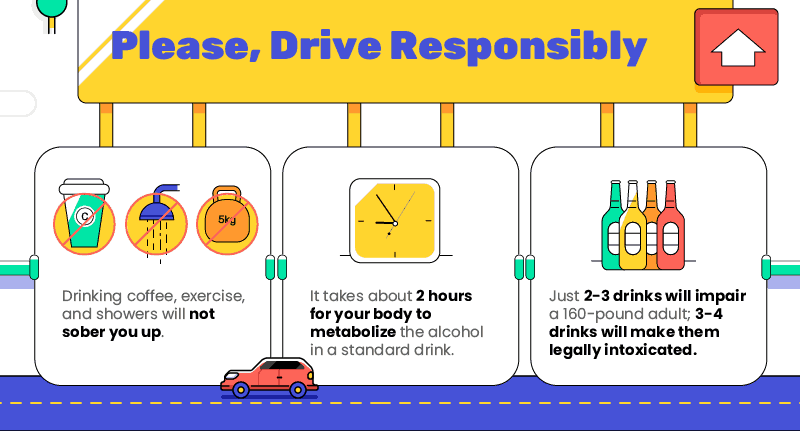 It is crucial to understand how alcohol consumption works to ensure that a person allows enough time to pass before driving after having a drink. Time is the only thing that helps a person become sober, not a shower or coffee, but time.