"How long is a traffic school course?"
"Can I finish it in one session?"
"Can I complete the course today and fulfill my court obligation if my due date is tonight?"
If you're wondering how long does traffic school take online then we're here to help. Read below to discover how quickly you can complete a California traffic school course and satisfy your court obligation (even if your deadline is tonight).
How Long is Traffic School Online?
Classroom-based traffic schools normally require 8 hours of your time over the weekend. However, online traffic schools are MUCH faster.
How long does traffic school take online?
The California traffic school course is approved as an 8-hour course, but when you opt for an online traffic school like ours at Best Online Traffic School, you can complete it at your own pace. Therefore, how long the course takes online is up to you.
How long will it take for you? This depends on a few different factors such as:
Your reading speed
How much you focus on course materials
Your existing understanding of traffic safety laws
The good news is that at Best Online Traffic School, our average time to complete ranges from 90 minutes to 3 hours. Even if you have little understanding of traffic laws, our easy-to-follow material will fully prepare you to pass your test in very little time. Our course is quick to complete and fulfills all court and DMV course requirements.
Of course, some people prefer to spread their sessions out over several days. Our self-paced course and automatic progress tracking allow you to complete traffic school in any way you wish.
Once you finish our course, you'll receive same-day submission to the court and DMV. In addition, you'll receive an instant traffic school certificate of completion.
How Long Is Traffic School For A Speeding Ticket Online
The number of hours to complete traffic school for a speeding ticket online is the same as any other ticket. This means you can complete traffic school within a few hours and submit it to the Court and DMV.
How Long Is Traffic School In Person
Classroom-based traffic schools normally require a minimum of 8 hours to complete. They can be done over the weekend, but we recommend doing it online at your own pace.
How Do I Know If I'm Eligible For Traffic School?
If you're not sure whether you qualify for traffic school, visit our California Traffic School Eligibility page for a full breakdown of the requirements.
If you have any questions, you can also ask us by clicking on the icon on the bottom-right corner of the page. We won't know if you're eligible or not, but we're here to help and happy to answer any and all questions you have about traffic school!
How Long Do You Have To Complete Traffic School After You Get A Ticket?
In California, most courts allow you up to 60 days from the date of payment to the court to complete traffic school. However, some courts may allow 90 days, so you should check with your county court to be sure. If you're worried about missing your due date, you may be eligible to request an extension.
What Is The California DMV Time Requirement for Online Traffic Schools?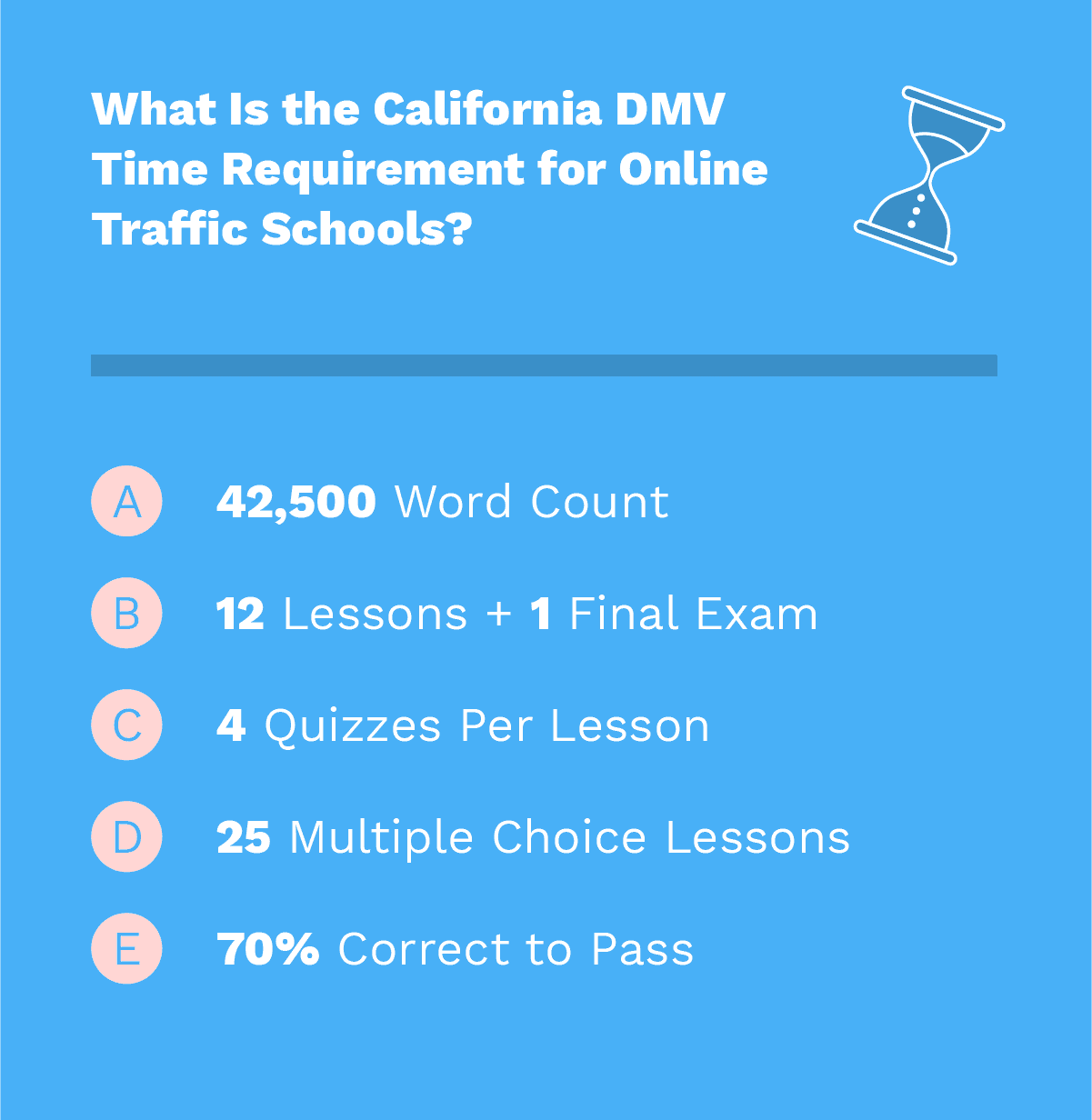 How Long Does Traffic School Take
In California, there is no official time requirement for online traffic schools. However, classroom traffic school courses have an 8-hour requirement. According to the California DMV's Outline of Required Topics and Standards for Approved Traffic Violator School Course OL 613:
"Each course must provide a minimum of 340 minutes of time for classroom instruction or a 42,500 word count for non-classroom instruction expressly devoted to traffic safety and provide a minimum of 60 minutes for completion of the required final test."
At Best Online Traffic School, we've designed our course to be both speedy, educational, and painless while also fulfilling all court and DMV requirements. We're one of the only traffic schools in the state to provide the course in English, Chinese and Spanish, including free audio narration.
How does it work? Simply read or listen to our easy-to-follow material and take the quiz. There are a total of 13 lessons and quizzes, with lesson 13 being the final exam.
You have unlimited attempts at passing the quizzes. Each quiz has four questions, and you need to get at least three correct to pass.
The final traffic school exam has 25 multiple-choice questions, in which you need to get at least 70% correct to pass. There are NO timers as you take either the quizzes or the final exam.
You get two attempts at the final exam. If you fail the second time, your account will be deactivated – however, you can simply register again and take the course. There is no penalty for doing this, and your court and DMV submission will still be valid.
This means that you essentially have unlimited retries. Plus, our "Don't Pay Until You Pass" Guarantee means you pay absolutely nothing until you actually pass.
If you can read through the lessons quickly, answer the quiz questions correctly, and finish the exam, you can be done with your traffic school requirement within the next two hours.
Best Online Traffic School Course Overview
Wondering what's inside our course? Below is a snapshot of what you can expect once you register: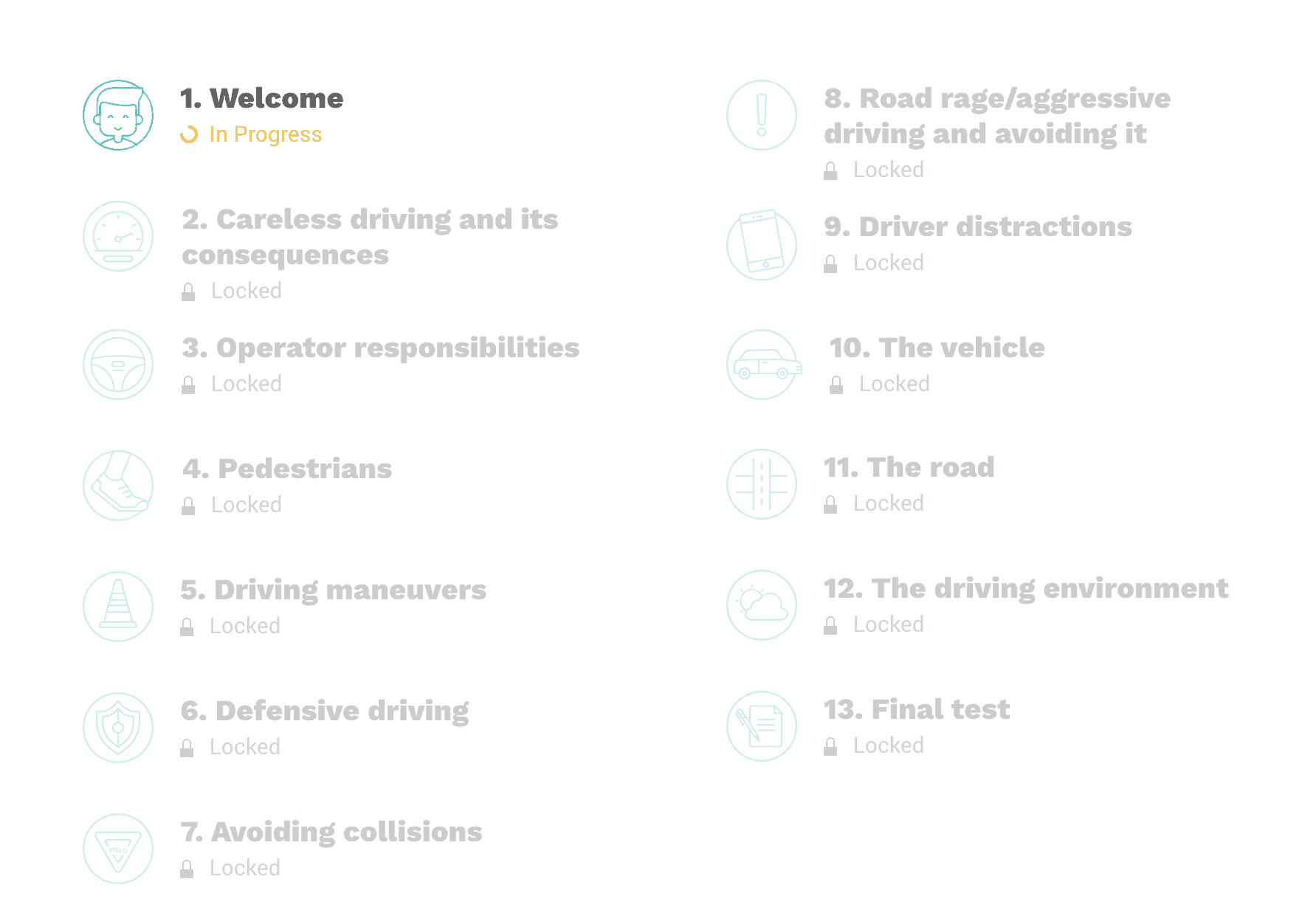 Ready to get started? You're only a few seconds away from getting started and a single session from finishing. Plus, signing up costs nothing and is completely risk-free.
Click below to quickly and painlessly knock out your court obligation today!