Assorted grime, grease, and dirt inside your windshield are not only unsightly–they can also obstruct your view of the road, causing frustration and even making it unsafe to drive your car. This is an especially significant concern at night when even small smudges and streaks can be a major barrier to visibility due to the glare that they create.
It's also a visibility concern when you need to defog your windshield because condensation (water vapor that builds up on your windshield in liquid form) is attracted to a dirty windshield much more quickly than to a clean one. But having a dirty windshield is a problem even when driving during the day and/or in milder weather, so no matter what, you should deal with the problem as soon as possible.
Keep reading, and we will describe exactly what causes the inside of your windshield to get dirty, explain how to clean the inside of your windshield as well as how often to do so, and list the top products for cleaning the inside of your windshield (and the rest of your auto glass) thoroughly and efficiently.
How Often to Clean the Inside of Your Windshield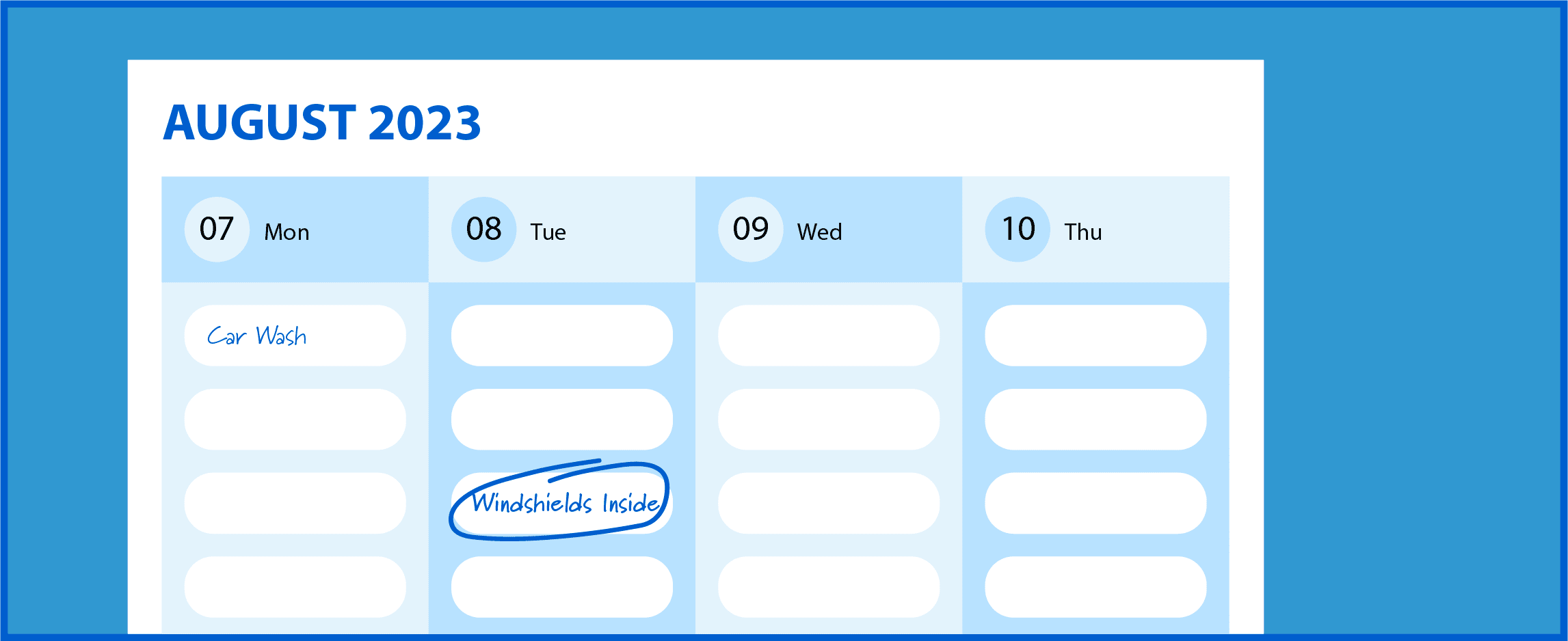 It depends on how often the inside of your windshield gets dirty. According to Glass Doctor, the general recommendation for how often you should clean the inside of your windshield is every few weeks or so.
However, if your windshield gets dirty more often than that (perhaps because you drive more than the average person or are regularly transporting kids or dogs in your car – more explanations in the next section) or you find that you tend to have greater issues with visibility than the average person due to smudges and grime, you should clean it more often than that.
You may even have to clean the inside of your windshield once a week or so. Although this might sound like a hassle, paying for a significantly safer driving experience is a small price.
Why the Inside of the Windshield Becomes Dirty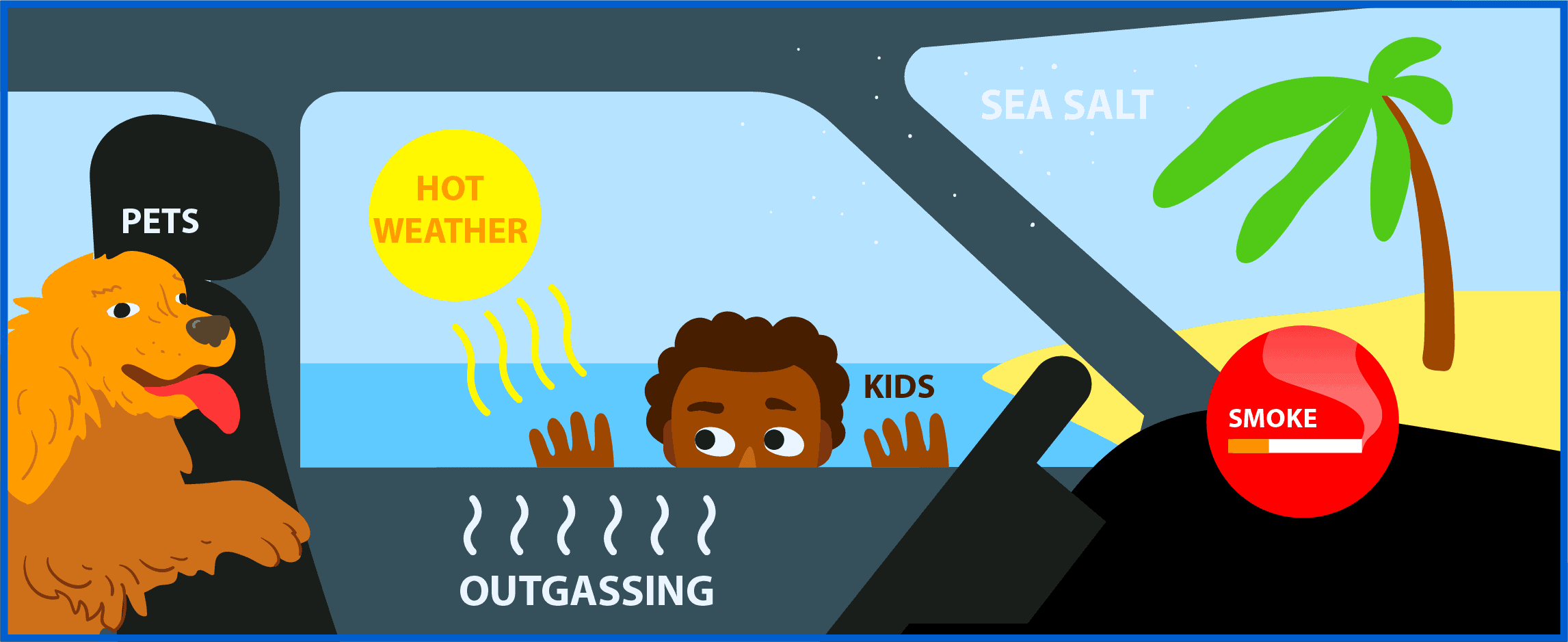 Why does your car's windshield accumulate a grimy film so frequently? There are lots of factors that can contribute to this, including:
Outgassing (or off-gassing) of car materials: Much of the interior of your car is made out of different types of plastic, vinyl, and rubber, particularly polyvinyl chloride (PVC). According to the LA Times, "The outgassing forms a waxy film on the inside glass that distorts their visibility and is difficult to remove." This process is also responsible for that famous "new car smell," It is generally more of an issue with newer cars. Wear on upholstery also generates a fine dust that can worsen glass buildup.
Hot weather: The warmer and sunnier it is outside, the hotter the inside of your car will get. This will accelerate the outgassing of plastic interior components, causing your windshield to get dirtier sooner. You can minimize this contributing factor by parking your car in the shade or a garage, using a sun shade and a dash cover whenever possible, and keeping your car windows cracked while parked (as long as the rain is not a concern).
Cigarette smoke: If you smoke inside your car, particulates from the smoke can accumulate on the interior of your auto glass.
Oily dashboard cleaners: Some specialized dashboard cleaners can leave an oily residue because they're formulated to create a glossy finish. Especially in hot weather, this residue can then evaporate and accumulate as a film on the inside of your windshield.
Sea salt: If you live near the ocean, sea salt in the air will enter your car and dry as a white film on the inside of your auto glass.
Road dust: Especially if you live in a dry area where dust tends to be thrown up off the road, this will add to your dirty windshield woes, both internally and externally.
Children and dogs: Although adults know not to touch the inside of the windshield due to the unsightly fingerprints it leaves, kids and dogs are guilty of regularly leaving fingerprints and "nose prints" on glass. If you have either (or both!) in your car regularly, you'll definitely have to clean your windshield more often.
Air pollution: Smog comprises of tiny particles suspended in the air. In addition to breathing in these harmful pollutants, you'll also have to clean them off your windshield more often if you live somewhere with higher levels of air pollution.
Although it is possible to minimize many of these contributors to a dirty windshield interior, some are unavoidable environmental factors, so you might just have to clean your windshield more often.
How to Clean the Inside of Your Windshield

Here's a detailed, step-by-step guide to thoroughly cleaning the inside of your car's windshield for perfect visibility:
1. Clean the rest of your car first: If you're deep cleaning your entire vehicle, cleaning the inside of your windshield should be the last step in this process after you've washed your vehicle's exterior and wiped everything else down. It's essential to clean the outside of your windshield first so that you can see what buildup you might have missed while cleaning. (You can disregard this first step if you're just doing some routine/maintenance cleaning of your auto glass's interior.)
2. Gather your materials and supplies: Thankfully, you don't need a lot of supplies to clean your windshield, but there are a few essential items to collect before you begin. These are:
Several clean lint-free microfiber towels (they must be clean–otherwise, they could make your windshield dirtier or even scratch the glass)
Specialized auto glass cleaner (see our recommendations for these in the next section) OR homemade glass cleaner (mix 50% rubbing alcohol, 50% distilled water, and a capful of white vinegar in a spray bottle)
Optional: A windshield cleaning wand (our recommendation for this product is also below)
3. Do an initial wipe-down of your windshield's interior: Start by using a dry microfiber towel to remove dirt and dust particles from the windshield. You should wipe the glass from top to bottom in a systematic way so that you don't go over the same spots repeatedly and end up spreading the dirt around instead of removing it.
4. Apply your window cleaner to another microfiber towel: Whether you're using a specialized auto glass cleaner or our homemade glass cleaner recipe, spray the solution onto a clean microfiber towel (do not use the same one you just used for your preliminary wipe-down!). Just make sure you don't oversaturate the towel, as this can backfire and leave your glass with a foggy finish.
5. Wipe your windshield with the damp towel: Use the damp microfiber towel to clean your windshield, wiping the glass from top to bottom in even circular motions and ensuring you reach every inch of the glass. If you have trouble reaching the bottom corners of the windshield, you may want to use a windshield cleaning wand to get these areas thoroughly cleaned.
6. Dry off the windshield: Using another clean, dry microfiber towel, wipe off the remaining glass cleaner until your windshield interior is completely dry.
7. Repeat as needed: If your windshield isn't fully clean yet, repeat steps 4 through 6 until it's spotless.
Best Products to Use to Clean the Inside of Your Windshield
Ready to take your windshield's interior from grimy and dull to a sparkling clean? We've done the research for you, so you don't have to waste more time scouring the web for the right supplies. Here are our top three recommendations for products that will leave your auto glass as perfectly pristine as it was when you first drove your car off the lot:
Our Pick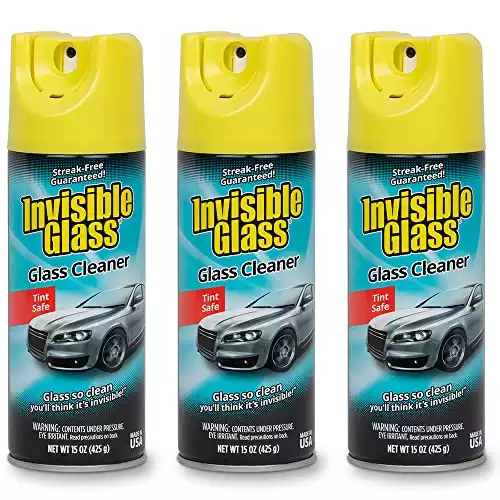 This is many people's #1 favorite cleaner for car windows, and we wholeheartedly agree with this assessment.
Not only is it super effective on both the interior and exterior glass of the windshield and car windows, but it's also the glass cleaning product that's the least likely to leave streaks or film when you use a microfiber cloth to dry it off–it truly lives up to the "invisible glass" name. This is because it's free of all soaps, scents, or dyes that might leave remnants. It's also ammonia-free, so it won't cause any damage to tinted windows.
The canister it comes in produces a fine mist that never drips, and it can remove everything from dirt and sap to bugs and permanent marker from glass surfaces.
If the Invisible Glass product we recommended isn't available, this Chemical Guys glass cleaner is a great, super-effective alternative. Not only does it do a great job of dissolving grime without leaving any streaks or films, but it also minimizes static cling to repel dust and debris going forward, so that your windshield gets less dirty over time.
Because the formula is ammonia-free and has no harsh or abrasive components, it doesn't have a strong odor (even reviewers with sensitive noses report that the odor is mild and inoffensive!). It won't cause damage to clear plastics or tint films. It's also safe not only for car windows but also for more delicate applications like computer screens, LCD televisions, plastic/plexiglass windows, and windscreens.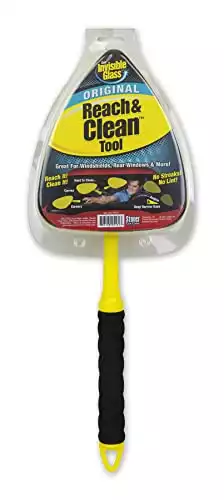 Many windshield cleaning tools out there will help you reach all the nooks and crannies of your auto glass, but many of them are poorly constructed and flimsy. However, this product from Invisible Glass is anything but–it's the original one of its kind on the market, with other products being cheap imitations.
Yes, the Invisible Glass Reach and Clean Tool is a bit more expensive than these knockoffs, but it's worth spending a little extra for a product that will work, with a thick and sturdy foam grip handle and high-quality microfiber accessories that make for some beautiful results.
It comes with three different kinds of washable "bonnets" (microfiber covers for the head of the cleaning tool): a lint-free one for gentle glass washing and polishing, a thicker one for multi-surface cleaning, and one for scrubbing away more stubborn messes such as dead bugs. The pivoting "Flex-Tech" head is detachable and allows the tool's cleaning surface to contour to curved surfaces.
As a bonus, it'll also work on glass in places other than your car (like on your home's windows). This tool is also easy to store on a hook using the hanging loop at the end of the handle. To quote one happy reviewer who had previously struggled with the task of cleaning the windshield: "All I wanted is a tool that would make it possible to easily clean the long, sloped inside surface of a late-model car's windshield, able to reach all corners as well as the lower inside edge of the windshield . . . This tool makes doing this possible without performing incredible, difficult, and painful contortions to a 77-year-old body."