Buying a used car can mean getting a great price on the vehicle you want — but you may also have to make some sacrifices. Maybe it doesn't have the moonroof you always wanted. Or the color isn't what you dreamed about. Or a past owner had a bad habit — smoking in their car — and now there's a lingering smell.
Many a used car owner has wondered how to remove smoke smell from a car. It can be a difficult process, with a lot of steps. But the important thing to remember is that it can be done, with patience and a little elbow grease. Here's everything you need to know.
Items You Will Need to Remove Smoke Smell from Your Car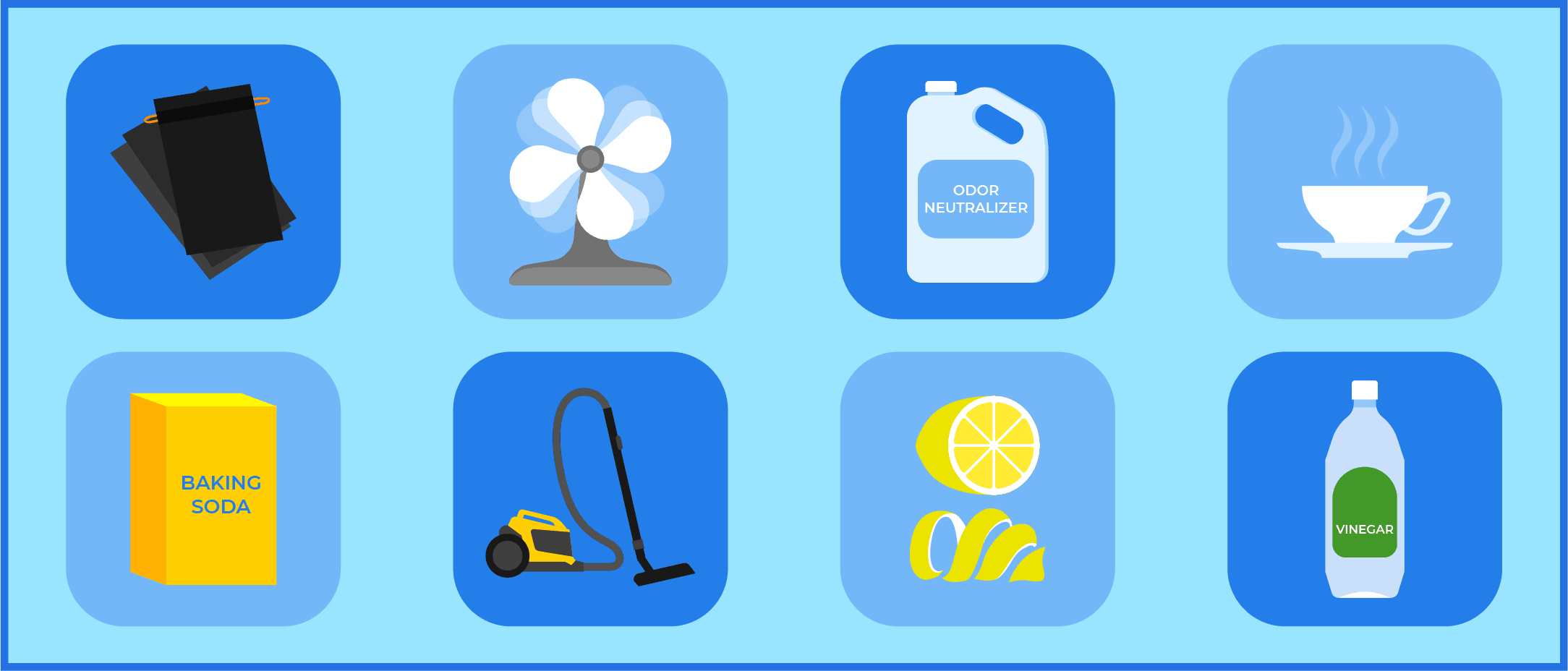 Before you begin, gather all these supplies:
Trash bags
Dryer sheets
Electric fans
Plenty of rags
Odor neutralizing cleaner
Coffee grounds, charcoal, or cat litter
Cinnamon sticks
Citrus peels (oranges and lemons work best)
Baking soda
Vacuum cleaner
White vinegar
Steam cleaner
Optional: Car refreshers or an odor bomb
How to Remove Smoke Smell from Your Car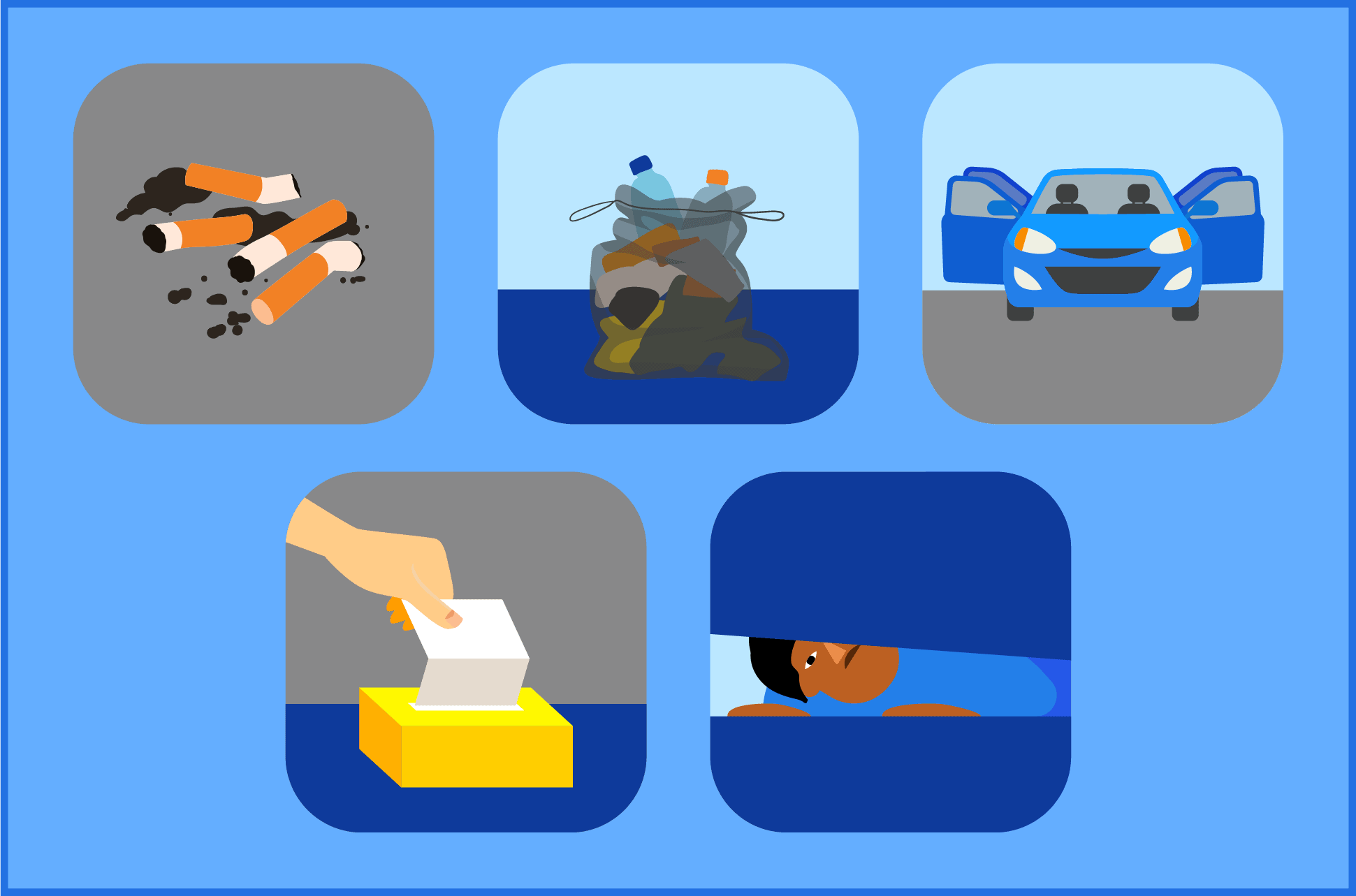 If you have a car that smells like smoke — whether it's from cigarettes, cigars, or marijuana — take these steps first as you work to remove that pesky smell.
1. Remove All Butts and Ashes
You'll never get the smell out if the source of the smell remains in the car! The first step is to search everywhere in the vehicle for cigarette butts, ashes, and anything else that may be causing the smoke smell. Make sure all of it is carefully and completely removed.
2. Clean Out All Trash and Debris
Smoke smell clings to everything, so the next step is to take out anything you aren't going to keep in your car, like trash, clothing, bags, and anything else you don't need. If you have seat covers, remove them so you can wash them according to the care instructions on the tag.
Also, remove things like floor mats — they'll be easier to clean outside of the car, and removing them can help the smell dissipate somewhat in the meantime.
3. Air It Out
Step 3 is to get some good air circulation in the vehicle. If you can, wait for a warm, breezy day. Roll down all the windows or open all the doors and just let the car air out for as long as possible. If you have some electric fans you can set up to circulate the air even more, it can help.
4. Wipe Down the Interior with Dryer Sheets
Dryer sheets are great at soaking up scents. After your car airs out, use dryer sheets to wipe down every part of the interior, from the floor to the ceiling. Don't forget places like the seatbelts and visors, which are often covered in fabric and can hang on to smoke smell.
5. Clean All the Hard-to-Reach Places
Dirt, grime, and ashes that are causing your car to smell can hide in even the smallest spaces. It's important to clean every possible space in your car — first with a portable vacuum cleaner, then with a rag and a cleaning solution.
We recommend the THISWORX Car Vacuum Cleaner, which was featured on our 10 Must-Have Gifts for Car Lovers.
Don't forget to clean under the floor mats, inside the glove box, around the gear shift, and in the steering column — move the steering wheel around to get every spot.
Natural Remedies To Remove Smoke Smell in a Car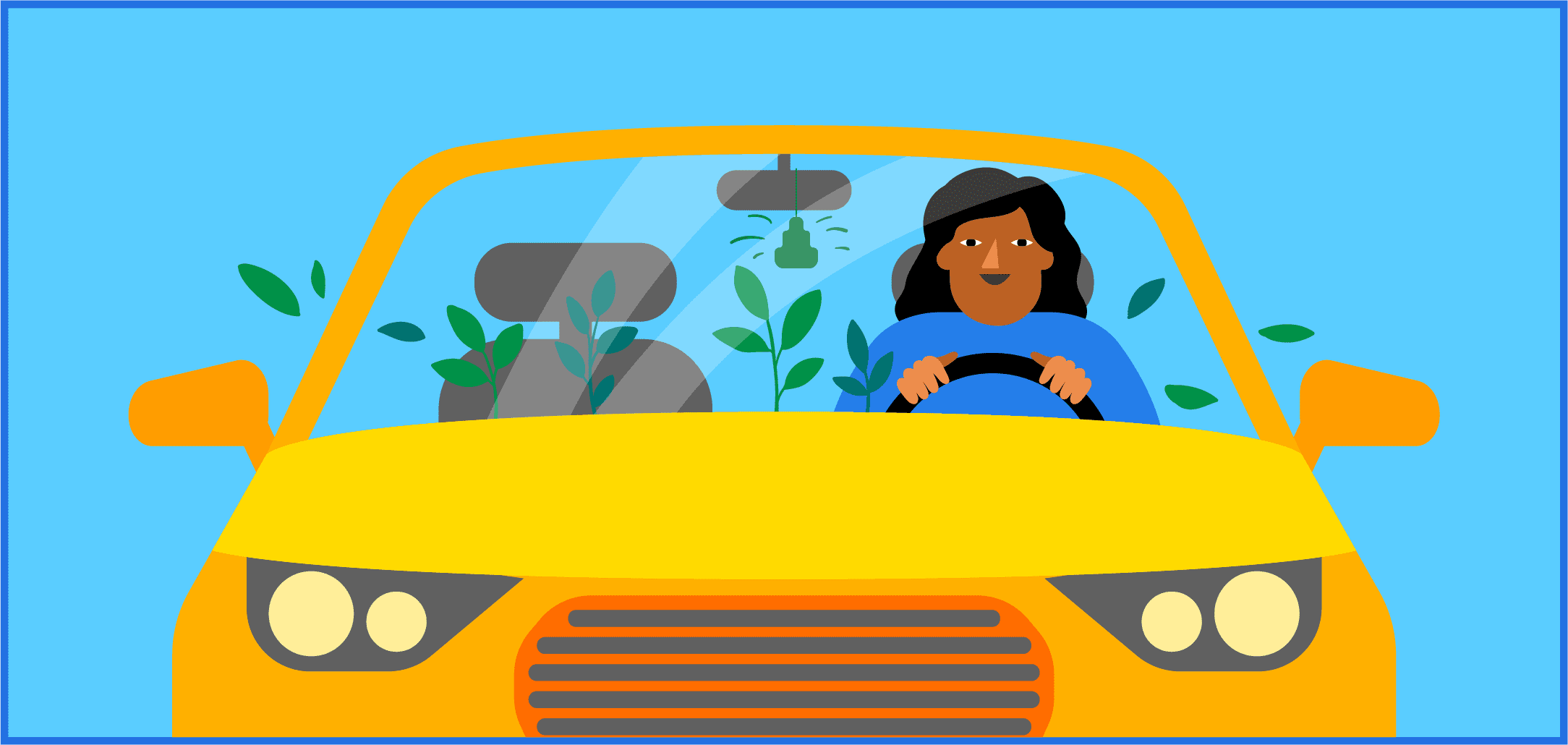 There are a number of common household goods and items that can either help absorb odors or mask them. You likely already have some or all of these things on hand, and if not, you can get them at just about any grocery store. Some options:
Leave a bowl of coffee grounds in your car to absorb the smoke smell. This works best if you can leave it for at least 24 hours.
Sprinkle cat litter on the floors and let it absorb the odors. Then, vacuum it up.
Leave bags of charcoal around the vehicle. Activated charcoal is another substance that's great at absorbing unwanted smells.
Boil water with cinnamon sticks, then pour it into a travel mug and leave it in your car's cup holder. This can help mask any remaining smoke smell.
Scatter citrus peels on the floor and in the cup holders. Citrus peels can both absorb and mask bad smells. Orange and lemon peels are great for this, but other citrus, like grapefruit or lime, will also work.
Try A Car Odor Bomb
If all else fails, there are special products, like odor bombs, that are designed to help get smoke smell out of a vehicle. These are highly effective at eliminating odor especially smoke smells. We recommend the Dakota Odor Bomb Odor Eliminator.
Another option is to turn to the professionals and get your car detailed — some detailers even offer odor removal as a special service. Just note that this is going to be the most expensive option by far, and might be better as a last resort if you're just not able to get rid of the smell on your own.
How to Remove Smoke Smell from Upholstery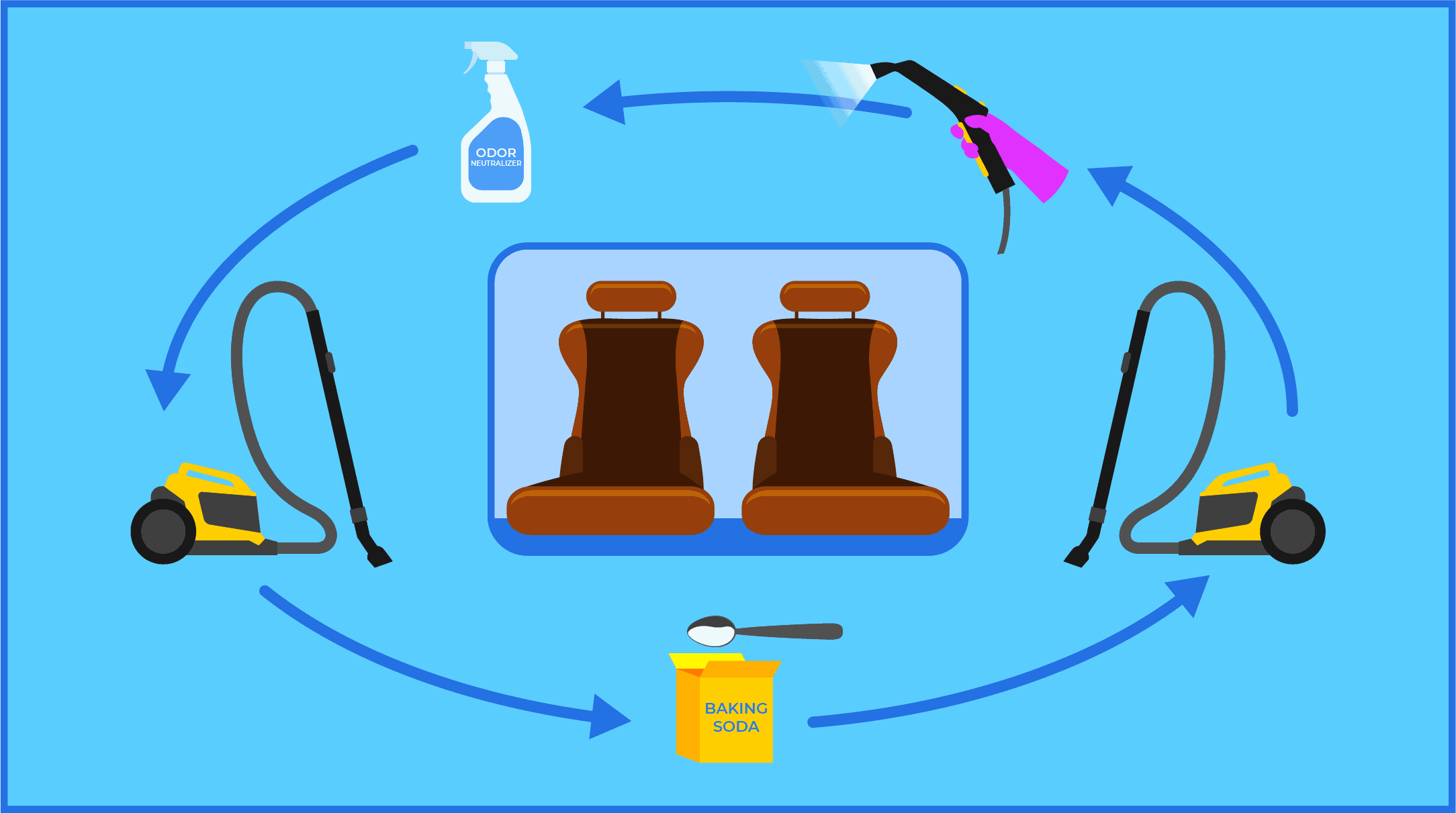 Upholstery is one of the toughest places to get rid of smoke smell. Over time, the smell permeates the fabric and other soft materials and becomes harder and harder to get out. Here are some steps to take to reduce the smell of smoke coming from your vehicle's upholstery:
First, carefully vacuum every piece of upholstery in the vehicle.
Then, sprinkle a layer of baking soda over all the upholstery and leave it for a while — ideally, overnight.
Once the baking soda has had time to absorb some of the odor, vacuum it off the upholstery. Vacuum over each surface a few times to ensure you've cleaned up all the baking soda.
Steam clean the upholstery to help eliminate any lingering odors, especially those beneath the surface of the fabric.
Spray all the upholstery with an odor-neutralizing spray that's safe for your fabric and upholstery type. Let it dry completely.
Repeat these steps as needed.
How to Remove Smoke Smell from Leather and Trim
If your car has leather interiors, removing the smoke smell may be more difficult. There's a wide variety of different types of leathers used in cars, so you have to be careful to only use products that are safe and recommended for the leather you have. Consult your owner's manual, or speak to a professional if you aren't sure how to clean your car's leather properly and without damaging it.

For hard surfaces, like the dashboard, cupholders, around the gear shift, even the seat belt buckles — use a 50/50 mix of white vinegar and water and a clean rag. The vinegar will help remove the smell. Then, if any smell remains, wipe everything down with a clean rag sprayed with odor neutralizing spray.
For rubber components, like the floor mats, smoke can permeate deeply and be hard to remove. Carefully steam clean anything made of rubber. If the smell is still lingering after a few rounds of steam cleaning, things like floor mats may just need to be replaced.
How to Remove Smoke Smell from Vents

One part of a vehicle many people overlook when cleaning to remove smoke smell is the vents. If anyone smoked while driving the vehicle, the smoke likely traveled all the way through the vent system and is lingering in difficult, if not impossible, places to reach and clean.
Luckily, there are a few steps you can take to remove smoke smell from your car's vents:
While airing your car out with all the doors open, turn the air up all the way so fresh air can circulate through the entire system for a while.
With the air on as high as it goes, use your steam cleaner to send steam into an intake vent. The steam will travel through the vent system and help dislodge any dirt or grime that may be holding on to the smoke smell.
Replace the cabin air filter. This is an easy place for smoke smells to linger. Fortunately, it is inexpensive to buy cabin air filters and pretty easy to replace them on your own.
How to Smoke in Your Car Without it Smelling

If you smoke and want to do so without making your car smell, here are a few tips:
Only smoke with the window rolled down, and hold your cigarette near or all the way out the open window. This won't guarantee that your car won't start to smell like smoke, but it will help direct most of the smoke outside to lower the odds.
Make sure your heater or air conditioner is pulling in air from outside. This brings a steady supply of fresh air into the car that can help reduce odors. If your heater or air conditioner is only recirculating the air that's already in the car, smoke smells will linger, get into your vent system, and get pushed around to all parts of the car.
Switch to E-cigarettes. These don't have the same strong odor.
Get a car air freshener. While this won't eliminate the smoke smell, it will help dampen the effect in between rounds of cleaning.
Quit smoking. This is the healthiest choice, and the only way to guarantee your vehicle will never smell like smoke again.
Removing smoke smell from your car isn't easy, but it can be done. Use these tips to have your vehicle smelling as fresh as possible.