Ever wonder why parking in California gets such a bad rap? A recent survey reveals some of the common problems Californians face when trying to find a parking spot, as well as the type of behavior drivers engage in while parking in the Golden State.
What Makes Parking in California So Complicated?
California has some stringent parking laws and rules that visitors may not be aware of or understand. Los Angeles, in particular, has built up a reputation as being one of the top cities to issue parking tickets.
If you're new to driving in California, you may wonder what's up with the colors you'll see state-wide on curbs or parking slot edges when you're trying to score an on-street parking spot. Different colors denote under what conditions parking is allowed or if it is permitted at all. Authorities expect you to know and understand their color system.
While there are old-fashioned meters in some areas, you'll see some cutting-edge paid parking methods in bigger cities, such as Los Angeles. Those who think they have found free parking because they don't see a meter may be in for a shock. They might need to pay for that spot, after all, through a nearby central pay station.
Even forgetting to turn your tires the right way when parking on a hill can net you a ticket.
What a Recent Survey Revealed about Parking in California
To share their experiences with parking in California, Best Online Traffic School surveyed 495 car owners aged 18 and over in California. With this sample size, the findings are at least 95 percent accurate.
Although the responses came from people living in various cities across the state, the city with the most participants in the survey was L.A. The survey addressed a variety of topics related to parking in California.
Parking in Handicapped Spots without a Valid Permit Displayed
Those prized accessible parking spaces proved to be too tantalizing to resist for some people taking the survey, especially women and younger drivers.
In the survey, 20.4 percent of women admitted to parking in a handicapped spot without having a valid permit displayed. Only 11.5 percent of men responded that they had done the same.
Those under the age of 35 were far likelier to have committed this offense.
19.2 percent of those aged 18 to 24 have.
20.3 percent of those aged 25 to 34 have.
11.9 percent of those aged 35 to 44 have.
10.7 percent of those aged 45 to 54 have.
13.9 percent of those over 55 years old have.
Intentionally Parking to Take Up More than One Parking Spot
When parking is limited, few things can irritate people as much as seeing someone using more than one parking space.
Once again, women engaged in this behavior more, with 24.4 percent of women saying they've done this intentionally in the past. By comparison, only 16.7 percent of men admitted to taking up more than one parking spot on purpose.
Leaving a Passive-Aggressive Note for Those Poorly or Illegally Parked
If you've been circling the parking lot for a few minutes looking for a spot only to see someone poorly or illegally parked, you might consider leaving a nasty note. But how many people actually have left a passive-aggressive note on a car because of the owner's parking job?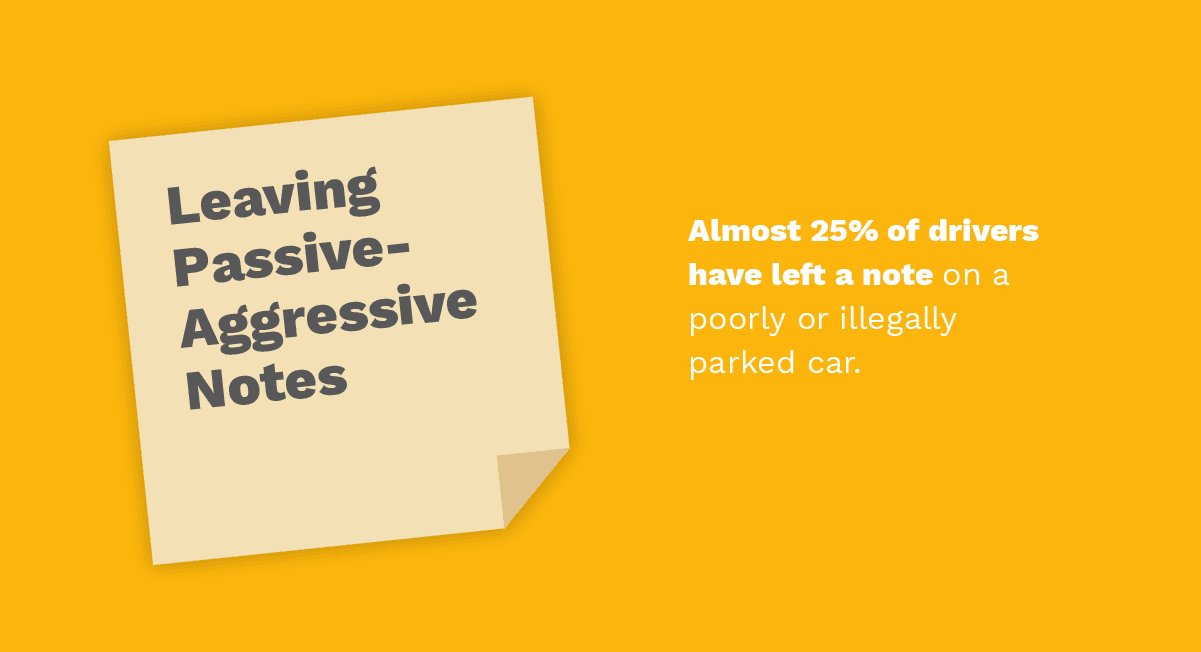 Surprisingly, almost one-quarter of drivers of both genders say they have. Women were slightly likelier to do this at 24 percent, while males were just a smidge under that, at 22.2 percent.
By a small margin, younger generations were likelier to leave a note. The age group with the highest percent of people leaving notes were those 25 to 34 years old, at 16.6 percent. The lowest percent leaving a note was the age bracket of 45 to 54, at 8 percent.
Worst-Case Time Scenarios on Waiting for a Parking Spot
Californians may feel like they spend too much time waiting for a parking spot, and this survey shines a light on how long they've waited. Those who have only had to wait less than 5 minutes are rarer than those who have spent more than 30 minutes.
When asked about the longest amount of time they've had to spend waiting for parking, this is how survey participants responded:
8.9 percent said less than five minutes was their longest wait.
30.5 percent said they have waited 5 to 10 minutes.
32.3 have spent 10 to 20 minutes holding out for a parking spot.
15.6 percent have waited 20 to 30 minutes at some point.
12.7 percent said they've spent more than 30 minutes waiting for a spot.
Parking Tickets in California
Parking tickets, perhaps due to the complicated parking rules and lack of spots, are common in California. In the survey, 69 percent of Californians have received at least one parking ticket.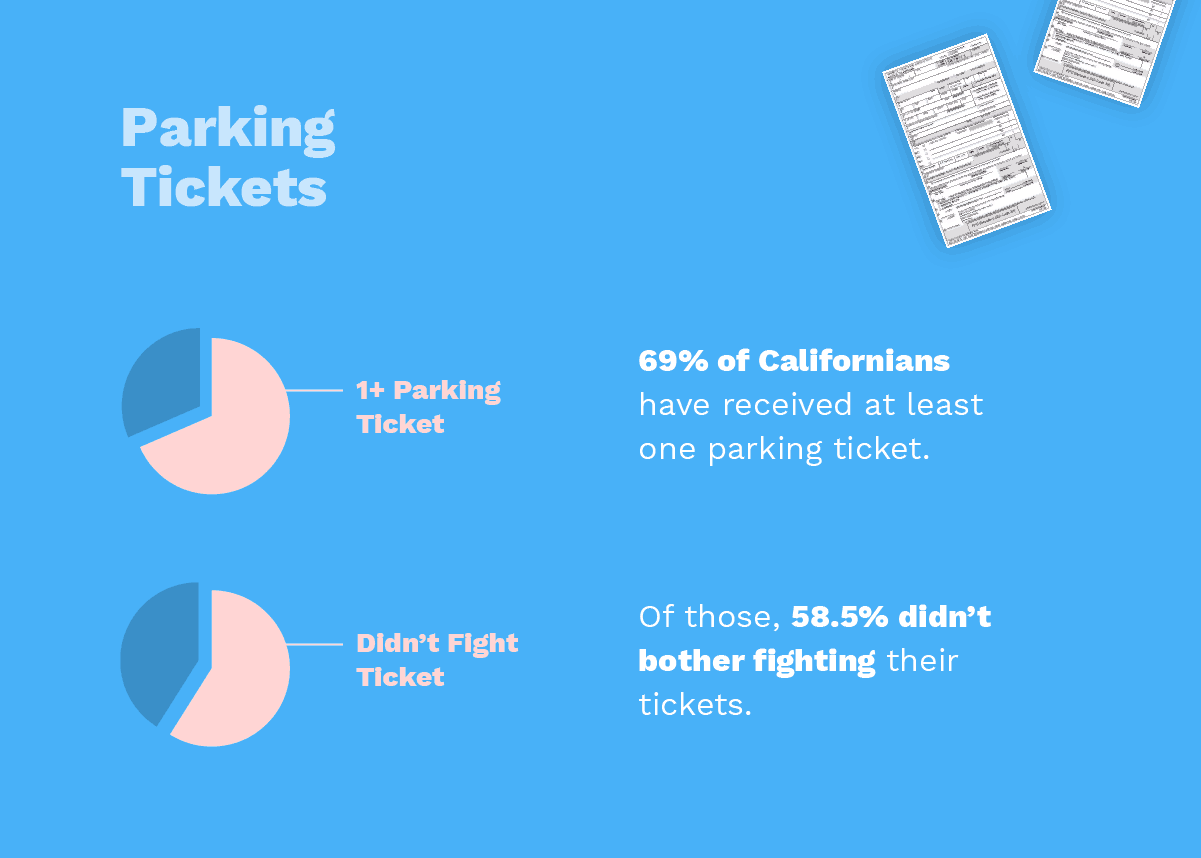 Of those who have received a parking ticket, 58.5 percent have never tried to fight their tickets. Older citizens are less likely to fight tickets than younger drivers are. Here's a breakdown of which age groups are most apt to spend their time and resources trying to get out of those tickets.
30.8 percent of drivers aged 18 to 24 have fought tickets.
31.6 percent of drivers between the ages of 25 to 34 have.
28.1 percent of those aged 35 to 44 have.
32 percent of those aged 45 to 54 have.
18.1 percent of those 55 or older have.
The price for parking tickets varies considerably, but most of them, 82.1 percent, cost less than $100. Here is how much those surveyed have paid for their parking tickets:
19.9 percent paid less than $50.
43.8 percent paid between $50 to $75.
18.4 percent said their ticket cost between $75 to $100.
17.9 percent forked over more than $100 for their parking ticket.
Please note that parking tickets are non-moving violations so they are ineligible for traffic school.