What is a California Driving Record?
Your California Driving Record or also known as the Motor Vehicle Report (MVR), can be obtained from the California Department of Motor Vehicles if you hold a license from California. Other companies sell access to driving records, but you can purchase one online from the California DMV costs for just $2.
The online version is not an "official document". To get an official copy of your driving record, you have to fill and submit form INF1125, "Request For Own Driver License Or Identification Card (DL/ID)" to the DMV headquarters. The official report costs $5 and cannot be ordered online.
Your driving record shows your driving history in California.
A California Driving Record (MVR) Contains The Following:
Traffic Violations
Convictions
Suspensions
License Expiration
Given that insurance companies and sometimes employers look at your driving record, it's essential to obtain one and correct any mistakes. This is especially true if you've gotten a traffic ticket. Most points will stay on your license for a few years.
How to Check Your California Driving Record
To get a copy of your driving record, just following these steps:
You have to be a certified user to access the records online. A certified user means that you have to register or create an account with the DMV.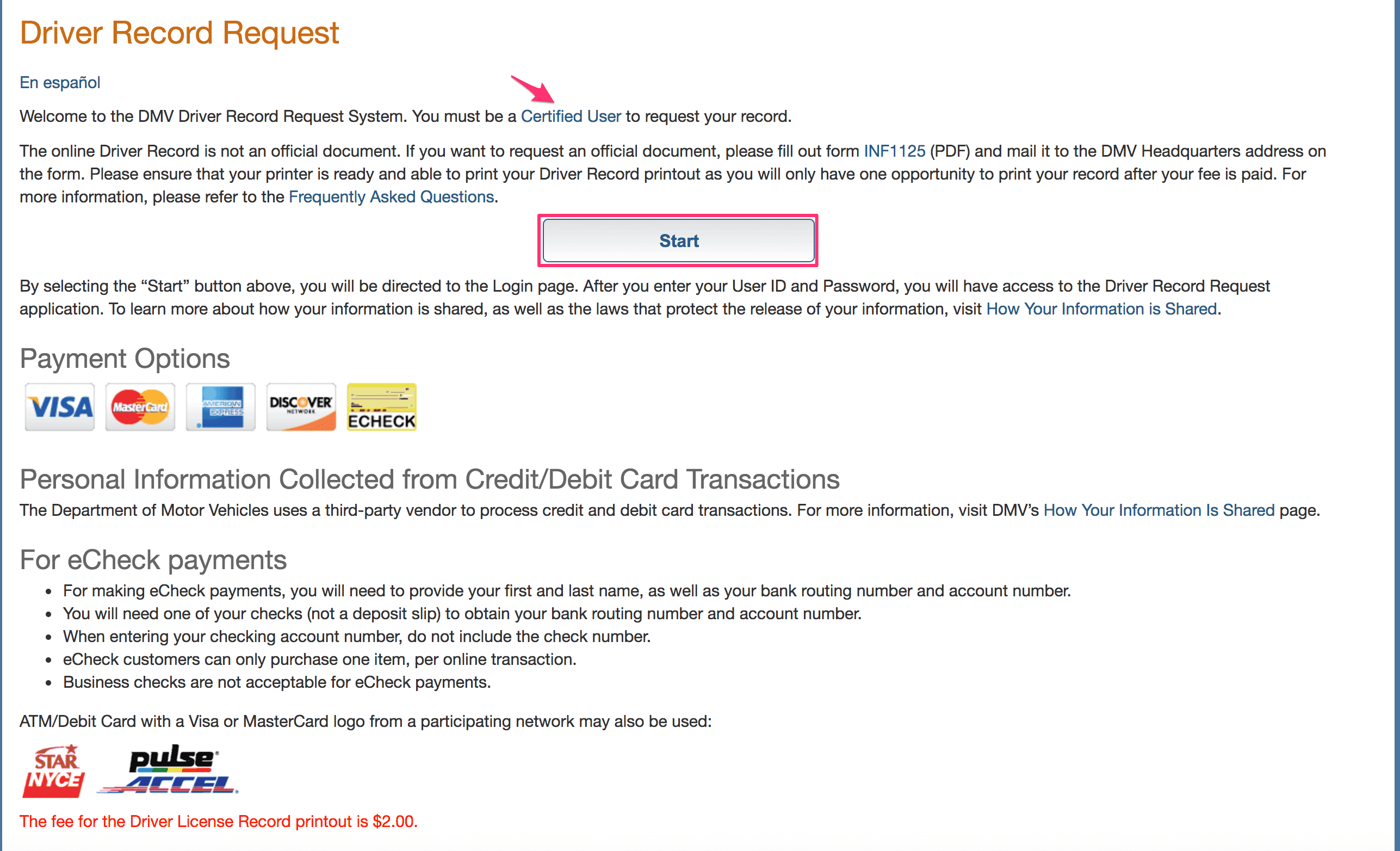 2. Log In To The DMV System
You can register a new account if you don't have one already.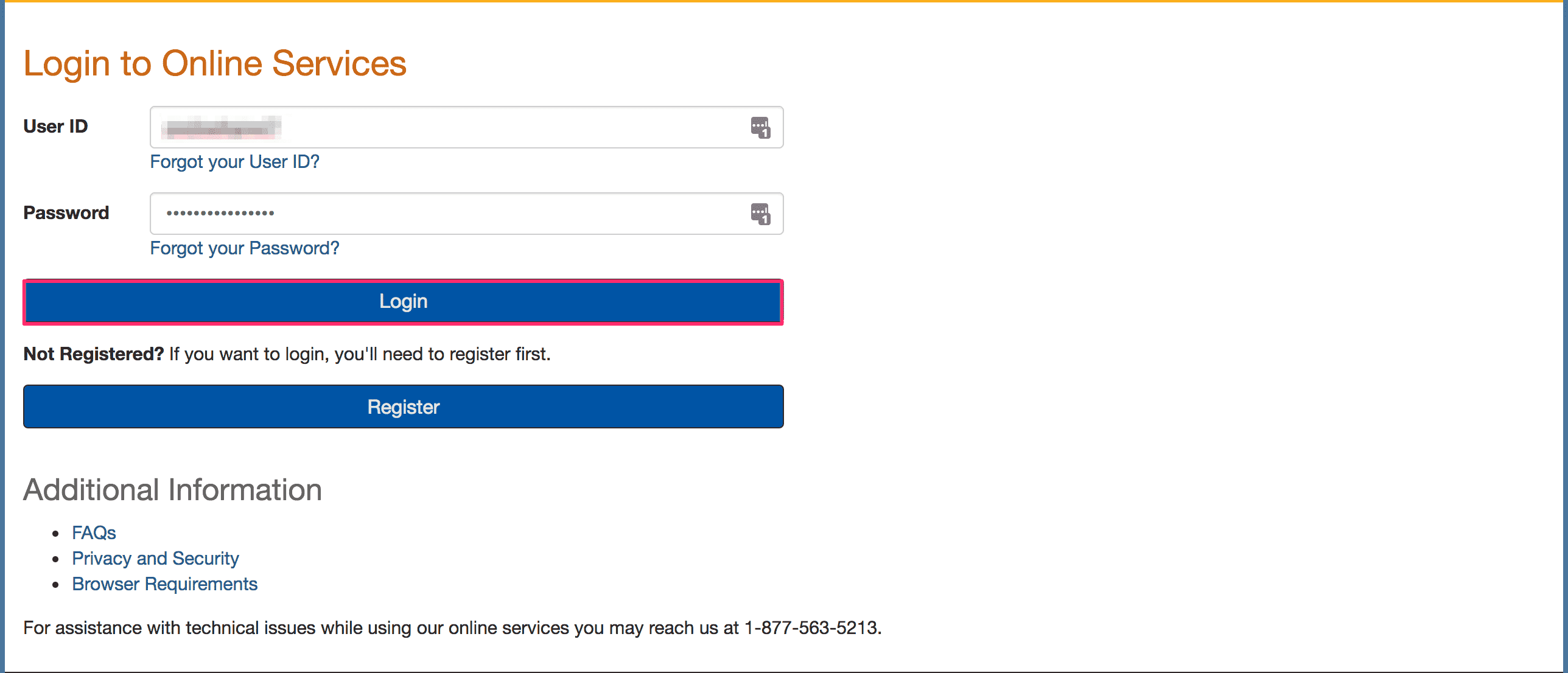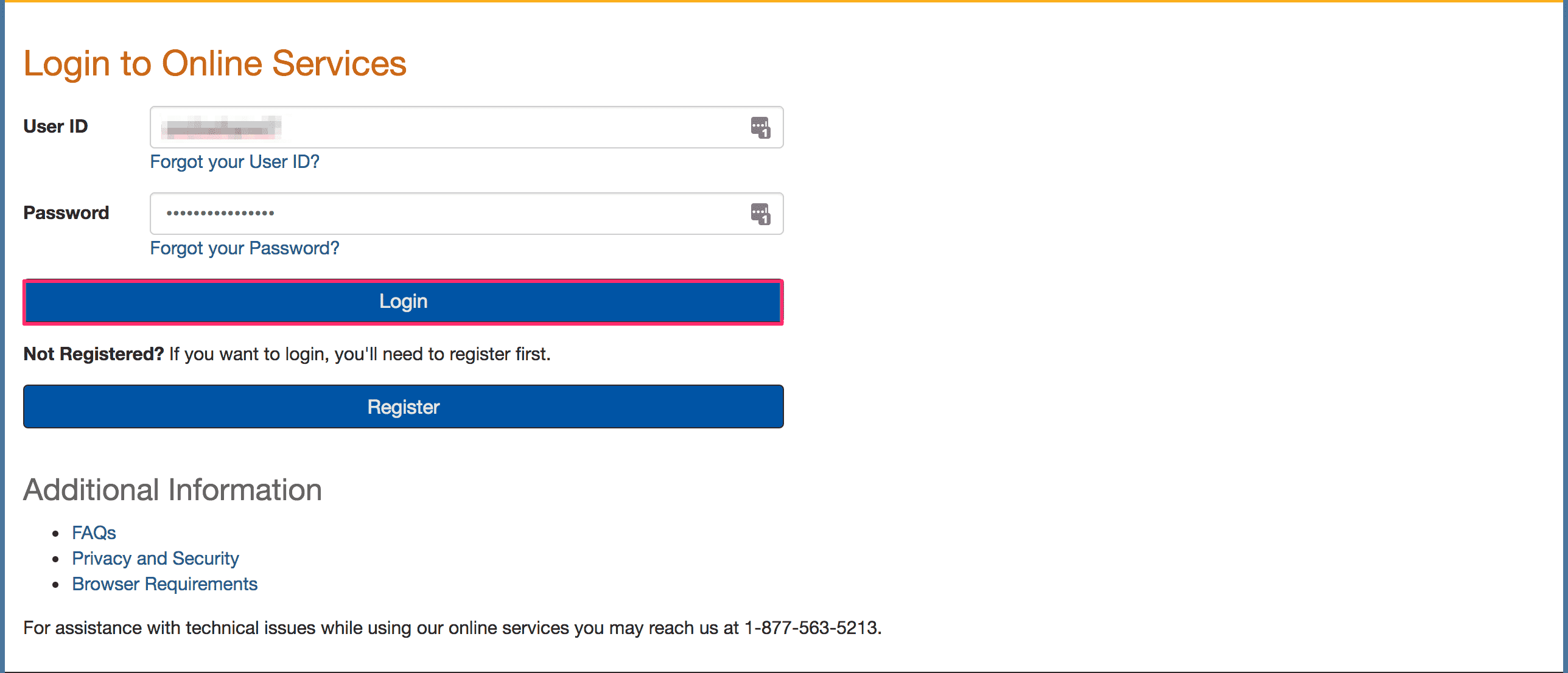 3. Complete the Disclosure
The disclosure just asks you to confirm that you are looking up your own records only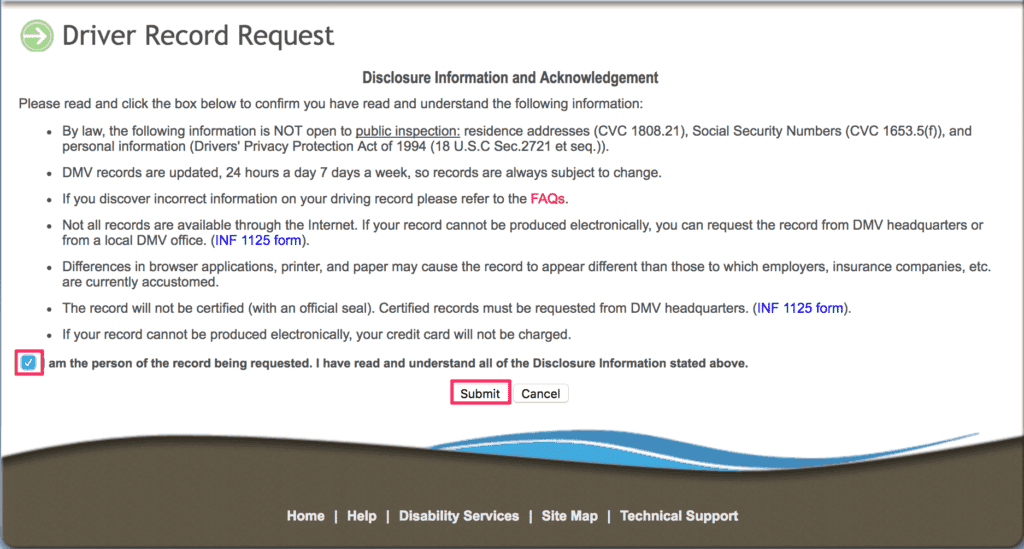 4. Complete the Address Verification
You can pick whether you want the DMV to include your address on the driving record.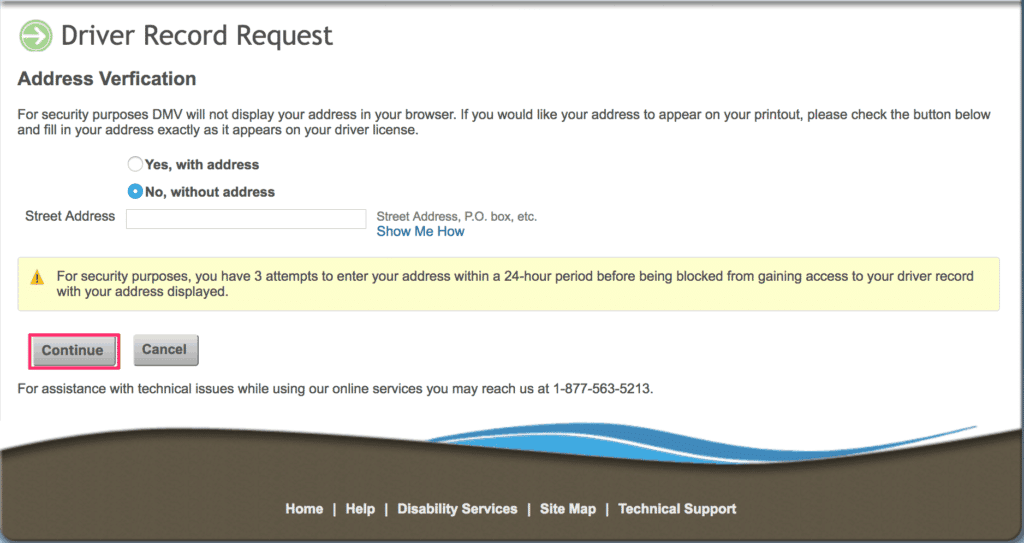 5. Add to Cart
Confirm your request and add the record to your cart.
Simply complete the checkout process and select your method of payment. Then you should be able to download a copy of your driving record!

Unofficial California MVR Example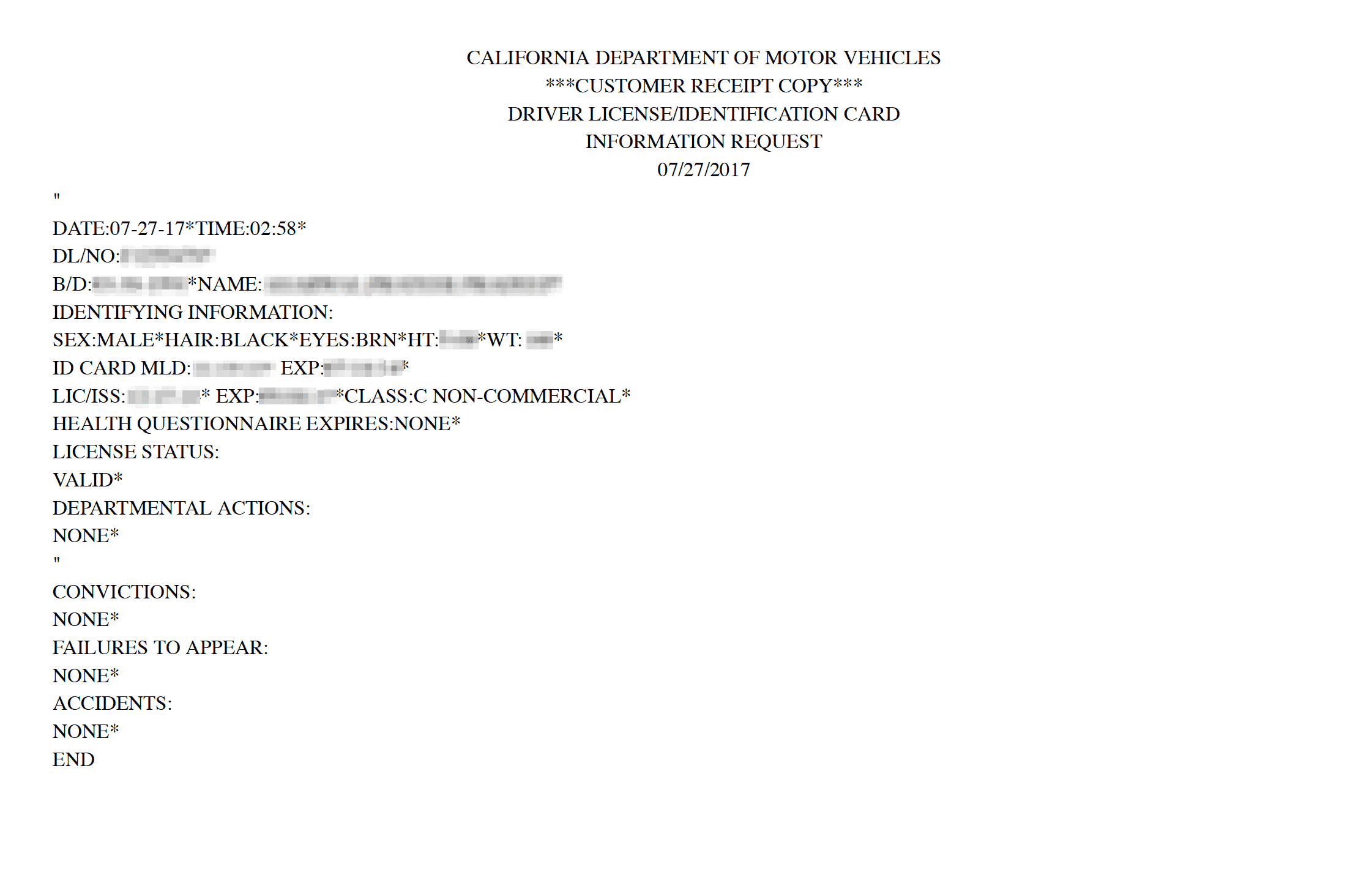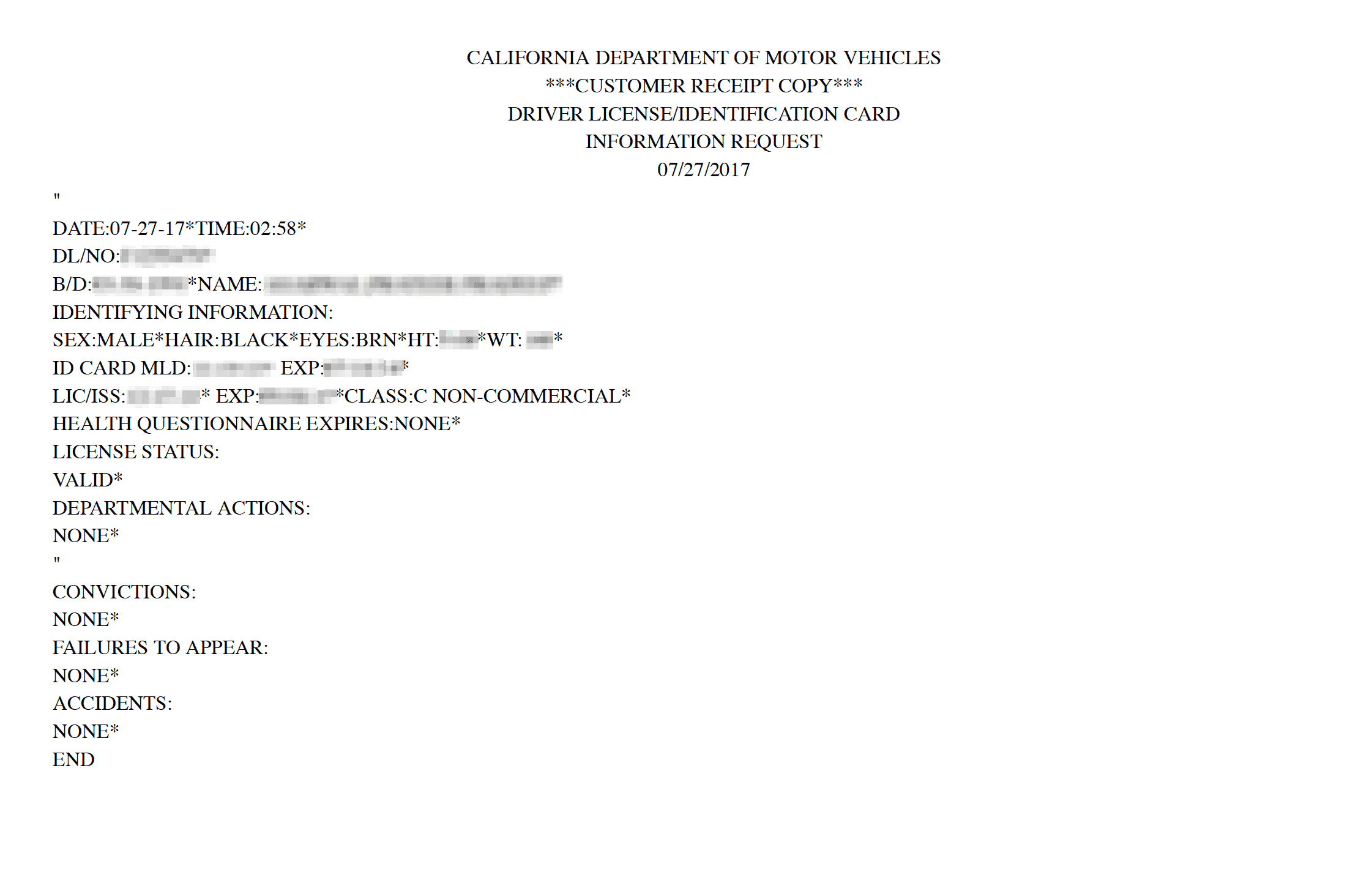 What Can You Do If Your Driving Record Is Incorrect?
According to the DMV website, "If you believe the information contained in your driving is incorrect, you may report this concern by completing a Report Of Incorrect Record Form DL207, or Report Of Incorrect Driver Record Traffic Collision Form DL207A, which can be found online. Additionally, you can present an Abstract/Document Error Form DL157 or Abstract Of Court Record or correspondence from the court or law enforcement agency."
If you've gotten a traffic ticket and gone to traffic school to erase the ticket from your driving record, but the violation still shows up on your driving record, then contact the court and let them know. Sometimes the information doesn't get transmitted properly or the case doesn't close correctly due to technical errors. In such a case, the court can speak with the DMV to get the point taken off your driving record.
If you end up with points on your driving record, then your auto insurance rates will likely increase.