Cleaning your car's floor mats is an essential part of regular maintenance. Just think about the snow, dirt, sand, and other things you or your passengers may track in from the outside. Along with food and drink spills, floor mats have opportunities to get dirty nearly every time you get in the car. Whether you've got rubber or cloth ones, it's a project that can be tackled at home–keep reading and follow along with this step-by-step guide on when and how to clean both, the supplies you'll need, and a few of the best products out there for getting the job done.
How to Clean Car Mats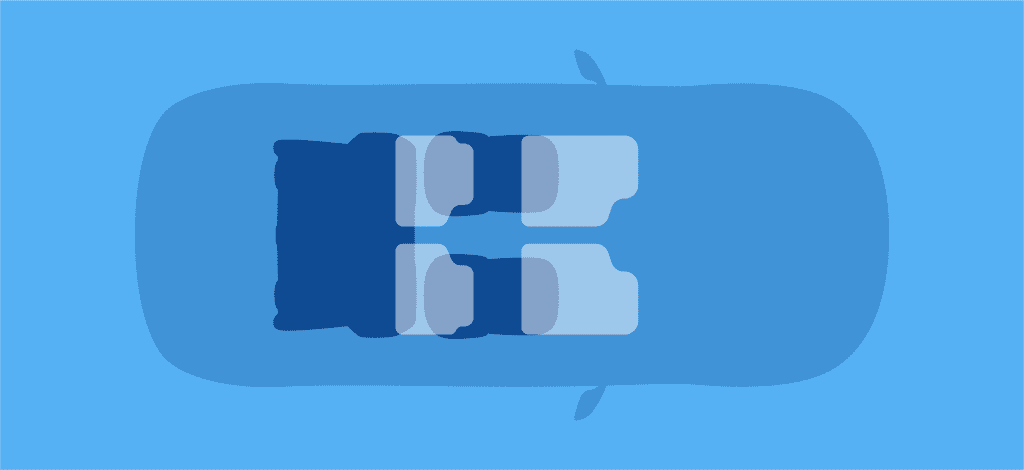 Regardless of the type of floor mats in your car, you'll want to start by removing them from the vehicle. This will make it easier to give them a complete front and back cleaning and tackle anything that may have gotten past them. Typically, the best place to do this is a clean and preferably covered area where you have access to a shop vac. If you don't have access to a shop vac, many gas stations or car washes have automobile cleaning vacuums available.
Cleaning Rubber Car Floor Mats

Rubber car floor mats are made to resist the typical wear and tear that comes with colder climates like snow and rain. Shaking them loose every couple of weeks is a good way to keep larger debris off, but tougher stains will require a little more elbow grease. Here are a few tips for removing those stubborn greasy or dirty spots:
1. Remove floor mats from the car: As we previously mentioned, your first step to cleaning any car floor mat is removing it from the vehicle. You'll need to use water and cleaners to get rid of stains, so keeping the rest of your vehicle dry is a good practice.
2. Shake loose any debris: In most rubber floor mats, there are crevices that can wind up becoming home to pebbles, road salt, dirt, and other forms of debris. Give your mats a good shake or smack them against the ground or another hard surface to break the big stuff free. If there's anything really lodged in there, you may want to pry it out with a flat screwdriver carefully–just be wary to avoid getting too rough and damaging your floor mat.
3. Spray with a hose: Next, you'll want to use water pressure to give the dirty side of the floor mat a preliminary cleaning. YourMechanicAdvice recommends only washing the side that gets dirty, leaving the side that touches the floor of your car dry to avoid any residue water soaking into the carpet.
4. Buff out any stains with soap: Once you've used a hose to knock free any remaining debris, you may still have leftover stains. Use a mixture of soap and water on a rag or scrub brush to buff the floor mat and remove greasy or sticky stains left behind. If that doesn't work, try baking soda and soap or hand sanitizer. Avoid any ammonia-based cleaners as they may be too rough and degrade or damage the rubber.
5. Rinse with a hose again: Use your hose to wash off any areas you've just cleaned with soap, keeping an eye out for anything left behind.
6. Hang to dry: Now that you've got your car mats looking fresh again, hang them up to dry on a clothesline or hook. The Spruce suggests that you avoid using polish like Armor-All on your rubber mats, as this can make them slippery.
Cleaning Cloth Car Floor Mats

Cloth floor mats tend to be a bit more of a challenge due to how quickly stains can set into the carpet. With a little elbow grease, however, this project shouldn't be too difficult. Here are some tips for making the process go as smoothly and cleanly as possible:
1. Remove floor mats from the car: Like with rubber car floor mats, cloth mats should also be taken outside the car to clean them properly. It's especially necessary with cloth mats since you'll be using a vacuum on both sides.
2. Shake them out: Next, give the floor mats a good shake and knock them together to loosen some of the dust and dirt that's built up. For especially dusty mats, whacking them against the hard ground a few times usually does the trick.
3. Lay them flat and vacuum both sides: Grab your shop vac and slowly vacuum the mat's front side.
4. Treat stains with a cleaner: Now that you've removed most of the loose dust and debris, it's time to tackle any tougher stains. A combination of water and baking soda will usually do the trick and also eliminate any odors left behind. If the stains are more stubborn, try out one of the cleaning products we'll supply at the end of the article. If you end up using a cleaner, spray it on and let it sit as long as the manufacturer recommends.
5. Scrub with a brush: If any crusty stains don't respond to a commercial spray cleaner, mix a small amount of washing powder with water and scrub with a stiff, bristled brush. Follow up with a rinse of water and repeat if necessary.
6. Deep wash: You have a few options for this next step – you can use a power washer or steam cleaner to get a deep clean or run your mat through the clothes washer with regular detergent.
7. Vacuum both sides with a shop vac: A last run-through of both sides of the floor mats with a shop vac should get rid of most of the remaining debris or moisture that may be left behind. Try to get as much water as possible with the vacuum before hanging the mats to dry so they won't get dusty.
How Often to Clean Car Floor Mats
The frequency with which you should clean your car floor mats ultimately depends on how often you use your car and the kind of conditions you're driving in. Here are some general tips:
Regular Cleaning: For most people, simply shaking your most trafficked floor mats out every week or two is the best way to keep most dirt and debris out. Give them a solid wash every month or two or whenever there's a bigger mess like a drink spill.
Heavy Use: For people driving every day or transporting pets and kids regularly, you may need to do a deeper clean every couple of weeks.
Wet Weather: If you live in an area with lots of rain or snow, you may need to clean your mats more often to prevent mold and mildew from forming. In this case, consider cleaning your mats once every few days or switching to all-weather mats.
It's best to assess your specific situation and clean whenever you have the time and energy for it. However, cleaning them regularly will help keep your car looking and smelling fresh and keep stains from setting in and becoming harder to deal with down the road.
Tools and Supplies Required to Clean Car Floor Mats
Now that you're prepared to clean your car mats, here are a few of the tools and supplies you'll need to get the job done:
Tools:
Soft and medium bristle scrub brushes
Shop vac or a car vacuum
Rags
Bucket
Hose or pressure washer
Supplies:
Baking soda
Commercial carpet cleaner
Dish soap and powder detergent
Water
You probably won't need to grab too much from the store when you tackle this project. Most of these are typical household cleaners you may already have in your closet. For specific cleaners, keep reading, and we'll share a few favorites!
Products We Recommend to Clean Car Floor Mats
Searching for the best products to beat tough stains and get your car floor mats looking good as new? Here are three of our favorite products based on in-depth market research:
Our Pick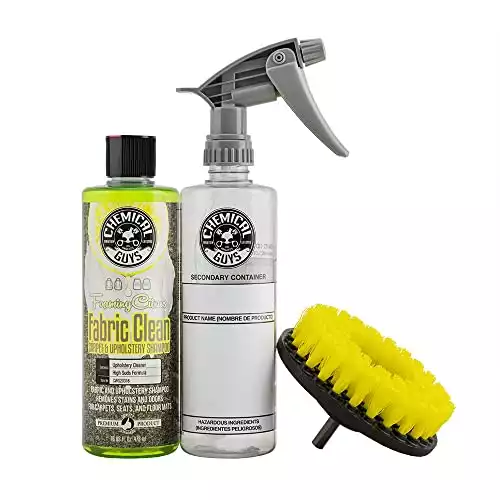 For cloth floor mats, you'll want a spray cleaner that can dig in under the surface and get those stubborn stains in a state where they're easier to scrub out. The Chemical Guys have an all-in-one cleaner that will remove dirt and stains and eliminate odors with a high-sudsing penetrating formula. The best part about this product? It comes with a carpet brush attachment for your drill, so you can really harness that power and get a heavy-duty scrub going. Be aware that the brush is only for floor mats. Use a softer brush for any upholstery cleaning.
There are plenty of glowing five-stars for this product, like this one from a user who cleaned his car mats with it: "I have a 2021 Toyota Corolla with cloth seats and did a lot of research on how to clean the seats without damaging and fraying the fabric. I used the brush provided here for my floor and floor mats and bought a separate softer brush for the seats, but this cleaner was amazing! The seats were off-white and were filthy. One application of this product and my seats look brand new. Didn't need an extractor or anything. Just sprayed, brushed, and dried with a microfiber towel."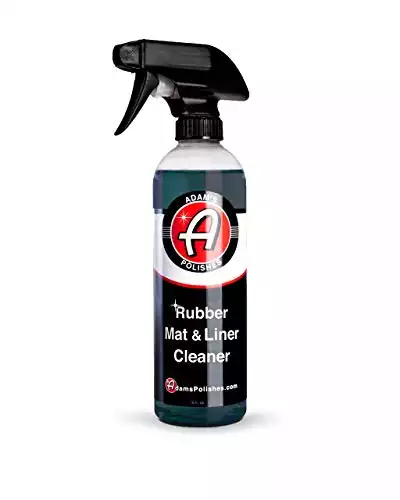 Adam's Rubber Mat & Liner Cleaner 16oz
$14.99
$11.99 ($0.75 / Fl Oz)
Specialized formulation rubber liner & floor mat cleaner restores your floor mats and liners back to a rich, deep black OEM finish. Adam's Rubber Mat & Liner Cleaner is equipped with a special blend of surfactants & cleaners that removes harsh oxidation, dirt, and grime from rubber floor mats
Buy from Amazon
We earn a commission if you make a purchase, at no additional cost to you.
05/27/2023 08:00 pm GMT
For those of you who want your rubber floor mats to shine like the day you got them, we recommend using Adam's rubber mat and liner cleaner. The key reasoning behind this is that they don't use any harsh chemicals in their product that can potentially degrade your mats. They also have a non-slip formula to keep things from getting slick after you've cleaned and polished them. Most of the time you'll simply need to wash down your rubber mats like we previously talked about, but this will get rid of tougher stains and harsh oxidation.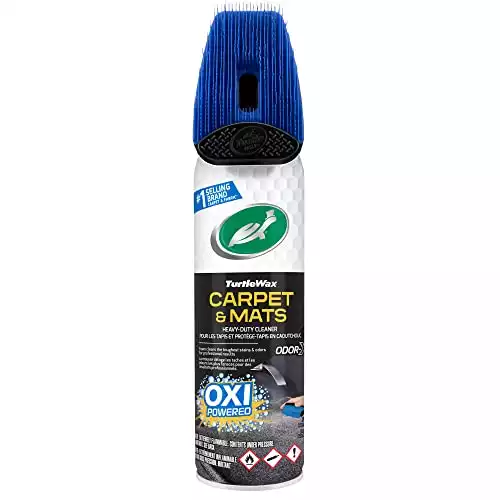 Is your car basically a portable kennel for your furry friends? If you have dogs who are getting into the car after a swim or long hike, you've probably dealt with some lingering smells stuck in your floor mats. In that situation, Turtle Wax has "Power Out!" a product that's made for dealing with the harshest odors and stains you'll face in your vehicle. It also comes with a detachable micro-scrub brush, so you'll save a separate order and have basically everything you need to clean your car's floor mats.
Replacement Car Floor Mats We Would Recommend
Are your car floor mats so far gone that you're ready to throw them out? Here are a few replacements that we recommend based on our in-depth market research:
Our Pick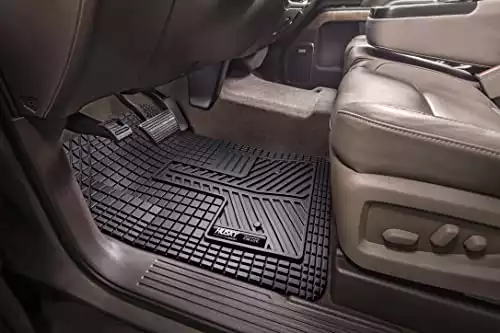 If you've got a car with rubber floor mats that are wildly expensive from the manufacturer or just hard to find, Husky Liners has you covered. Their floor mats are easy to trim to fit just about any vehicle out there and come with a lifetime guarantee. These are the perfect combination of comfort and functionality, with a "UniEdge" system that keeps things out of recesses until you pull the mat out to clean it. The best part is that for only $40, you've got coverage for an entire four-door vehicle!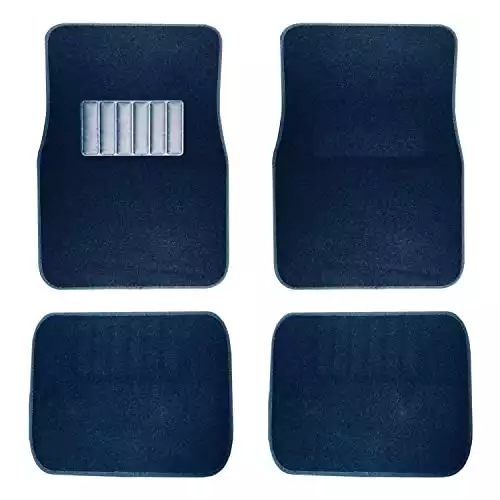 Replacing cloth mats on a budget? C.P.R. has a set of universal cloth mats in various colors for under $20. A rubber backing helps them stay in place, and a hell pad offers more comfort than a traditional cloth mat for the driver. Here's what one recent reviewer said about his purchase: "How can you go wrong for the money? They feel nice. They are the right size for my Honda Civic 10th gen. Don't expect the quality of a $100 set of mat; but good quality for its price point."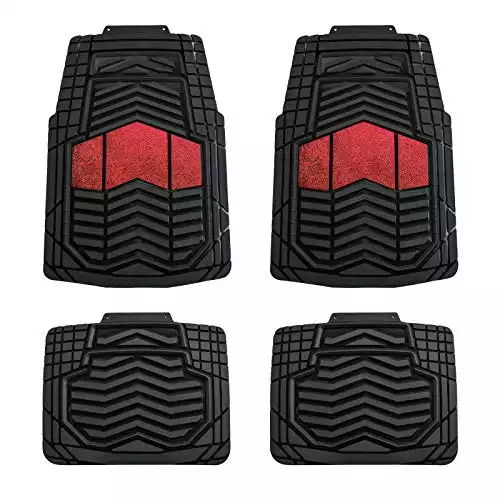 Last, we have an all-weather mat that's perfect for people driving in climates that get a lot of rain or snow. August Auto uses premium rubber materials to create a product that can handle dirt, mud, stains, snow, rain, and so much more. Anti-slip backing and rubberized nibs on the back keep things in place for a smooth and safe ride in any conditions. These are a fantastic option for someone looking to refresh their old mats with something that looks great and can take a beating from whatever you throw at them.