One of the most noticeable spots on a vehicle that can get dirty is its windows. Not only do debris like bird droppings and mud look bad when they're stuck to the glass, dirt, and grime have more dangerous consequences too – they can affect visibility and create hazardous driving conditions for yourself and others.
As is the case for almost every car maintenance task, it requires quite a bit more than just splashing some water on your vehicle, but cleaning car windows is a relatively straightforward process. Follow along with this step-by-step guide, and we'll explain how to stay on top of this. Plus, if you're looking for the best products for cleaning car windows, stay with us until the end of this tutorial, and we'll provide you with our top three recommendations.
Step-by-Step Guide: How to Clean Car Windows Without Creating Streaks
It can be incredibly frustrating when you've gotten rid of some bug splatter on your car, but the removal leaves behind streaks that diminish visibility from the driver's seat. Set yourself up for success by taking these steps to clean your car windows without creating streaks:
1. Use an ammonia-free automotive glass cleaner: When you're picking out a glass cleaner to use on your car's windows, you must choose one that does not use ammonia. According to Charm City Circulator, the chemical is damaging to other car components such as leather and vinyl. Ammonia can even cause glass to deteriorate over time if used incorrectly. Be sure to read until the end of this post, where we'll share some of our favorite ammonia-free cleaners on the market.
2. Clean with microfiber cloths: As tempting as it may be to grab the nearest rag or paper towel when you're in a pinch, there is no substitute for a good quality microfiber cloth. Going the extra step and always having a few clean microfiber cloths on hand is a good practice – they're useful for cleaning nearly any surface of your vehicle's exterior and interior. Most importantly, unlike paper towels or rags, they won't leave behind streaks or residue on your windows, and they are soft enough that you can rest assured they won't scratch anything.
More Tips for Cleaning Car Windows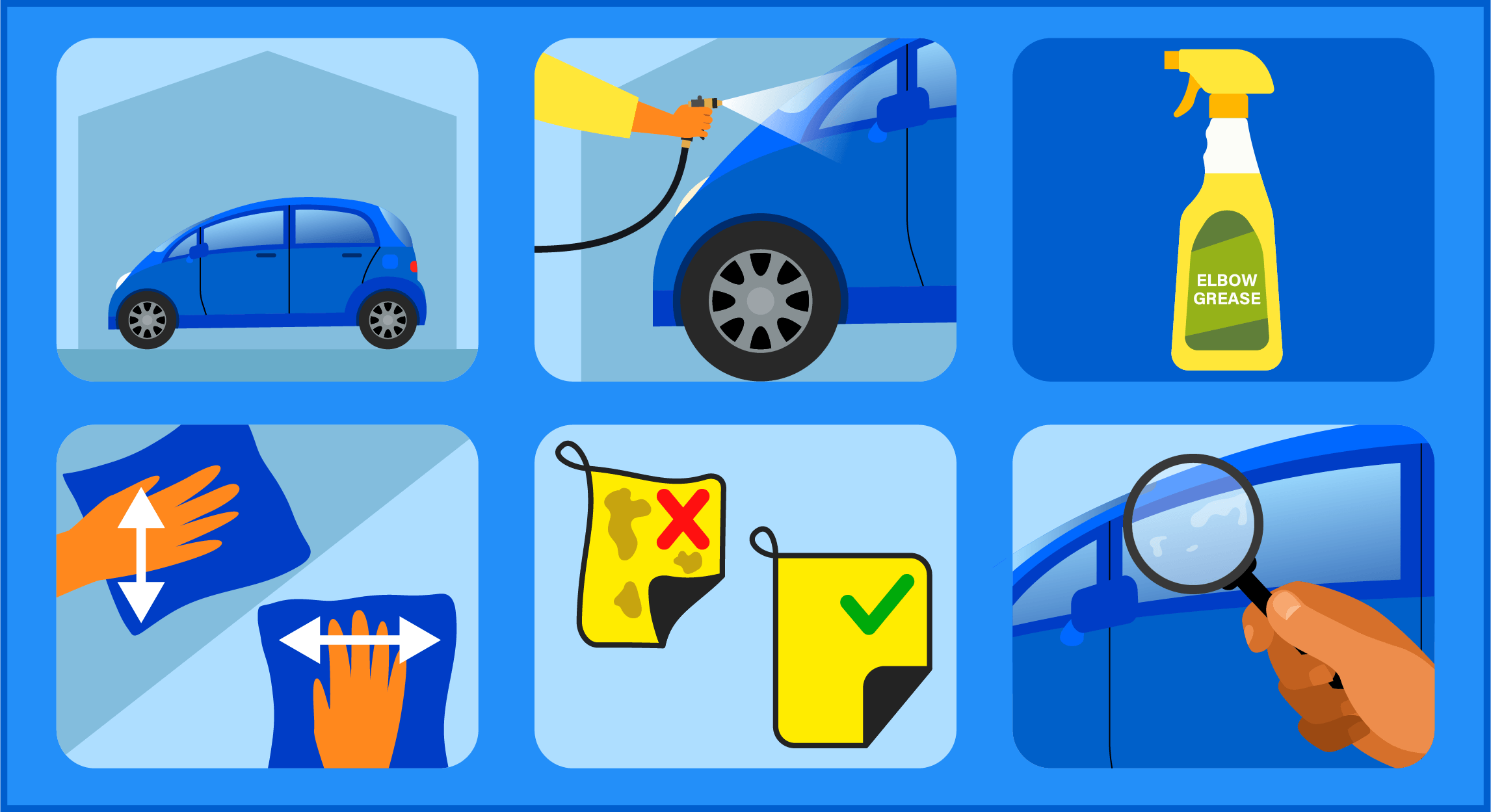 Even with all the right tools for the job, there are still ways to make cleaning your window easier and avoid any other common pitfalls. Here are a few of our most helpful tips for cleaning car windows:
1. Park in a clean, shaded place
One of the simplest ways to set yourself up for success when cleaning car windows is by starting off in the right environment. First off, find a spot where your car won't be in direct sunlight and give your car time to cool off – if the surface of your windows is too warm, it can essentially "cook" off your cleaner before it even has time to work. It should also go without saying, but cleaning your windows in a windy area or a dusty garage should also be avoided. Your clean windows will be an attractive spot for any bit of pollen or particulate passing by, so be sure to protect them while they dry.
2. Take care of any surface dirt and dust first
Before you start wiping your surfaces down with automotive glass cleaner, you'll first want to remove any lingering dust and dirt from your windows. Leaving it and applying too much pressure with your cloth can lead to scratches and other damage to the surface of the glass. We recommend that you spray your windows off with a hose and let them air dry, or lightly brush any debris loose with a microfiber cloth before beginning.
3. Apply a little elbow grease to break up tougher stains
Bird droppings and bug splatter on your windows are not only gross but also a pain to get rid of. When you come across these, apply firmer pressure with your microfiber cloth and soap to try to buff them out. However, if that technique doesn't quite do the trick, you can also try this suggestion from WikiHow: "Some auto experts recommend sprinkling a little bit of baking soda atop trouble areas that just won't wipe clean. Allow the solution a few moments to set on the stain, and try to buff it out with your microfiber cloth again."
4. Wipe inside and out with opposite strokes
Another effective way to avoid visibly streaking your windows is by using opposite strokes on either side. For example, if you are cleaning the exterior of the windows with horizontal strokes, clean the inside with vertical strokes.
5. Use a clean microfiber towel to buff your finished work
Once you've removed all the tough stains and left your windows looking spotless, you'll want to dry off any excess soap and water. The best way to dry your windows is by using another fresh microfiber towel and repeating strokes in the same direction on both sides of the windows.
6. Look out for hard water residue
Depending on where you live, your water might contain higher mineral content than average. This is known as hard water; the mineral residue it leaves can damage your vehicle's surfaces. When you're cleaning, if you come across a stubborn, crusty white substance, make sure you remove it with the proper automotive glass cleaner. According to WikiHow, if these spots are left on your glass too long, they can eventually etch into it and cause lasting damage.
Easy to Miss Spots When Cleaning Your Car's Windows
While it may seem obvious, there are a couple of spots people tend to miss when cleaning their car's windows. One of the most commonly missed spots on car windows is the tops of the windows. They're especially dirty because being raised and lowered repeatedly over time causes dust, debris, and water to get trapped and create a residue on the top edge of the glass. Be sure that when you're cleaning your side windows, you roll them down part way, wiping this area down and inspecting for tougher stains.
Another surface that's frequently neglected in the car window cleaning process is the inside of the windshield. Keeping it clean is just as important for visibility as your exterior and definitely shouldn't be overlooked. When cleaning the inside of your windshield, you'll want to sit in the passenger seat to avoid reaching over the steering wheel and laying on your horn every few seconds.
While you're at it, finish up your windshield by applying a little bit of cleaner to your wiper blades and giving them a once over with your microfiber cloth. If you're especially eager to make your car feel as fresh and clean as new, cleaning your windshield is a great time to replace your wiper blades with a fresh pair.
Tools and Supplies You'll Need to Clean Your Car's Windows

Now that you're equipped with the knowledge to clean car windows, here's a list of all the supplies you'll want to gather and keep handy:
Clean microfiber towels (be sure to have at least two sets on hand because reusing them for multiple steps can cause scratches to your glass)
Ammonia-free automotive glass cleaner
Distilled water for diluting cleaner
Bucket
That's it! With the right products you should be able to spend less time or money getting this project done. On average, you should be able to clean your windows inside and out in less than half an hour.
How Often Should You Clean Your Car Windows?

The Drive suggests you should only clean your windows when they get dirty, which is a good rule of thumb. If you have clear visibility and can see your mirrors, feel free to keep on trucking and only get them cleaned when you do your routine car wash. It's most important to get them clean when you've been through difficult conditions or parked under the wrong tree. Leaving dirt, grime, or bird poop on your windows could cost you much more than the few minutes it takes to clean the windows thoroughly.
How Much Does It Cost To Clean Car Windows?
Thankfully, cleaning your car windows is one of those automotive maintenance requirements that isn't going to cost you an arm and a leg. The first time you buy your automotive glass cleaner and microfiber cloths you may spend upwards of $50, but with the right products, you'll probably be able to use them quite a few more times.
Products We Recommend for Cleaning Car Windows
Looking for products that will leave your car windows looking absolutely flawless? Here's the best of the best, based on our in-depth market research:
Our Pick
HOPE'S Perfect Glass Cleaner, Streak-Free, Ammonia-Free Window, Mirror, Screen, and Shower Door Cleaner
Streak-Free: With its unique, 100 percent streak-free formula, the Perfect Glass cleaner makes glass surfaces look pristine and spotless without leaving any glare, haze, or residue
Buy from Amazon
We earn a commission if you make a purchase, at no additional cost to you.
03/21/2023 05:10 am GMT
The gold standard of glass cleaning, Hope's Perfect Glass is guaranteed to leave you with streak-free, crystal-clear car windows and mirrors. Their fast-acting formula means you spend less time wiping and more time admiring the glass that will look as fresh as the day you bought it. Not only is it great for your car's windows, but it can also be used for your rear and side-view mirrors and any glass surface in your home. Save storage space and stick to one cleaner that can do it all.
If you need some convincing on the quality of this product, check out one of the hundreds of glowing five-star reviews for the cleaner, like this recent one: "My son told me about Perfect Glass. I tried it on my car interior windshield. I was amazed to find a product that actually does as promised. It was like looking through an open window, it was so clear. Then tried it on home windows and mirrors and had the same fantastic results. I'll never use anything else again."
If you walk away from this guide with anything, it should be with the knowledge that you can't compromise on the quality of the cloths you use to clean your car windows. Put aside the rags and paper towels, and use microfiber cloths to avoid streaks and scratches.
For a fantastic value, try this twelve-pack of premium microfiber clothes from Buff for under $20. You can never have enough of these, and just like the previous product, they can be used all around your home and on various surfaces – keep a few in your home and a few in your car in case of emergencies! The best part is you'll support an American small business dedicated to providing quality products.
Are you cleaning tinted glass car windows in particular? You'll want to take a few extra precautions and find a cleaner made specifically for tinted windows. Thankfully, Invisible Glass makes a super effective, ammonia-free, and tint-safe glass cleaner. This stuff really works and won't need to be diluted down. All you have to do is spray it on your microfiber cloth and apply it to the window. Then, follow it up with a dry microfiber cloth, and you'll have your tinted windows looking brand new!
When looking through Amazon reviews for Invisible Glass, you'll find satisfied users who were able to clean everything from dog saliva to bug splatter off of their expensive tinted car windows.
Here's one from a very satisfied user: "This stuff is awesome. I just bought a new car and had my windows tinted. I was looking for a product that was safe on window tint and that also cleaned the windows. I have always had a problem keeping streaks and smears off my windows and this stuff is fantastic. After cleaning the inside and outside of my windows, I've never seen any car windows so clean. It took care of smears, streaks, bugs, and grime on the inside and outside of the windows. I will never use another product again."