Car seats, often the unsung heroes of our vehicles, face the brunt of daily wear and tear. Whether it's the remnants of a hurried breakfast, muddy shoes from a park adventure, or just the typical grind of daily commutes, they endure it all. And if you've ever let loose with snacks in the car, have lively children or a furry friend tagging along, those seats probably have stories to tell.
Perhaps you've stumbled upon this guide following an unfortunate coffee spill, or you're just looking for preventive measures to keep those seats pristine. Understanding how to clean car seats isn't just about aesthetics; it's about preserving the very essence of your car's interior.
Fresh and clean seats don't just elevate the driving experience with a better visual appeal and aroma. They play a crucial role in enhancing your vehicle's resale value. Believe it or not, a well-maintained interior can sway potential buyers, making your car stand out in the crowd. Even if you think your seats have seen better days, fret not. With the right approach, they can be rejuvenated to near-showroom condition.
Why Clean Your Car Seats?

Every journey in your car adds another story to its seats. From the daily commutes to the longer road trips, car seats endure everything from minor spills to daily wear and tear. But beyond the visible, there's also the accumulation of dust, allergens, and potential unseen contaminants. Here's why cleaning should be a routine:
Elevate Your Car's Appearance: Clean seats can transform the entire feel of your car's interior. Just as you'd wash the exterior to maintain its shine, the interior deserves the same attention. A spotless interior reflects a sense of pride and meticulous care in vehicle maintenance.
Prolong the Lifespan of Your Upholstery: Constant exposure to dirt, moisture, and residues can wear down even the sturdiest upholstery over time. By keeping them clean, you're preserving the fabric's integrity and preventing premature aging and wear.
Promote a Healthier Driving Environment: It isn't just about aesthetics. Cleaning removes potential allergens, bacteria, and other contaminants, ensuring a fresher and healthier environment inside. A well-maintained interior can make every drive more pleasant and less prone to odors and allergens.
With the variety of materials used for car seats today, each type has its unique care requirements. Regular cleaning not only maintains their appearance but also ensures they remain durable and comfortable, offering the best driving experience possible.
Types of Car Seats and Their Cleaning Needs
Every car owner knows the feeling of pride that comes with a well-maintained vehicle, and at the heart of that is a clean, comfortable interior. But with a variety of materials used in car seat manufacturing, it's essential to recognize that one cleaning method doesn't fit all.
From the luxurious touch of leather to the durability of synthetics, each type of car seat has its own set of needs when it comes to maintenance and cleaning.
In this section, we'll delve into the different types of car seats available and provide tailored guidance on keeping each one looking and feeling its best. Whether you're a new car owner or just looking to give your vehicle's interior a refresh, understanding the nuances of car seat materials is the first step to ensuring longevity and comfort for years to come.
How to Clean Leather Car Seats
1. Gather Your Materials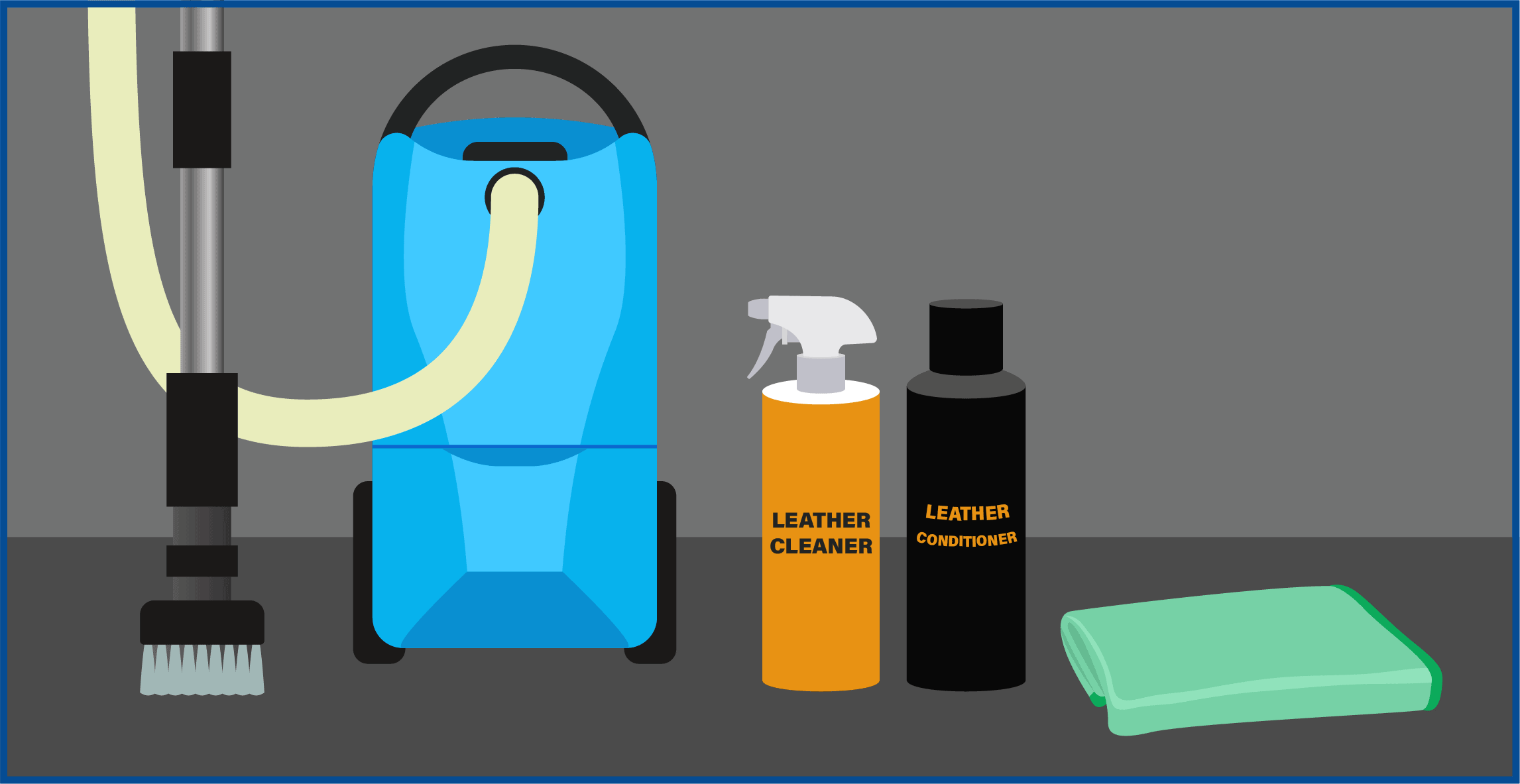 Before diving into the cleaning process, ensure you have the following essentials:
Vacuum (equipped with a soft brush attachment)
Microfiber cloths
Quality leather cleaner
Leather conditioner
2. Thoroughly Vacuum Your Seats
Start by eliminating surface debris using your vacuum. This prevents potential abrasions caused by scrubbing dirt into the leather's fine grains.
3. Spot-Test Your Leather Cleaner
Leather types can vary, so always spot-test any cleaner in an inconspicuous area to avoid unwelcome surprises.
4. Apply Your Leather Cleaner All Over
Adhering to the product's guidelines, apply the leather cleaner evenly, lathering it well for optimal results.
5. Wipe Off the Leather Cleaner
With a slightly damp microfiber cloth, gently wipe away the cleaner, revealing a dirt-free surface beneath.
6. Air-Dry the Seats
Dampness can tarnish leather. Ensure your seats are adequately dried post-cleaning.
7. Add Leather Conditioner
A leather conditioner revives the material's softness and glow. Apply as directed, allowing it to settle for 10-15 minutes, then wipe off excess residue.
8. Final Drying Phase
After conditioning, let your seats dry for at least four hours to seal in the benefits.
The Best Products to Clean and Protect Leather Car Seats
Your leather seats deserve the best. Choosing the right products ensures they remain pristine and comfortable. Here are our curated picks:
Best Leather Car Seat Cleaners:
A fragrance-free solution bundled with a microfiber towel, ensuring a deep, renewing clean.
Our Pick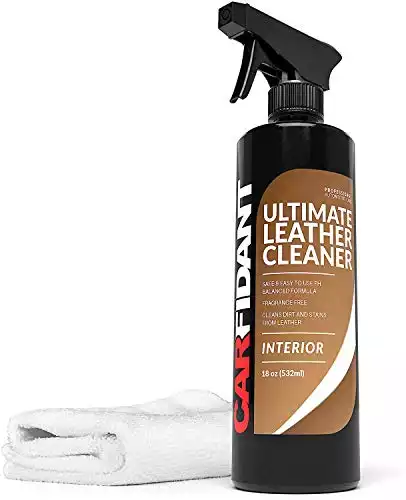 Carfidant Ultimate Leather Cleaner - Full Leather & Vinyl Cleaning Kit
Specifically formulated without any extra chemicals or smells! It is fragrance free and will provide the best in leather and vinyl cleaning abilities without harming the surface or creating and unwanted smells or fumes! It will good for automotive use, sofas, purse, furniture, and other materials!
Buy from Amazon
We earn a commission if you make a purchase, at no additional cost to you.
12/11/2023 02:40 pm GMT
A trusted brand since 1968, this cleaner ranks as Amazon's top leather care product.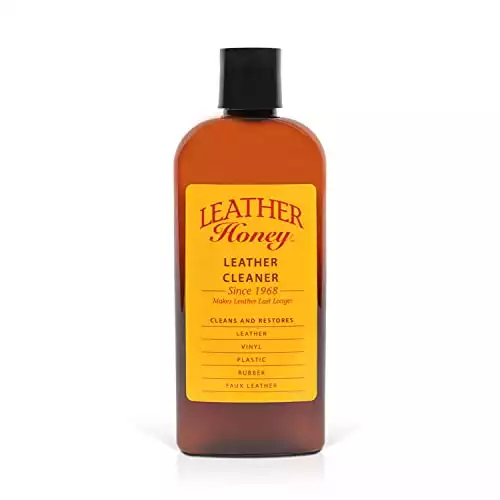 Leather Honey Leather Cleaner The Best Leather Cleaner for Vinyl and Leather
This premixed version of our popular leather cleaner is the same non-toxic, natural product in a convenient, ready-to-use formula. Ideal for all your leather goods, plus vinyl, faux leather, plastic and rubber, our proven formula is powerful, odorless, and chemical-free.
Buy from Amazon
We earn a commission if you make a purchase, at no additional cost to you.
12/11/2023 02:50 pm GMT
pH-balanced, this cleaner delves deep into leather pores while leaving no residues.
Our Pick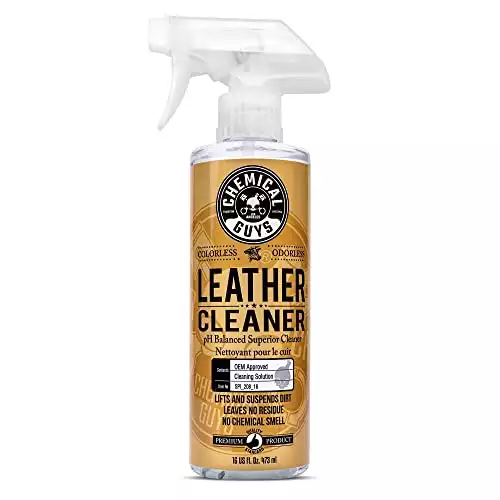 Chemical Guys Colorless & Odorless Leather Cleaner for Car Interiors
Chemical Guys Leather Cleaner Keeps your leather seats and accessories clean with ; the gentle formula removes dirt, grease, body oils, sweat from all types of fine natural leather, durable sealed leather, and synthetic leather materials
Buy from Amazon
We earn a commission if you make a purchase, at no additional cost to you.
12/11/2023 03:00 pm GMT
Best Leather Car Seat Conditioners:
A versatile conditioner ideal for various parts of your car's interior.
Our Pick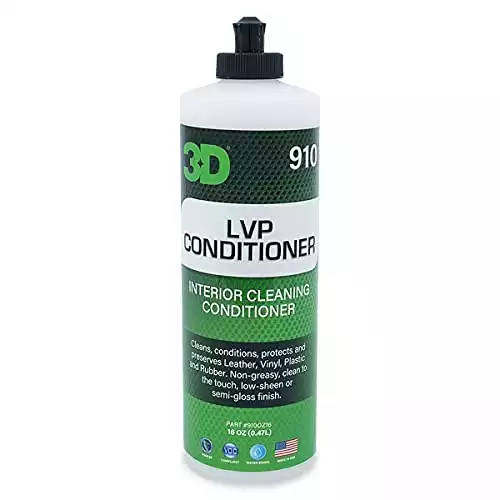 An age-old favorite, this conditioner preserves the authentic color and sheen of your leather.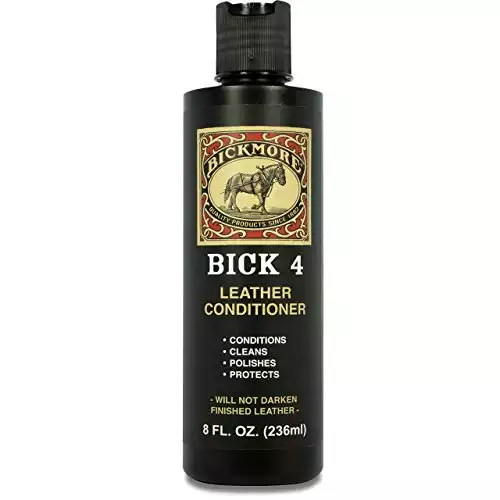 Bick 4 Leather Conditioner and Leather Cleaner 8 oz
Unlike other brands, Bick 4 is a completely wax-free product. This ensures that the leather pores will not seal up, keeping your leather soft and able to breathe. It will not leave any trace of sticky or gummy residue.
Buy from Amazon
We earn a commission if you make a purchase, at no additional cost to you.
12/11/2023 03:20 pm GMT
Made with natural ingredients, this cream gradually releases nourishing oils into the leather.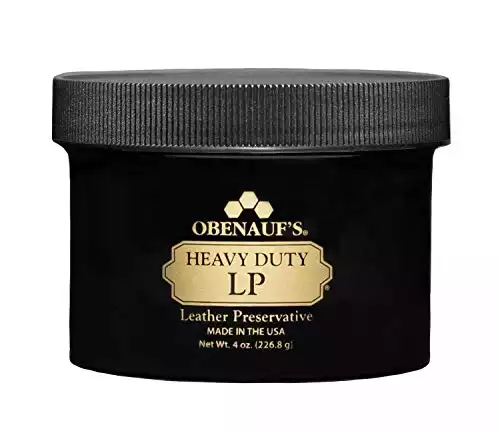 How to Clean Cloth and Fabric Car Seats
1. Gather Your Materials
To start your cleaning journey, ensure you have the following:
Vacuum Cleaner: A model with a hose, crevice tool, and upholstery brush attachments is preferred.
Spray Bottle: For your cleaning solution.
Scrub Brush: To effectively dislodge dirt from the fabric.
Upholstery Cleaner: Opt for a trusted fabric and cloth car seat cleaner.
Microfiber Cloths: These cloths are excellent for cleaning without scratching.
Sponge: Helpful for evenly distributing and working in the cleaning solution.
Bucket: For fresh water.
Powdered Oxygen Bleach: Ideal for deep-seated stains.
Fabric Protector: To maintain your seats' freshness longer.
2. Thoroughly Vacuum Your Seats
Begin by vacuuming the seats to remove any surface dirt and debris. Utilize the crevice tool for narrow areas and the upholstery brush for broader surfaces. This step ensures the cleaning products work more efficiently.
3. Pre-Treat All Stains
Spot and pre-treat noticeable stains. Regular upholstery cleaner is suitable for everyday dirt and grime, while a powdered oxygen bleach paste is recommended for more challenging, dye-based stains.
4. Apply Your Fabric Cleaner
Follow the product's dilution instructions, then methodically spray your seats from top to bottom. This method guarantees uniform coverage without oversaturating the material.
5. Scrub the Seats
Using your scrub brush, work from top to bottom, ensuring the cleaner penetrates the fabric. Occasionally rinse your brush in the bucket of clean water to prevent redistributing dirt.
6. Dry the Seats
Clean, dry microfiber cloth(s) are the perfect material for drying your seats. Wipe it up and blot at any particularly wet spots.
7. Repeat Steps 4 to 6 If Required
If your seats aren't as clean as you'd like after the initial cleaning, don't hesitate to repeat the mentioned steps.
8. Let the Seats Dry Before Driving
Before driving, ensure the seats have adequately dried. This process can take around three hours but varies based on humidity and weather conditions. Speed up drying by parking in a sunny spot or using a fan directed at open car doors.
9. Use a Fabric Protector
Once thoroughly cleaned and dried, apply a fabric protector as per its instructions. This product will act as a shield, reducing future dirt buildup and making ensuing cleanups more straightforward.
Recommended Products for Cleaning and Protecting Cloth and Fabric Car Seats
Consumers agree that these are the top-rated, most effective products on the market for cleaning cloth car seats, which are usually made of either nylon or polyester-based microfiber/microsuede fabric:
Best Cloth Car Seat Cleaners:
This professional-strength product features a quick-acting foam that deeply cleans stains. It's been commended for its affordability and efficiency.
Our Pick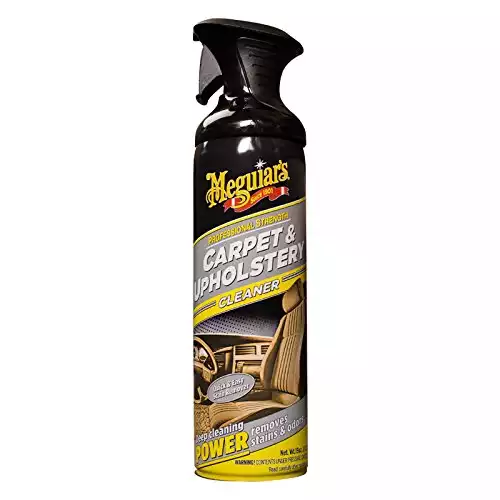 With a pleasant citrus aroma, this top-seller has garnered impressive reviews for its effectiveness.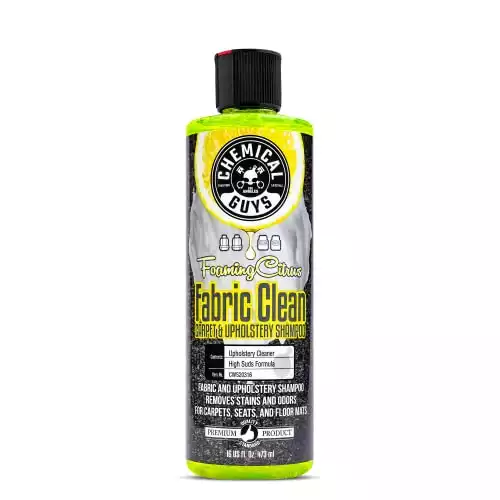 A reliable, professional-grade option that rejuvenates your car seats to a near-new appearance.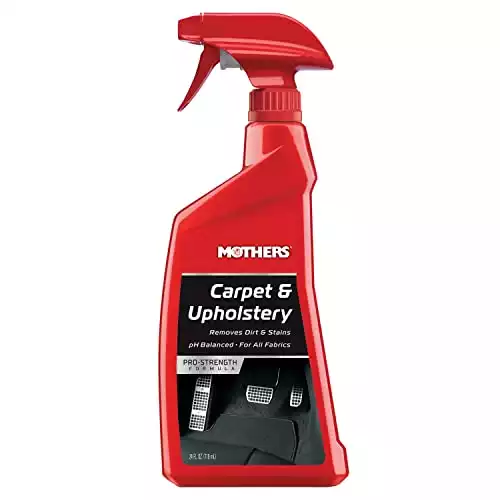 Best Cloth Car Seat Protectors:
This product by 3M offers a reputable protective layer, ensuring liquids are repelled rather than absorbed.
Our Pick

A century-old trusted brand, Guardsman offers an odorless protection that leaves no chemical residue.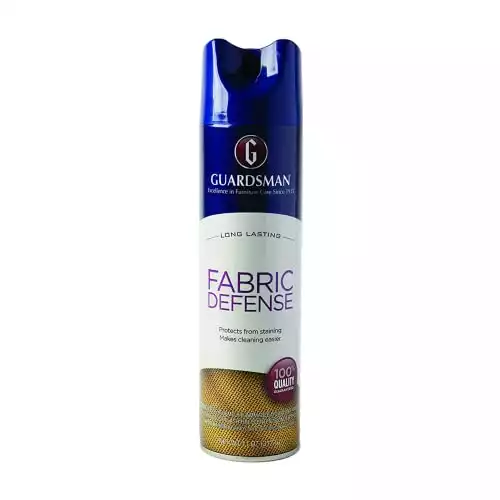 Guardsman Fabric Defense & Upholstery Protector Blocks Stains and Repels Liquid
$22.49
$8.03 ($0.73 / Ounce)
Long-lasting stain protection helps furniture look newer, longer
Won't change fabrics look or feel. Not intended for use on finished and aniline leathers
Odorless when dry. No chemical smells to worry about, this means you can use it on your most used furniture
Buy from Amazon
We earn a commission if you make a purchase, at no additional cost to you.
12/11/2023 02:20 pm GMT
Suitable for various applications, including car seats, this non-flammable product offers a safe and effective protective layer.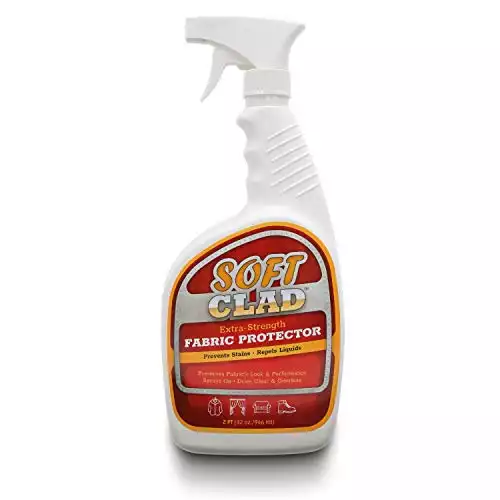 Stains and How to Handle Them
Whether you're a parent, pet owner, or an avid coffee drinker on the go, your car seats have probably been the unwilling recipient of spills and accidents. Keeping your car interior looking fresh can be a daunting task, but knowing how to tackle each type of stain can make all the difference.
Car Seat Stain Remover: When and How to Use
When to Use: It's best to tackle stains immediately after they occur, as this prevents them from setting in and becoming more difficult to remove later. If you notice a spill or accident, address it as soon as possible. For older, more established stains, you may need to repeat the cleaning process multiple times.
How to Use: Always read the instructions on any car seat stain remover product you purchase. Typically, you'll start by testing the product on a small, inconspicuous area to ensure it won't discolor or damage the fabric. Once you've confirmed it's safe, you can apply it directly to the stain, let it sit for the recommended time, and then blot or scrub away as per the product's instructions.
Removing Specific Stains: Expert Tips
Different stains require different treatments. Here are some common culprits and how to bid them goodbye:
Coffee or Tea: Blot away any excess liquid immediately. Mix a solution of lukewarm water, a little dish soap, and white vinegar. Using a clean cloth, dab at the stain gently, working from the outside in. Rinse with plain water and blot dry.
Ink: Dab the stain with isopropyl alcohol using a cloth. Ensure you don't rub, as this can spread the ink. Rinse with water and blot dry.
Oil or Grease: Sprinkle some cornstarch or baking soda onto the stain and let it sit for about 10 minutes. This will absorb much of the oil. Vacuum off the powder and then treat the stain with a solution of dish soap and water.
How to Remove Stains from Car Seats
For a general approach to stain removal:
Pre-treatment: Vacuum the area to remove any loose debris. This ensures that you're only dealing with the stain itself and not rubbing in more dirt.
Identify the Stain: Knowing what caused the stain can guide you in choosing the best method and solution for removal.
Blot, Don't Rub: Always blot stains. Rubbing can push the stain further into the fabric.
Rinse and Dry: After treating a stain, rinse the area with clean water and blot with a dry cloth to remove excess moisture.
Removing Water Stains from Car Seats
It might sound counterintuitive, but water can indeed leave a mark. If you've ever left your windows open during a rain shower, you know the frustration of water stains.
Blot Up Excess: If the area is still wet, use a clean cloth to soak up as much moisture as possible.
Prepare a Solution: Mix equal parts water and white vinegar in a spray bottle.
Spray and Blot: Lightly mist the stained area with your solution. Then, using a clean cloth, blot the area, working from the outside of the stain towards the center.
Dry the Area: Use a dry cloth or towel to blot up any excess moisture. Ensure the area is entirely dry to prevent mold or mildew.
How Often to Clean Car Seats
Maintaining a pristine car interior not only promotes a sense of well-being but can also boost the resale value of your vehicle. But how often should you give those seats a good scrub? Here's our guide, tailored for different seat materials.
Cloth & Fabric Car Seats
Regular Maintenance: Aim to vacuum your cloth car seats weekly to prevent the accumulation of debris and dust. This routine maintenance can elongate the lifespan of the fabric and keep your car smelling fresh. Plus, while you're at it, give those car mats a quick vacuum too!
Spot Treatment: Accidents happen! Whether it's a coffee spill or muddy paw prints, always address the mess as soon as it occurs to avoid stubborn stains.
Deep Cleaning: The environment inside our cars can be quite dynamic, influenced by factors like pets, kids, or regular snack breaks. While a general guideline would be to deep clean cloth seats quarterly, pay attention to your car's unique needs. Parents and pet owners, for example, might find a more frequent deep clean beneficial.
Leather Car Seats
Regular Maintenance: A gentle wipe down of leather seats every month can preserve their shine and suppleness. Use a damp microfiber cloth to ensure you don't scratch the leather.
Deep Cleaning: Leather, though luxurious, can be high maintenance. Deep cleaning three to four times a year can help maintain its sheen. But, remember the golden rule: Less is more. Over-cleaning can strip leather of its natural oils.
Conditioning: Leather conditioners are a boon, but moderation is crucial. Referring to experts from The Spruce, conditioning about four times a year strikes the right balance, ensuring your seats remain moisturized without becoming greasy.
Essential Tips for Cleaning Car Seats
Embarking on the journey of cleaning your car seats? From basic protection to treating stubborn stains, here are tailored insights to elevate your cleaning game:
1. Proactive Protection
Use Towels for Temporary Shielding: If your commute includes breakfast on-the-go or that mandatory coffee, draping a towel over the seat can be a game-changer. It's a simple hack to catch those unforeseen spills.
Opt for Seat Covers for Long-Term Defense: Beyond just protection, seat covers provide a style statement. They're purposefully crafted for safeguarding seats and come in diverse colors and patterns. Invest in one that complements your car's interior.

2. Solutions for Stubborn Stains
Permanent Marker Woes: Accidentally left a permanent marker mark? Fret not! A quick spritz of aerosol hairspray can act as a solvent for leather seats. A gentle wipe should lift the mark.
Mold/Mildew Battle: For those pesky mold or mildew spots, a balanced spray of rubbing alcohol and warm water is your knight in shining armor.
The Dreaded Dark Stains: Spilled red wine or berry juice? A concoction of lemon juice and cream of tartar might be the magic potion you need. Dab it on the stain, let it sit for 10 minutes, and gently wipe away.
Managing Grease Marks: Baking soda isn't just for baking; it's also a grease magnet. Sprinkle a generous amount over greasy patches, let it absorb the grime, and then brush away.