Foggy headlights are a major problem, not just because they lower the aesthetic appeal of your car (although they definitely do that, too!). They are actually a threat to your safety when you're driving because they weaken the light that your car produces and thereby worsen visibility at night, especially when you are driving in fog. Poor nighttime visibility puts you and your passengers at an increased risk of a collision or other driving accident. Plus California headlight laws dictate which times you're required to use headlights. If you're dealing with it, it's a problem you should seek to resolve as soon as possible.
Considering this, you might be wondering how to clean and restore your headlights. Luckily, DIY headlight restoration is a relatively easy task. We'll explain how to restore your headlights in detail over the course of this article.
What Is Headlight Restoration?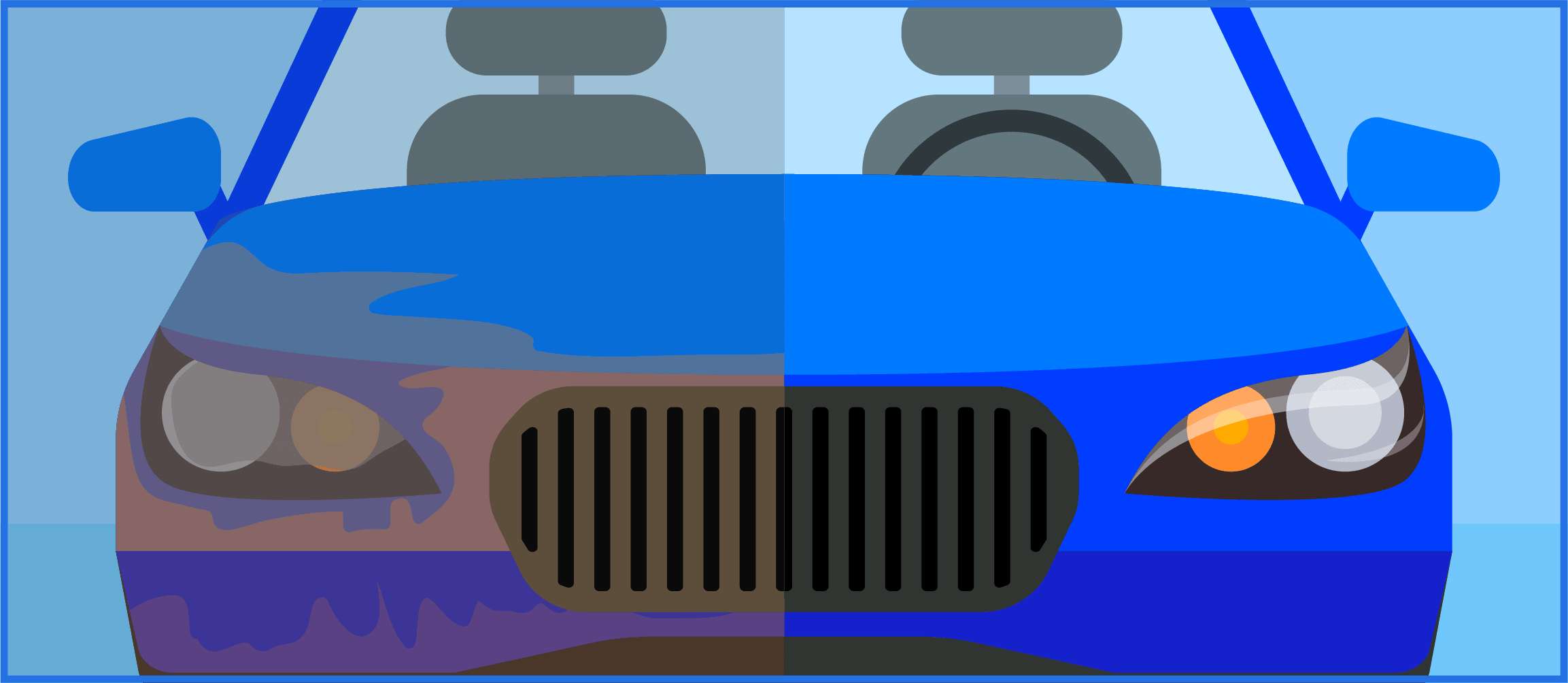 Headlight restoration is the process of removing the surface layer of your car's headlights and then adding a sealant layer in order to improve their light output. As Chapel Hill Tire puts it, headlight restoration entails "[eliminating] the damaged components of your headlights while preserving the rest."
Although AAA notes that headlight restoration "offers less of an improvement in light output" than outright replacement of parts, it has the notable benefit of being much more affordable. In addition, the process is still worthwhile, as it "can return light output to about 70 percent of that of new lights."
Cleaning vs. Restoring Headlights
Cleaning your headlights can help to reduce their fogginess, but it's not as thorough as restoring them. Cleaning means removing the dirt on the surface of the headlight while restoring headlights involves using abrasion to remove the surface layer of the headlights. We'll describe the process of cleaning your headlights in greater detail in Step 2 of the section below titled "How to Restore Your Headlights."
Professional vs. DIY Headlight Restoration Cost

If you get your car's headlights professionally restored, you can expect it to cost between $100 and $250 on average. But if you decide to do DIY headlight restoration instead, the cost of a headlight restoration kit designed to help you do this is only about $15 to $20. Even better: this kit will work for up to three cars total, so it'll only run you about $5 to $7 per car.
It's worth saving anywhere from $85 to $230 to take the time to restore your car's headlights yourself. If you agree and want to do it yourself, keep an eye out for our list of the top headlight restoration kits at the end of this article.
Causes of Foggy Headlights

Several factors contribute to foggy headlights, including:
Debris exposure: The more time you spend driving your car, the more your vehicle is exposed to various debris like small stones, sand, and dirt. This can accumulate in a layer on top of your headlights.
Oxidation: Instead of being made out of glass, modern cars' headlights are made of polycarbonate plastic, which is vulnerable to oxidation. When this type of plastic acquires small cracks, the sun turns them yellow over time, making headlights noticeably less clear.
Weather: To protect them from the effects of exposure, you can expect headlights made of polycarbonate plastic to be covered in a film. However, this film eventually wears away with long-term exposure to weather like rain, snow, ice, and hot temperatures.
Condensation: Condensation (accumulated water vapor that has turned back into droplets of liquid water) often gets stuck inside the headlights' lightbox thanks to high temperatures inside them. This also contributes to dullness.
Whatever the cause, the passage of time is always the underlying culprit. Unfortunately, no matter how well you take care of your car's headlights, they will eventually need to be cleaned as the months and years progress.
How to Restore Your Headlights
Wondering how to restore auto headlights permanently? Keep reading for a quick and effective step-by-step guide to DIY headlight restoration and some alternative, temporary solutions to the problem if you're short on time.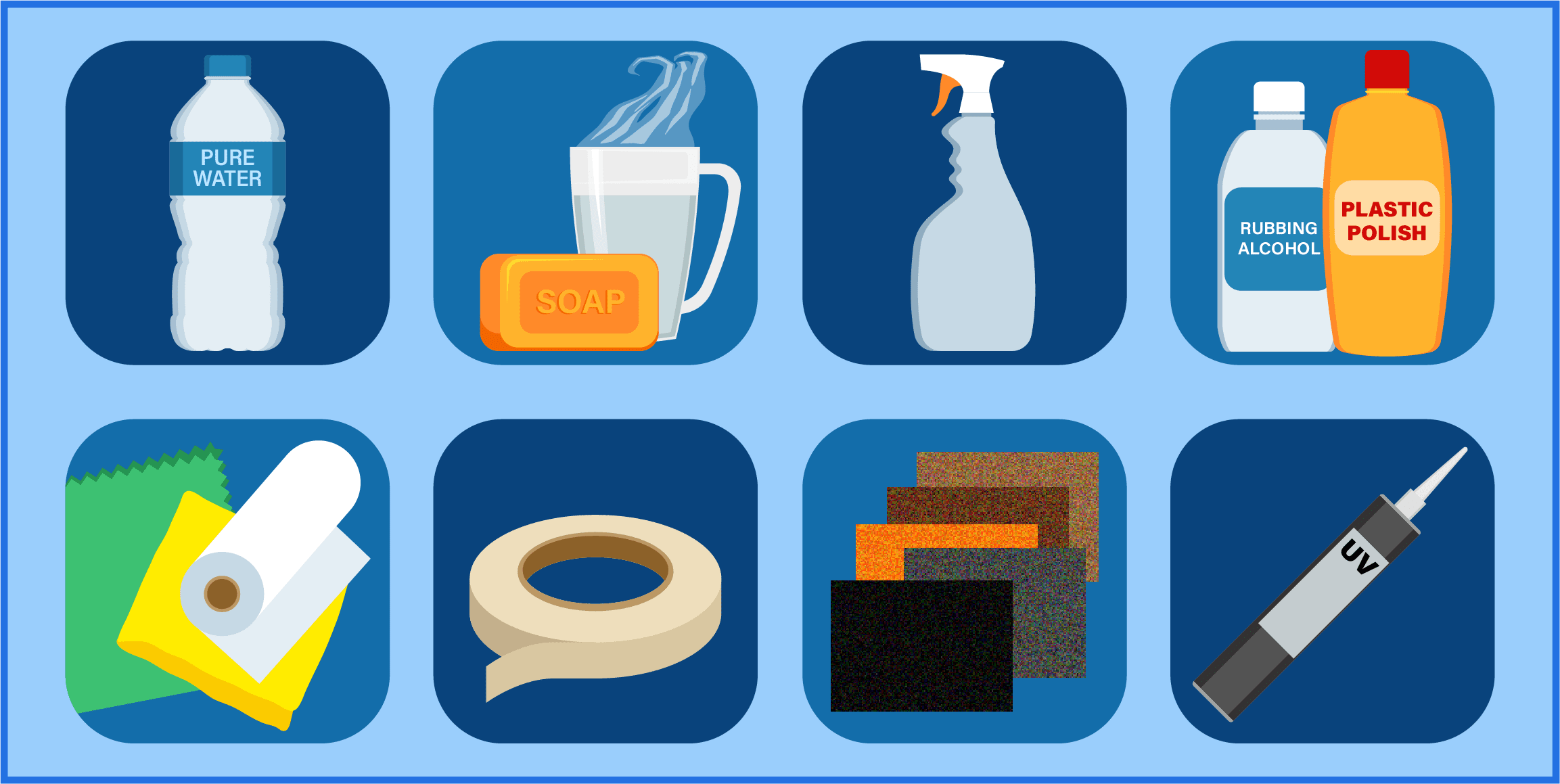 The best way to restore auto headlights
The most effective means of restoring your car's headlights will be using sandpaper. It's a simple solution: by removing the top layer of the headlight lens, you remove the damaged layer of plastic and "de-fog" the headlights.
Step 1: Gather your materials
To follow the headlight restoration steps on this list, you will need the following:
Pure water
Warm water with soap
Spray bottle
Rubbing alcohol
A soft cloth (microfiber is ideal)
Painter's tape
Sandpaper in multiple grits: 600, 1,000, and 2,000
Paper towels
Flannel cloth for polishing
Plastic polishing compound
UV sealant
Step 2: Clean the headlights
It's important to clean your headlights before you begin sanding them. Otherwise, you'll just end up driving the existing grime and debris further into the headlights' surface, which makes true restoration impossible. So here's how to clean your headlights.
To start, dip the soft cloth into the warm water with soap suds and repeatedly wipe the headlights until they are as clean as possible. If the painted body of your car surrounding the headlights also seems grimy, you'll want to wash that with soap and water. Be sure to dry everything off at the end.
Step 3: Tape off your car's paint surrounding the headlights
You will be applying sandpaper to your headlights, which could cause significant damage to your car's paint job if you cannot be perfectly precise. That's why it's easier to cover the surrounding area with painter's tape.
Step 4: Start sanding the headlights
Now that you've completed these preparatory steps, you can begin the most important step of headlight restoration: using your various grits of sandpaper to remove the damaged surface of the lights. The higher the grit, the finer the sandpaper–you'll begin using the coarsest grit of sandpaper (600 grit) and finish with the finest (2,000 grit):
Dry sand using 600 grit sandpaper: Start by removing the entire surface of the headlight using the coarsest sandpaper (you can even use 400 grit if the headlights are really damaged and in need of TLC). To ensure even coverage, you should move the sandpaper across the headlights' surface horizontally.
Wet sand using 1,000 grit sandpaper: Spray plain water on your headlights and begin sanding with the next-finest sandpaper. As you finish going over the entire surface of the lights, make sure you keep spraying water as needed to keep the area lubricated.
Wet sand using 2,000 grit sandpaper: This finest grit of sandpaper is as much about polishing as it is about sanding the surface of the lenses. Continue using water to keep the surface wet and further smooth it down, then move on to the next step.
Step 5: Cleaning and polishing
This is the crucial step that will make your headlights look almost as good and work nearly as well as when you first bought your car. Start by removing the debris you created through sanding using rubbing alcohol and paper towels. Follow this with the application of a plastic polishing compound using that flannel polishing cloth.
Step 6: Prevent headlights from oxidizing with UV sealant
Sun exposure is inevitable, so oxidation caused by UV exposure is also unavoidable. But that doesn't mean you can't delay the effects of sun exposure. The most important way to do that is by applying UV sealant to your headlights after you've finished sanding, cleaning, and polishing them. Most experts recommend applying a minimum of three coats of UV sealant to protect your handiwork for as long as possible.
Quicker DIY Headlight Restoration Fixes
Although sanding your headlights is the best way to restore them, there's no denying it takes a fair amount of time and effort–you can expect the whole process to take two to three hours depending on your skill level and how damaged your headlights are.
If you need a short-term solution to your foggy headlights, never fear–we've got a few quick suggestions to help you resolve the problem in no time with items you probably already have around the house:

Toothpaste and baking soda
Rub a mixture of toothpaste and baking soda onto the surface of your headlights' lenses. Once the mixture has dried, remove it using a dampened cloth. The outcome will not be as clear as if you restored them fully using sandpaper, but it will improve their light output somewhat.
Vinegar and baking soda
Combine equal parts vinegar and baking soda and rub the mixture onto your headlights. Wait a few minutes to let the fizzy combination do its magic, and then wipe it away for clearer headlights.
Diet Coke
Diet Coke is another ideal household substance for quickly cleaning your headlights; not only does it contain a great stain remover in the form of phosphoric acid, but it's also free from sugar, which can make the Coke harder to clean up. Simply pour a bottle of Diet Coke into a spray bottle and spray the liquid onto your headlights so that they're covered. Dry it off using a soft cloth. You can do this a few times in a row if your headlights are very foggy.
Other Ways to Prevent Headlights From Oxidizing
As we mentioned above, UV sealant is an effective way to protect your car's headlights from the oxidizing effects of the sun. Here are a few additional tips that will also help with that and delay the eventual necessity of restoring your headlights again:
Try to keep your car's exterior clean: One of the contributors to foggy headlights is dirt and debris build-up on the lens surfaces. That's why keeping your car clean with regular washing will reduce headlight damage and oxidation.
Keep your car out of the sun: Park in a shady spot or, even better, in a garage where your car will be exposed to much less UV radiation. Since UV exposure is the culprit behind foggy headlights, doing this will ensure you have clearer and stronger lights for much longer.
Plan to sand your headlights every few months: Instead of letting them get to the point where they are so foggy they stop working correctly and become a safety hazard, why not nip the problem in the bud by sanding them regularly (every few months is ideal)?
The Best Headlight Restoration Kits
Here are our top choices among the many different headlight restoration kits available on the market:
This particular kit is an excellent choice if you want to use a drill for the sanding steps of headlight restoration. (If you don't have a drill, skip this kit and move on to the next one, because it requires one.) This kit contains everything for a five-step headlight restoration, including sanding discs, polishing pads and compound, a roll of tape that will protect your car's paint, and a lens protectant to apply at the end.
With this Sylvania kit, you won't need a drill, just your own two hands, and some elbow grease. Using this kit involves three steps: 1) applying their proprietary surface activator to soften the plastic surface of the headlight lenses, 2) sanding and polishing the lenses, and 3) sealing with their UV block clear coat. The manufacturers note that you can use this kit for two headlight assemblies.
Here's another headlight restoration kit that doesn't require the use of any additional tools. It's an affordable option while still being reliable. That's probably why it's the number one kit of its kind on the market, with over 8,000 reviews adding up to 4.5 out of 5 stars.