Every driver, no matter how cautious, can face unexpected challenges on the road. From sudden weather changes and unpredictable wildlife appearances to the hazards posed by distracted drivers, even a mundane trip can escalate into an emergency.
However, there's a way to arm ourselves against these unforeseen circumstances. Enter the emergency car kit—a vital companion for every vehicle owner. This isn't just any toolbox; it's a specially curated selection of tools, supplies, and essentials neatly packed into a compact container designed for the trunk of your car. Whether you're dealing with a flat tire, minor injuries, or just need to signal for help, this kit has got you covered.
So, what makes the best car emergency kit, and how do you ensure it aligns with your driving conditions and personal needs? Dive into our comprehensive guide as we break down the crucial components of these life-saving kits and offer our top product recommendations for the best roadside emergency kit to suit different situations.
Why an Emergency Car Kit is Essential for Every Driver
Understanding the significance of an emergency car kit goes beyond mere convenience—it's about the safety and well-being of both the driver and passengers. Here's why having a well-equipped car emergency kit is not just essential, but a potential lifesaver:
Breakdowns: Even the most reliable cars can experience hiccups. Imagine breaking down in an isolated area with no access to towing or assistance. A comprehensive emergency car kit empowers you to address basic repairs and wait safely until professional help arrives.
Weather Hazards: A sudden storm or snowy conditions can transform a minor battery failure or tire issue into dire situations. Your emergency kit, stocked with supplies like thermal blankets or tools to extricate from snow, could be a lifeline.
Remote Travel: Venturing into regions with spotty cell reception? Ensure you're equipped with solutions for when the unexpected happens and you can't rely on a quick call for help.
Medical emergencies: Accidents can happen, and health crises don't wait for convenient locations. A well-stocked car first aid kit ensures you have the essentials to address injuries or health emergencies.
Avoiding Delays: Delays can throw off your entire day. With the right tools at hand, you can resolve minor issues promptly and continue on your journey.
Cost Savings: Think of the potential savings from avoiding expensive emergency services. Being prepared might not just save time but also a significant amount of money.
Assisting Others: Be the good Samaritan. While you might seldom face emergencies, others might not be as lucky. Having tools like jumper cables can make a huge difference to a fellow driver in distress.
Legal Requirements: While having a car emergency kit in our vehicles is not required by law, some commercial drivers are expected to keep certain supplies handy (such as roadside warning triangles) in the event of a breakdown. A well-stocked car emergency kit can offer the peace of mind of knowing that you're fully compliant.
As you can see, there are many reasons to go the extra mile and prepare for emergencies on the road. According to a study done by MFASCO Health & Safety, 90% percent of drivers have no first aid supplies in their cars, and only one in ten drivers have all of the recommended essential safety supplies in their cars. With that in mind, it's a no-brainer to consider how a simple one-time purchase can keep you better stocked than the majority of other drivers. Next up, we'll crack open the emergency kit and learn a little bit more about the individual components that make one up.
What to Look For in the Best Car Emergency Kit
available. Many kits boast an overwhelming number of items, making it tricky to differentiate between essential components and superfluous extras.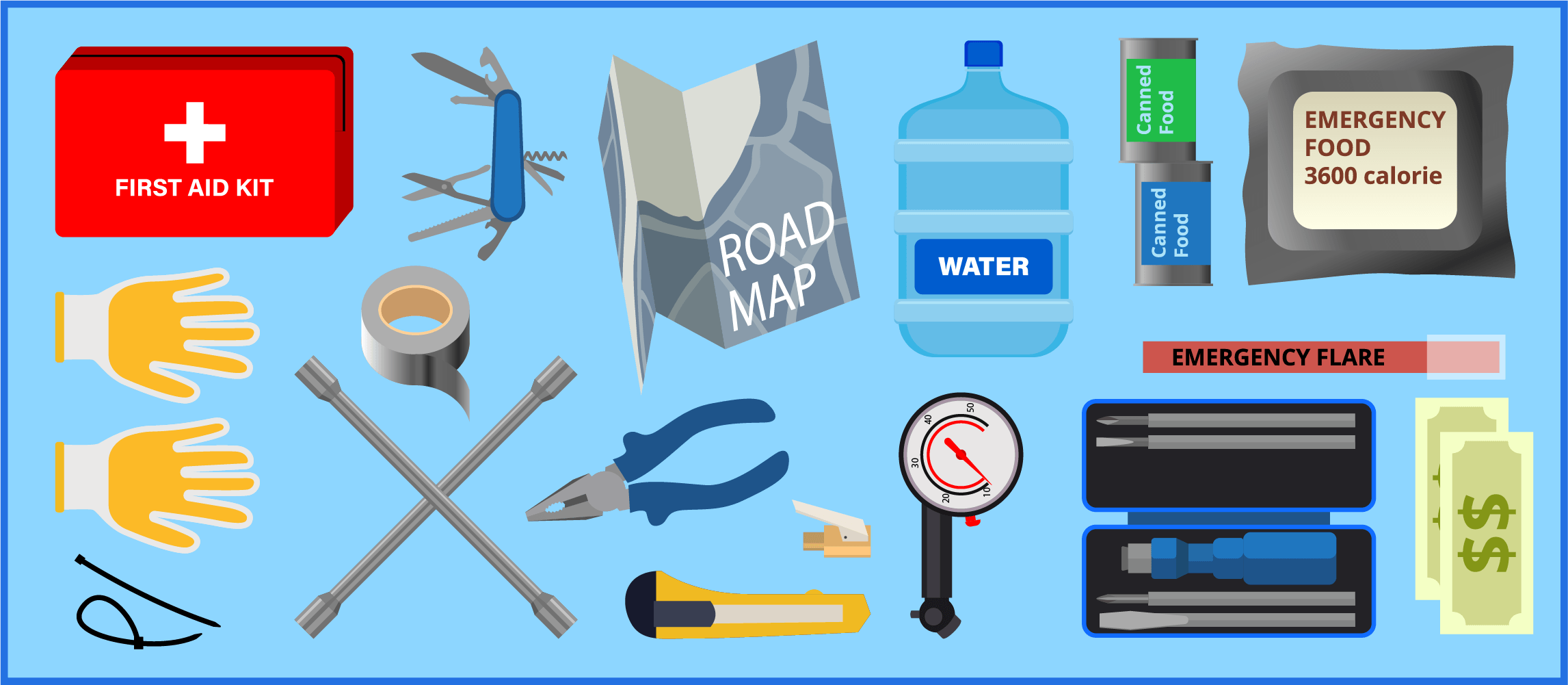 Here's a clear breakdown of what a best car emergency kit should ideally encompass, and how you can tailor it to your personal needs:
First aid kit: An unforeseen medical emergency on a remote road can escalate quickly. Ensure your car emergency kit includes a robust first aid kit stocked with bandages, disinfectants, gauze, painkillers, and other immediate necessities.
Basic tools: Whether it's a quick fix or a minor adjustment, having standard tools like screwdrivers, adjustable wrenches, pliers, duct tape, and zip ties can prove invaluable. A quality multitool can also serve as a handy, space-saving substitute.
Vehicle essentials: Roadside repairs often demand vehicle-specific tools. Look for kits equipped with tire patch kits, jacks, lug wrenches, tire pressure gauges, jumper cables, portable starters, and tow straps.
Visibility aids: A breakdown can jeopardize your safety, especially in low visibility conditions. Items like reflective warning triangles, road flares, reflective vests, and flashlights can make you and your vehicle conspicuous, thus safer.
Communication and Power: In today's digital age, a functioning cellphone is a lifeline. Ensure your emergency car kit has charging cables, a portable power bank, and a waterproof pouch for safe storage.
Fire Safety: Surprisingly overlooked, a fire extinguisher and fire blanket are critical. In the dire event of a vehicular fire, these tools can prevent catastrophe.
Survival Supplies: If stranded, having emergency rations and potable water can be life-saving. Some of the best roadside emergency kits include provisions for several days.
Travel Documents: Keeping duplicates of crucial documents—insurance, vehicle registration, personal ID—and a stash of physical cash can be invaluable in emergencies. A paper map can also guide you when digital means fail.
Tailoring Your Kit to Your Needs:
Regional Weather Conditions: If you're in an area prone to snowstorms, consider adding items like thermal blankets or snow chains. Similarly, desert areas might necessitate extra water.
Personal Medical Needs: Always add personal medications or specific medical supplies if you have unique health concerns.
The Importance of a First Aid Kit in Your Vehicle
Accidents and medical emergencies can happen anywhere, even on the road. Ensuring you have a first aid kit in your vehicle is vital not only for your own well-being but also for the safety of your passengers and other road users.
Overview of First Aid Incidents on the Road:
Whether it's a minor cut from handling a sharp object or a more serious injury from an accident, immediate medical attention can prevent complications. Timely first aid can control bleeding, prevent infections, and even save lives.
Components of the Best Car First Aid Kit:
Bandages & Dressings: A range of bandages for various wound sizes, adhesive tapes, and gauze pads are a must.
Disinfectants: Include antiseptic wipes or creams to clean wounds and prevent infections.
Pain Relievers: Over-the-counter painkillers can alleviate pain and reduce inflammation.
Tools: Tweezers for splinters, scissors for cutting tape or gauze, and digital thermometers can be invaluable.
Specialized Items: Consider adding burn creams, sting relief sprays, and allergy medications.
Instruction Manual: A simple, illustrative first aid manual can guide even the untrained to provide vital assistance.
Tips for Using and Maintaining Your First Aid Supplies:
Regularly Check Expiry Dates: Many first aid items, especially medications, have expiry dates. Ensure they're current.
Refill After Use: Once you've used items from your first aid kit, restock them.
Store in a Cool, Dry Place: Prolong the shelf-life of your first aid items by storing them away from direct sunlight and moisture.
To enhance your overall roadside preparedness, when selecting an emergency car kit, consider aspects such as kit size, component quality, suitability to your climate, and customizability. Reviews from other users can provide valuable insights into the effectiveness and reliability of the kit components.
How to Choose the Best Roadside Emergency Kit for Your Needs
Selecting the perfect car emergency kit might seem challenging with numerous options available in the market. However, understanding your specific requirements can make this process straightforward and efficient.
Assessing the Common Roadside Challenges:
Flat Tires: This is a frequent issue. Ensure your kit includes a tire patch kit, a portable air compressor, and a lug wrench.
Engine Troubles: Basics such as jumper cables or a jump starter are vital. For those less mechanically inclined, an instruction manual or quick tips guide can be invaluable.
Accidents: Reflective warning triangles and a good-quality first aid kit can be lifesavers.
Recommendations for Diverse Needs:
For Long-distance Travelers: Consider kits that offer extended food and water supplies, a comprehensive first aid kit, and potentially even a portable phone charger.
Parents with Kids: A kit with child-specific medicines, baby food, and perhaps some distraction tools like a whistle or toy could be handy.
Pet Owners: Ensure you have some pet food, a leash, and possibly a portable water dish.
Climate Suitability: Tailor your kit based on where you'll be driving most often. For snowy regions, tools for ice and snow removal are essential.
Size and Portability: Ensure the kit you choose fits comfortably in your vehicle, whether you have a compact car or a larger SUV.
Quality of Components: Always prioritize quality over quantity. A well-made tool will always outperform several inferior ones.
Five Best Car Emergency Kits for Different Situations
Our Pick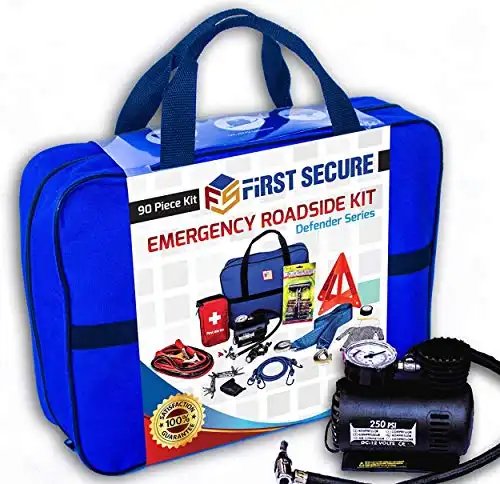 This 90-piece kit is your ultimate companion for most roadside emergencies. With crucial tools like a 12V 250 psi air pump, window breaker, and a tow rope, it ensures you're prepared for unexpected hitches on the road. However, if winter drives are frequent for you, adding a separate winter emergency car kit might be a good idea.
Winter driving demands special preparation. HAIPHAIK's kit is tailored to handle the rigors of snow and frost. While it offers robust tools for snowy challenges, consider coupling it with a portable air pump or a comprehensive first aid kit for a holistic approach.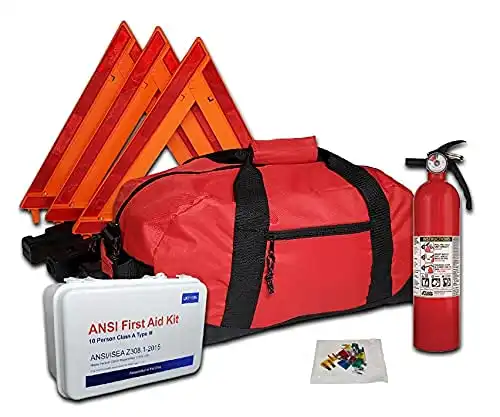 For commercial drivers adhering to regulations is paramount. This kit not only ensures compliance but also provides top-tier safety gear like DOT-approved safety triangles and a comprehensive first aid kit. Although it comes at a premium, it's a single purchase that ticks multiple regulatory boxes.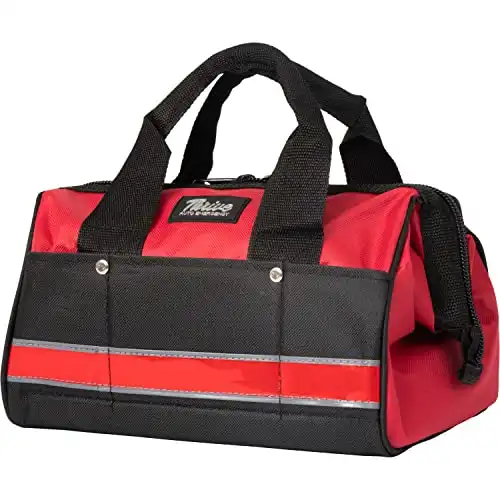 There is a lot of overlap with the tools included in each of these car emergency kits. That's why it's generally a good idea to stress quality over quantity in our selections. But with the 104-piece Thrive Roadside Emergency Kit, you get the best of both worlds. Not only does it come complete with just about every essential item we've covered today, the tools are of impressive quality. User reviews on Amazon have applauded the kit for its durable canvas carrying case, which they describe as easy to store in your vehicle.
Consumers should avoid this kit if they need a lot of winter driving gear, or if they're looking for a comprehensive first-aid kit—the one included is good for minor cuts and scrapes, but is missing some of the supplies included in the other kits we've showcased.
Flat tires are a headache that no motorist wants to deal with. Give yourself a little peace of mind and keep your car stocked with Everlit Survival's Car Emergency Kit—their digital auto tire inflator comes highly rated by Amazon reviewers and will get your tires car up to the manufacturer's recommended psi with no effort. With a built-in LED light, it's easy to use even in the darkest nighttime conditions and even comes with extra nozzles for air mattresses or other inflatables.
This car emergency kit is a fantastic choice for someone who has been on the fence about buying a portable air compressor, as a compressor alone can cost that much or more. Everlit also has a 60-day, no-hassle return policy and all of the components of the kit come with a one-year warranty.