Having your car stolen may feel like one of those "it won't happen to me" scenarios. But car theft is more common than you may think. The National Insurance Crime Bureau (NICB) reports that in the U.S., vehicle thefts surpassed one million in 2022, the first time vehicle thefts were this high since 2008.

If you own or drive a car, how can you ensure your vehicle doesn't become a statistic? Using the right anti-theft devices is crucial — doing so could save you time, money, and a huge headache. Layering multiple anti-theft car devices is the most effective way to protect your car.
That's because, as Gear Junkie writes, "Time is the enemy when someone is attempting to steal your car. Having multiple security devices potentially extends the time to defeat them, which increases the likelihood that the thief will move on and choose another target."
Ready to learn all about the best anti-theft car devices — and, most importantly, how they keep your vehicle safe from thieves? Read on.
Types of Anti-Theft Car Devices
Several types of anti-theft car devices are on the market, all of which protect your car using different mechanisms. We'll describe the most common categories here, so keep reading for an overview before we get into our specific product recommendations.
Active vs. Passive Anti-Theft Devices/Systems: What's the Difference?
We're starting with a more general, overarching set of categories to describe anti-theft devices: active and passive systems. That active/passive distinction is pretty important – it describes whether you must take specific action to arm the device. Not sure what we mean? Keep reading for the details.
Passive Anti-Theft Devices
As described by the Arizona Department of Insurance and Financial Institutions (DIFI), passive anti-theft car devices are automatically armed whenever the vehicle is off, the key is removed from the ignition, or a door is shut. They are classified as "passive" because you don't have to take any extra action to arm them. This is a beneficial feature, according to the car insurance experts at HiRoad: "In this case 'passive' is actually better than 'active,' and means 'will protect your car without you having to do anything.'"
A well-known example of passive anti-theft systems is the built-in PASSLock system, which disables fuel to the engine if someone attempts to start the vehicle with the wrong bitted key. In the case of some cars, the doors may even lock automatically when the car is a certain distance away from the key fob – an amazingly convenient function that would also be classified as a passive anti-theft system.
Active Anti-Theft Devices/Systems
As you might have guessed based on their name, active anti-theft devices are the opposite: they require the user to do something extra to arm them. For instance, writes the Arizona DIFI, you might need to remember to press a button or place a lock on some part of your vehicle every time you set the anti-theft device.
Some of the most common examples of anti-theft car devices include locks for brakes and steering wheels, kill switches and aftermarket alarms.
Other Kinds of Anti-Theft Car Devices
Audible Alarms

Audible alarms are one of the most ubiquitous anti-theft car devices; you can expect them to come with most modern cars. They are audible from a distance of at least 300 feet and sound for a minimum of three minutes.
Stolen Vehicle Recovery Systems

According to Motorbiscuit, stolen vehicle recovery systems may also be called "GPS devices" and can remotely track your vehicle, which can help the police locate it much more quickly. One of their most notable benefits: your car insurance provider might offer you a 10 percent discount on your policy if your car is equipped with one. Some stolen vehicle recovery systems even offer users the capability to remotely unlock/lock their vehicles, which is helpful if the car has been stolen.
Various Kinds of Anti-Theft Locks

They're slightly more inconvenient as an active anti-theft device since you have to remember to lock up part(s) of your car every time, but locks have been a popular option for many years because they do work to reduce auto theft, and they are relatively affordable. The most common types include:
Steering wheel locks: Who knew that simply locking your steering wheel to prevent it from being turned was such an effective anti-theft measure?
Car wheel clamps: This is another kind of lock that goes on your vehicle's actual wheel rather than its steering wheel, thereby preventing the wheel from being stolen and the car from being moved.
Brake locks: They attach to your brake pedal to make it impossible for potential car thieves to use it.
Car Cameras / Dash Cams
These cameras can turn on to record potential thieves and send a video of them to your phone. Owlcam, for example, uses AI surveillance and real-time alerts so you'll always be aware when your car is at risk.
Hidden Kill Switches
A kill switch is a simple but highly effective way to prevent your car from being driven away by a thief. These are switches or buttons that you can have installed in your car so that your car won't start unless they've been flipped.
People have them installed in a variety of spots in their car, including the steering column, the windshield wiper, or under the seat. The only way a thief will be able to move your car is by putting it on a flatbed and driving away with it – but, writes AutoWeek, "the only way to prevent that is by physically guarding it 24/7."
The Best Anti-Theft Devices
Now that you understand the wide array of categories that anti-theft car devices and systems can fall into, here are our recommendations for specific products to ensure your car's safety: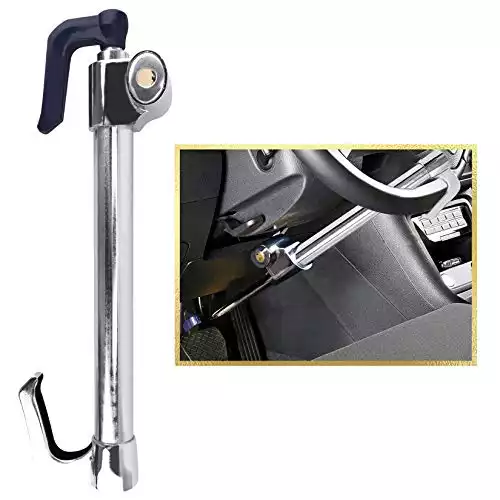 One end of this all-metal (more specifically, a combination of aluminum alloy and steel) steering wheel brake lock attaches to your steering wheel. In contrast, the other can be attached behind the brake pedal, accelerator, or clutch. It resists all attempts to damage it, including saw, pry, freon, and hammer attacks.
Although it is less conspicuous than some other anti-theft car devices, many of which are bright yellow to be a visible deterrent to thieves, it is nonetheless extremely effective at what it's designed to do, according to thousands of positive reviewers. This is particularly true because of its double-lock cylinder, which makes it stronger overall.
The manufacturers of this brake lock also note that it can be used on a wide range of vehicles, including cars, trucks, vans, SUVs, and even golf carts, as the smaller model can be adjusted from a length of 22.8 to 33.5 inches, and the larger model from 25.6 to 37.4 inches.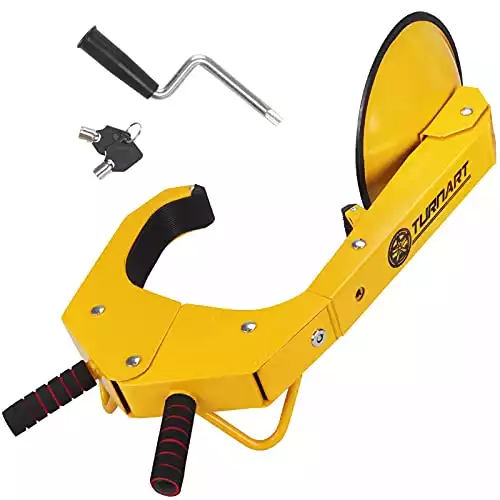 This is a great example of a product designed to act as a visible deterrent in addition to preventing theft, with a bright yellow color that makes it unmistakable to potential thieves, whether it's dark or light out. It's also a good reminder to you as the vehicle owner to remove it before getting in your car and driving away.
Weighing in at a hefty 13 pounds, it comes with a much stronger lock than most comparable products, made of a blend of aluminum alloy and steel to ensure it resists prying, saw, hammer, and freon attacks. Not to worry, though – if you're determined to protect the finish on your wheel, the soft PVC coating where it meets the wheel will make doing so a breeze. And because the opening can be adjusted to as much as 15 inches in width, this wheel lock can be used on cars, campers, trucks, trailers, SUVs, and more.
Finally, unlike many other wheel locks/clamps on the market, it is designed to be able to cover the lug nuts on your tire, which protects your wheel from being stolen, in addition to your car.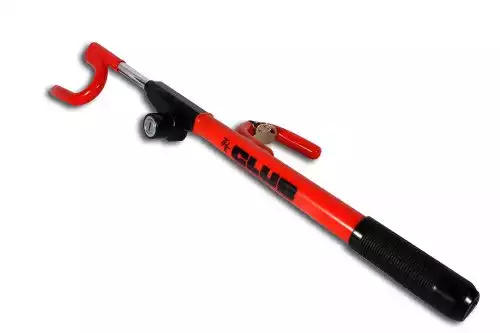 The Club 1000 Original Club Steering Wheel Lock, Red
Solid steel hooks for greater security
Cro-moly steel construction resist sawing, prying,hammering, and freon attacks
Highly visual theft deterrent. Fits steering wheels with inner dimension from 8.75 to 14 inches
Buy from Amazon
We earn a commission if you make a purchase, at no additional cost to you.
05/26/2023 04:10 pm GMT
With a cro-moly steel construction, including hooks made of solid steel, this is another steering wheel lock that is fully resistant to prying, sawing, hammering, and freon attacks. And unlike the first option on this list, it's an extremely visible deterrent to theft, thanks to its bright red color.
It also fits directly onto the steering wheel, rather than connecting to the brake or another part of the car, and fits cars, light trucks, SUVs, and vans with steering wheels with inner dimensions of 8.75 to 14 inches (although please note that the manufacturer recommends you also measure your door's backset, cross bore and thickness to ensure it fits properly).
The Club is another active anti-theft car device, meaning you have to set it every time you use it, but the patented self-locking feature makes doing so an easy process, especially compared to many other wheel locks on the market.