Car seats are exposed to quite a bit of dirt and grime in day-to-day life, especially if you don't have any rules against eating in your car and/or if you have kids or pets. Maybe you're reading this article because you recently spilled something like a cup of coffee in your car, and you want to make sure you get the stain out before it's too late.
Whatever the reason, it's a good idea to clean and protect your car seats. Not only will they look better, but they'll also smell better (!), and if you ever decide to sell your car or trade it in for a newer model, having clean seats will improve its overall value. Even if your car seats have quite a bit of staining, not to worry–it's possible to get them looking as good as new.
Why Clean and Protect Your Car Seats?

Cleaning and conditioning are particularly important for those of us who are lucky enough to have leather seats in our vehicles. If you have leather car seats, you've probably paid a fair amount for them, and allowing them to get dirty and dry out leads to cracking and long-term damage that will ruin the luxurious look and feel of the leather. Don't let this happen–regularly care for your leather seats to maintain their value and comfort, and your future self will thank you!
How to Clean Your Car Seats (Step-by-Step)
The processes for cleaning cloth/fabric car seats versus cleaning leather car seats are different, so we've split this section up into two parts based on the material your car seats are upholstered with:
How to Clean Cloth/Fabric Car Seats
1. Gather Your Materials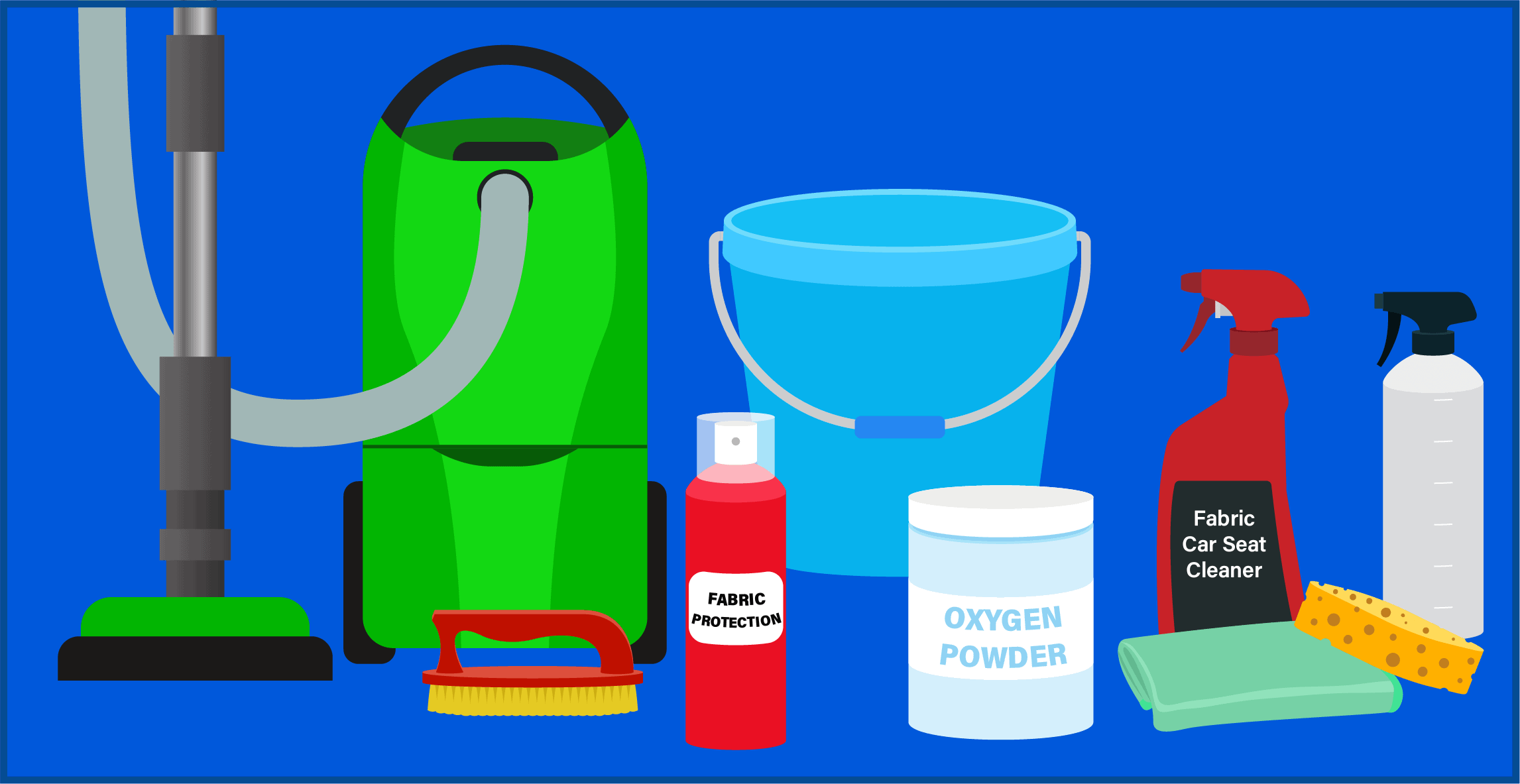 Here's what you're going to need to follow our step-by-step guide:
A vacuum cleaner with a hose (plus crevice tool and upholstery brush attachments, ideally)
Empty spray bottle
Scrub brush
Fabric car seat cleaner product (see our recommendations below)
Several microfiber cloths
Clean sponge
Bucket
Powdered oxygen bleach (optional–for certain kinds of stains)
Water
Fabric protector (see our recommendations below)
2. Thoroughly Vacuum Your Seats
The first step of the cleaning process will be removing all the debris you can by vacuuming the fabric of your seats as thoroughly as possible. Starting with this step is important because the subsequent cleaning steps will be less effective. Use the vacuum's crevice tool attachment to get into all the nooks and crannies, and finish up this step with an all-over vacuum using the upholstery brush attachment.
3. Pre-Treat All Stains
Are there any spots with visible staining you'd like to address? Maximize your chances of removing them by pre-treating your stains before you do an all-over cleaning. Stains created by substances like dirt/mud, grease, and the majority of foods/drinks can be pre-treated using your fabric upholstery cleaner. Dab some of the cleaner onto the stains, use the scrub brush to scrub it into the fabric, and then let the cleaner sit for a minimum of 15 minutes.
The procedure is a bit different if you're dealing with stains created by dye. Start by dampening the stain with some water, then mix together powdered oxygen bleach with a tiny bit of water to form a paste. Apply the paste on the stains and let them sit for a minimum of an hour. When you return, the bleach should return to powder form, which you can easily vacuum. You can repeat these pre-treatment steps a few times, if needed, for really stubborn stains.
4. Apply Your Fabric Cleaner
Follow the instructions on the cleaning product you've chosen to determine the ratio of water to cleaning solution you'll need to mix up. Use your spray bottle to spray the solution onto the seats, going from top to bottom so that the entire seat is covered in the solution, but not absolutely soaked.
5. Scrub the Seats
Also, going from top to bottom, use your scrub brush to scrub the seats all over so that the cleaning solution can take full effect. You may need to rinse the scrub brush in a bucket of clean water, so you don't end up just spreading the dirt around.
6. Dry the Seats
Clean, dry microfiber cloth(s) are the perfect material for drying your seats. Wipe it up and blot at any particularly wet spots.
7. Repeat Steps 4 to 6 If Required
Are your seats still dirty after you sprayed, scrubbed, and dried them? Go ahead and repeat steps 4 to 6 until they're cleaned to your satisfaction.
8. Let the Seats Dry Before Driving
We'd strongly recommend giving your car seats time to dry before you hop in and start driving–otherwise, you might end up getting damp yourself, and it might not dry completely. This typically takes up to three hours, but it could be more or less time depending on the humidity, whether it's sunny or cloudy out, and other factors. You can also accelerate the drying process by parking your car in a sunny spot or using a fan pointed into your car's open doors to help the seats dry faster.
9. Use a Fabric Protector
Once the seats are as clean and dry as possible, spray them all over with the fabric protector product of your choice, following the directions on the bottle. Fabric protectors keep your seats from getting as dirty as they otherwise would, making any subsequent car seat cleanings a lot easier.
The Best Products to Clean and Protect Fabric Car Seats
Consumers agree that these are the top-rated, most effective products on the market for cleaning cloth car seats, which are usually made of either nylon or polyester-based microfiber/microsuede fabric:
Best Fabric Car Seat Cleaners:
Our Pick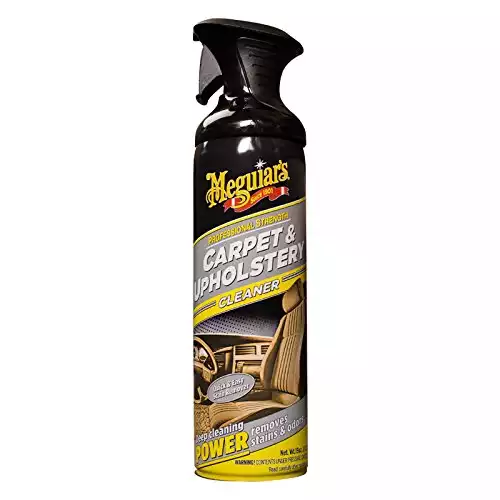 Meguiar's G9719 Carpet & Upholstery Cleaner - 19 oz.
$23.91
$21.16 ($1.11 / Ounce)
Professional-strength formula with deep cleaning power to quickly and easily remove stains and odors from your car's carpet and upholstery
Buy from Amazon
We earn a commission if you make a purchase, at no additional cost to you.
05/27/2023 05:10 am GMT
This "professional-strength formula" uses a "fast-acting foam [that] penetrates and dissolves stains from the bottom up." One of many positive reviewers of Meguiar's car seat cleaner commented that it allows you to "do a near professional detailing on the cheap."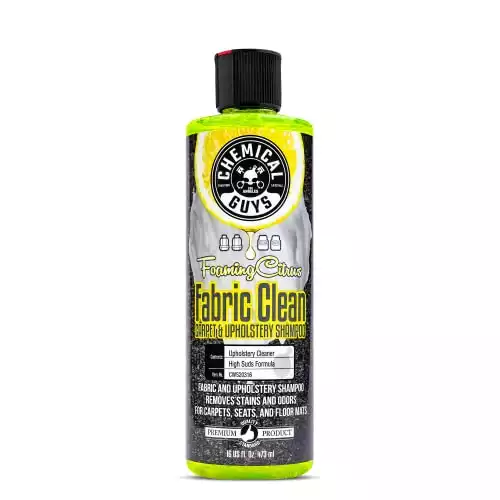 Don't choose this one if you're not a fan of the citrus scent, which most users find refreshing rather than overpowering. This cleaner from Chemical Guys is set apart by its popularity, which makes sense in light of its effectiveness–it's Amazon's number one best-selling carpet cleaner, with more than 28,000 ratings adding up to an average of 4.5 out of 5 stars.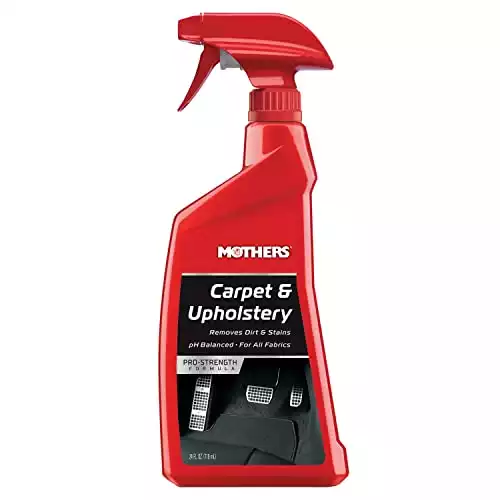 This is another reliable, professional-strength product with a pH-balanced formula in an affordable package. One reviewer's comment says it all: "The carpet & upholstery product brings [my car seats] back to showroom quality."
Best Fabric Car Seat Protectors:
Our Pick

Scotchgard 4306-10 4104D Auto Fabric & Carpet Protector, 10 Oz
$16.84
$14.99 ($1.50 / Ounce)
Helps keep auto interiors looking life new
Repels oil and water, blocks stains, and protects against soiling
Powerful barrier causes liquids to bead up on the fabric surface for easy clean up
Buy from Amazon
We earn a commission if you make a purchase, at no additional cost to you.
05/27/2023 10:10 am GMT
Scotchgard is a well-known brand from 3M with an earned reputation for quality. Their auto fabric and carpet protector creates a barrier on the fabric surface so that liquids bead up, rather than soaking in. In this way, it "repels oil and water, blocks stains, and protects against soiling."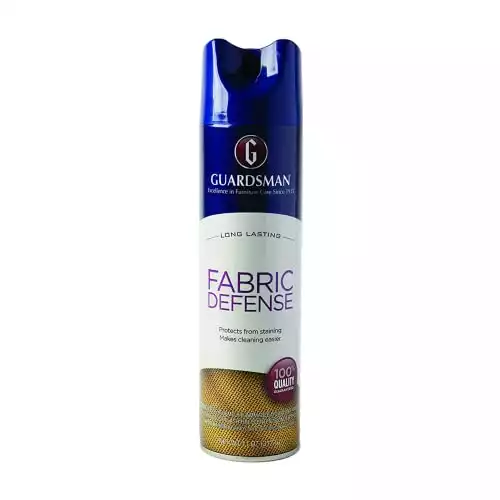 Guardsman is another reliable brand that "has been the leader in furniture care and delivering quality products since 1915." Once their fabric and upholstery protector dries, you're left with an effective and odorless barrier with no trace of a chemical smell.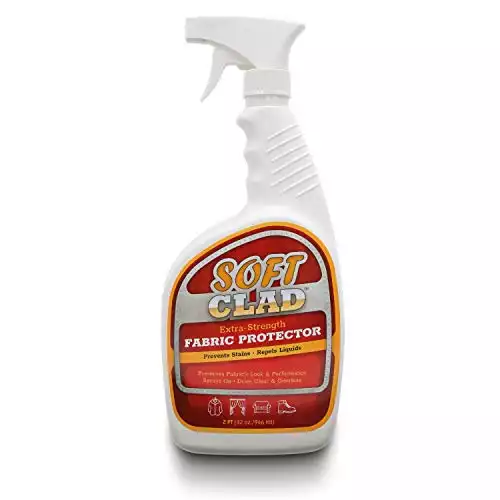 This is another more general-purpose fabric protector that's highly recommended for use on car seats and interiors as well. SoftClad is made up of an acrylic polymer mixed with water and is "non-flammable and safe to use indoors."
How to Clean Leather Car Seats
1. Gather Your Materials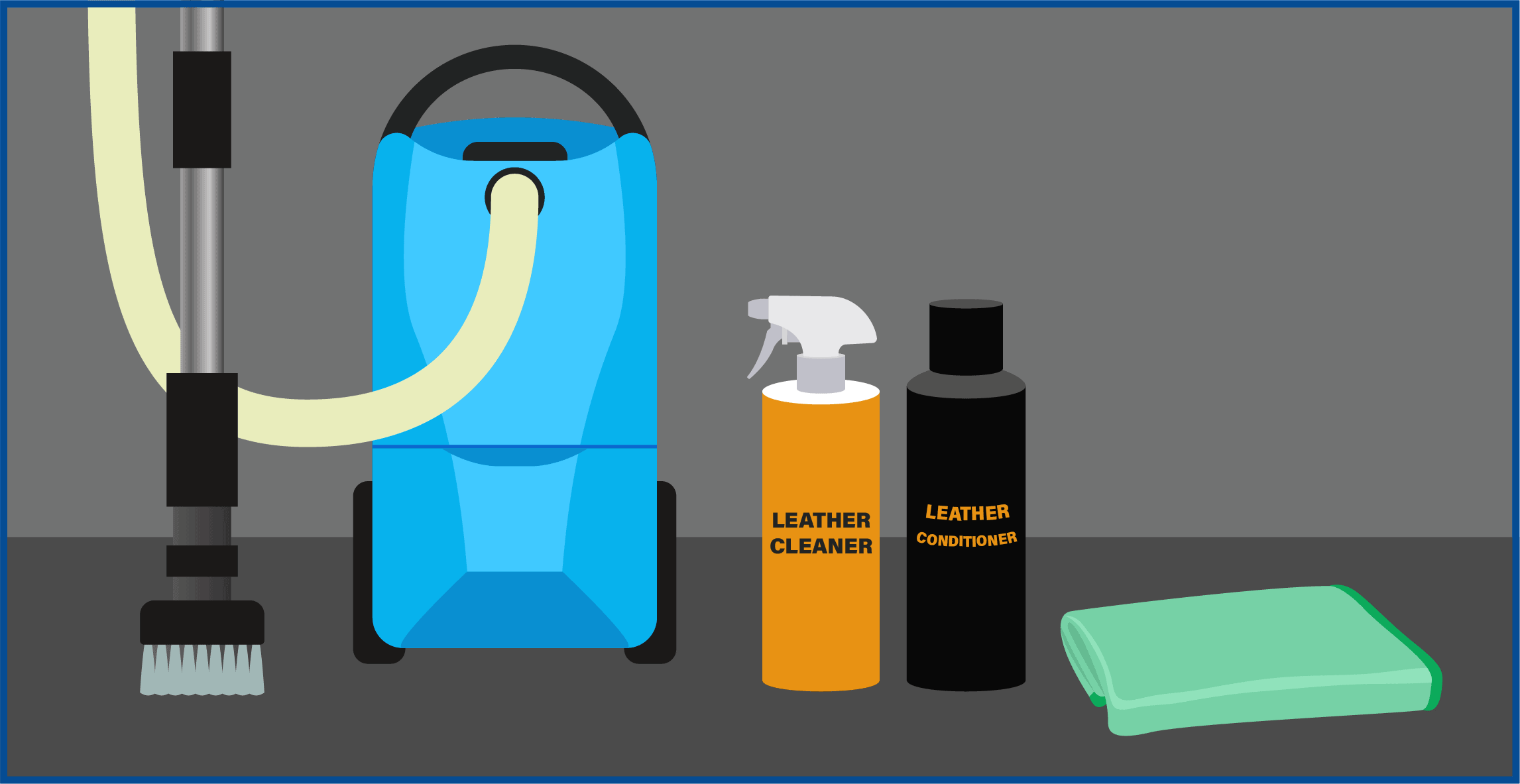 Before you get started, pull together all your materials to make sure you have everything you need:
Vacuum with a soft brush attachment
Microfiber cloths
Leather cleaner (recommendations below)
Leather conditioner (recommendations below)
2. Thoroughly Vacuum Your Seats
As with cloth seats, you'll want to remove all the debris you can from your leather seats with a vacuum. It's especially important not to scrub or grind any dirt into the seats when they're made of leather, according to The Spruce–although "leather offers a great surface that doesn't allow liquids to quickly absorb into the cushions themselves . . . dust and dirt can be rubbed into the leather grain causing abrasions and damage to the surface."
3. Spot-Test Your Leather Cleaner
If you've never used your leather cleaner before, it's a good idea to test it before you use it all over your seats, just in case it reacts badly with the leather. Apply a small amount in a spot that isn't easily visible to test it and ensure it will work for your car seats.
4. Apply Your Leather Cleaner All Over
Follow the instructions on the bottle and apply your leather cleaner all over the surface of your seats, working it into a lather to make sure it's as effective as possible.
5. Wipe Off the Leather Cleaner
Lightly dampen a microfiber cloth and wipe off the leather cleaner to remove it, along with the dirt and grime it's loosened up.
6. Dry Your Seats
Water can stain leather, so it's a good idea to dry the seats thoroughly once you've wiped them down.
7. Add Leather Conditioner
Follow the directions on the bottle for specific instructions. However, the process is probably going to be pretty simple: apply the conditioner with a microfiber cloth, allow it to sit undisturbed for about 10 to 15 minutes, and then use another microfiber cloth to clean up whatever conditioner might be left on the surface once most of it has soaked in.
8. Let the Car Seats Dry
After applying the leather conditioner and wiping away any excess, allow your car to dry for an hour. Preferably, you should give the seats about four hours to dry fully and let the leather conditioner do its job.
The Best Products to Clean and Protect Leather Car Seats
Using the right products is particularly important when cleaning car seats made of leather because leather care typically has more specific requirements than fabric. Here are our top recommendations for leather cleaners and conditioners:
Best Leather Car Seat Cleaners:
Our Pick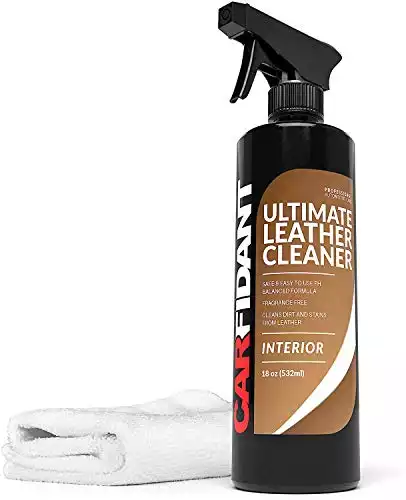 Carfidant Ultimate Leather Cleaner - Full Leather & Vinyl Cleaning Kit
Specifically formulated without any extra chemicals or smells! It is fragrance free and will provide the best in leather and vinyl cleaning abilities without harming the surface or creating and unwanted smells or fumes! It will good for automotive use, sofas, purse, furniture, and other materials!
Buy from Amazon
We earn a commission if you make a purchase, at no additional cost to you.
05/27/2023 11:20 am GMT
This leather cleaner from Carfidant comes with a microfiber towel–effectively a full cleaning kit in two products. It's also a high-quality, fragrance-free product that reviewers report "really deep clean[s] into the leather and ha[s] the leather feeling soft and supple like new again."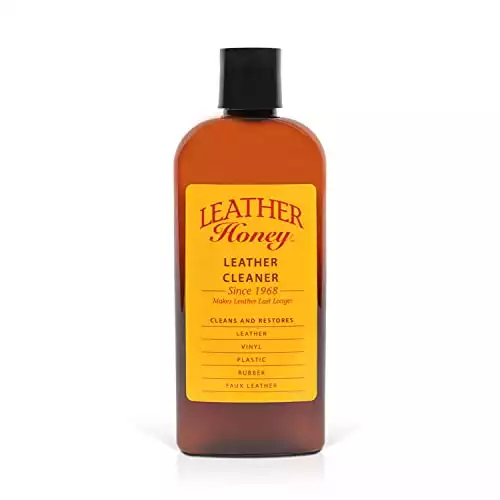 Leather Honey Leather Cleaner The Best Leather Cleaner for Vinyl and Leather
This premixed version of our popular leather cleaner is the same non-toxic, natural product in a convenient, ready-to-use formula. Ideal for all your leather goods, plus vinyl, faux leather, plastic and rubber, our proven formula is powerful, odorless, and chemical-free.
Buy from Amazon
We earn a commission if you make a purchase, at no additional cost to you.
05/27/2023 11:30 am GMT
This is another excellent leather cleaner that's been around since 1968, and it's also the number one leather care product for sale on Amazon.
Our Pick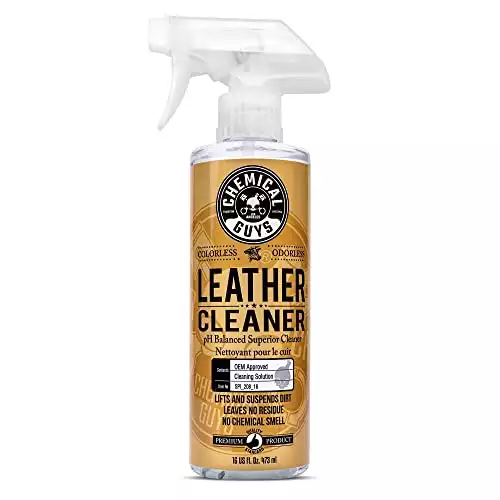 Chemical Guys Colorless & Odorless Leather Cleaner for Car Interiors
Chemical Guys Leather Cleaner Keeps your leather seats and accessories clean with ; the gentle formula removes dirt, grease, body oils, sweat from all types of fine natural leather, durable sealed leather, and synthetic leather materials
Buy from Amazon
We earn a commission if you make a purchase, at no additional cost to you.
05/27/2023 11:40 am GMT
The Chemical Guys leather cleaner is pH balanced to "preserve the leather's strength, durability and appearance." It provides a deep clean that gets into the pores of the leather to remove dirt and debris. Even better, it has a "dry-to-the-touch formula" that only requires the user to spray it onto a surface and buff it dry.
Best Leather Car Seat Conditioners:
Our Pick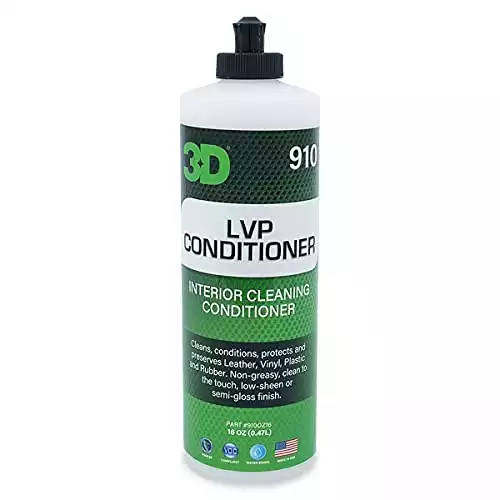 Not only can you use this conditioner on your leather seats, but you can also use it on "steering wheels, door panels, and more" to protect these parts of your car and prolong their lifespan. From one Amazon reviewer of 3D's LVP conditioner: "My beloved car has been taking a beating under the hot Florida sun. My leathers and plastics were getting dingy and bleached out. I apply a coat of this on plastics and vinyl surfaces inside and out and it feels and looks like new again."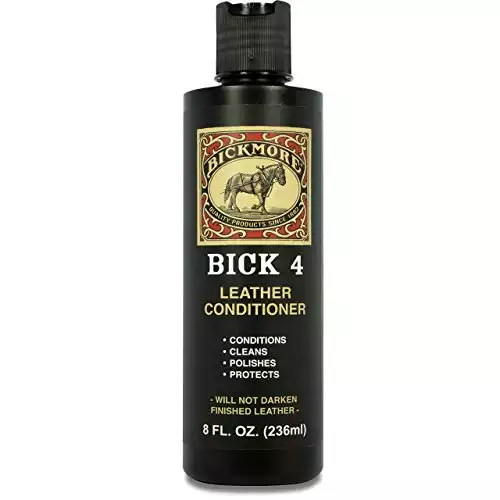 Bick 4 Leather Conditioner and Leather Cleaner 8 oz
Unlike other brands, Bick 4 is a completely wax-free product. This ensures that the leather pores will not seal up, keeping your leather soft and able to breathe. It will not leave any trace of sticky or gummy residue.
Buy from Amazon
We earn a commission if you make a purchase, at no additional cost to you.
05/27/2023 12:00 pm GMT
This might be the oldest product on our list of recommendations. This premium leather conditioner has been around since 1882 and works well on all kinds of leather, including leather car seats. If you're concerned about faithfully preserving the color of your leather seats, Bick 4 leather conditioner will not affect their color and will make them look as good as new.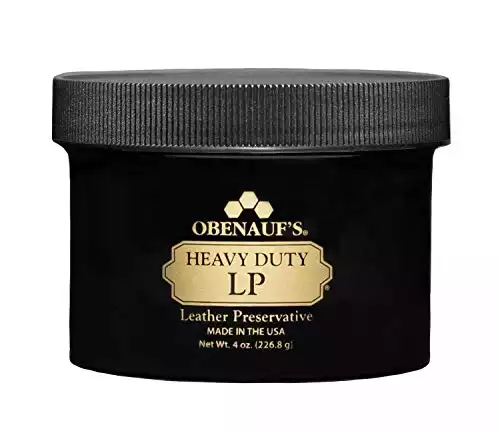 Formulated with natural ingredients like real plant oils and beeswax, this leather preservative cream is "designed to melt when spread on by hand allowing the oils to be gradually released into the fibers as long-term lubrication."
How Often to Clean Car Seats
Cloth car seats
If possible, you should plan to vacuum your cloth car seats on a weekly basis to remove any debris and keep them generally tidy (this is also a good time to vacuum your car mats weekly, while you're at it!). If any new spills occur, you should always spot treat them as soon as possible to minimize the chances of staining.
As for deep cleaning cloth car seats, we'd recommend doing so roughly four times a year, but the frequency is ultimately up to you–it depends on how dirty your car tends to get. For instance, if you have pets and/or young kids, the messes they inevitably create mean that you might need to deep clean your car seats more often.
Leather car seats
We'd recommend wiping down your leather seats at least once a month, but you'll want to deep clean less often than that, roughly three or four times per year. It really varies depending on how much use your car gets. In addition, make sure that you don't use too much leather conditioner–you shouldn't be using it every time you clean your leather seats.
Recommendations for how often to use it vary, but cleaning experts quoted by The Spruce recommend applying leather conditioner a maximum of four times per year, so that's the estimate we're going with.
Other Tips for Cleaning Car Seats
Here are some additional, useful tips for cleaning your car seats that might be helpful, depending on what types of messes you're dealing with:
Protect your seats with towels
If you have to eat in your car, cover the seats with a towel when you do so to ensure that any spills are easy to clean up.
Or use seat covers
Even more effective than a towel is covering your seats using a product made for that purpose, which you can even find in a variety of colors and designs to suit your aesthetic.

Dealing with permanent marker spots
Remove permanent marker spots from leather car seats using an aerosol hairspray as a solvent.
Eradicating mold/mildew
Attack mold and mildew spots using a spray that's a mixture of half rubbing alcohol and half warm water.

Lifting dark stains from juice and red wine
You can remove stains created by substances like juice or red wine from leather seats with a mixture of lemon juice and cream of tartar. Simply apply both to your stain for about 10 minutes, then use a damp cloth to wipe them off.
Cutting through grease
If you have any greasy stains on your leather seats, dust the spots with baking soda to remove as much grease as possible.

Don't be too harsh on leather–use time instead of elbow grease
Rather than applying leather cleaner and immediately scrubbing away, let the cleaning product sit in place for several minutes for maximum effect, and then make sure to scrub gently, so the leather doesn't get damaged.