Throughout the year, our car trunks accumulate a wide range of less-than-pristine items: dirty shoes from soccer practices, sandy beach chairs, wet dogs, unexpected spills, and more. All of these can leave behind stubborn stains and debris in your trunk's carpet. Not only are these stains unappealing, but they can also impact the air quality in your vehicle and even its resale value.
In this article, we'll show you how to tackle stains and spills, share preventive measures, and provide our top three recommendations for car trunk carpet cleaning products.
Supplies and Tools Needed to Clean Car Trunk Carpet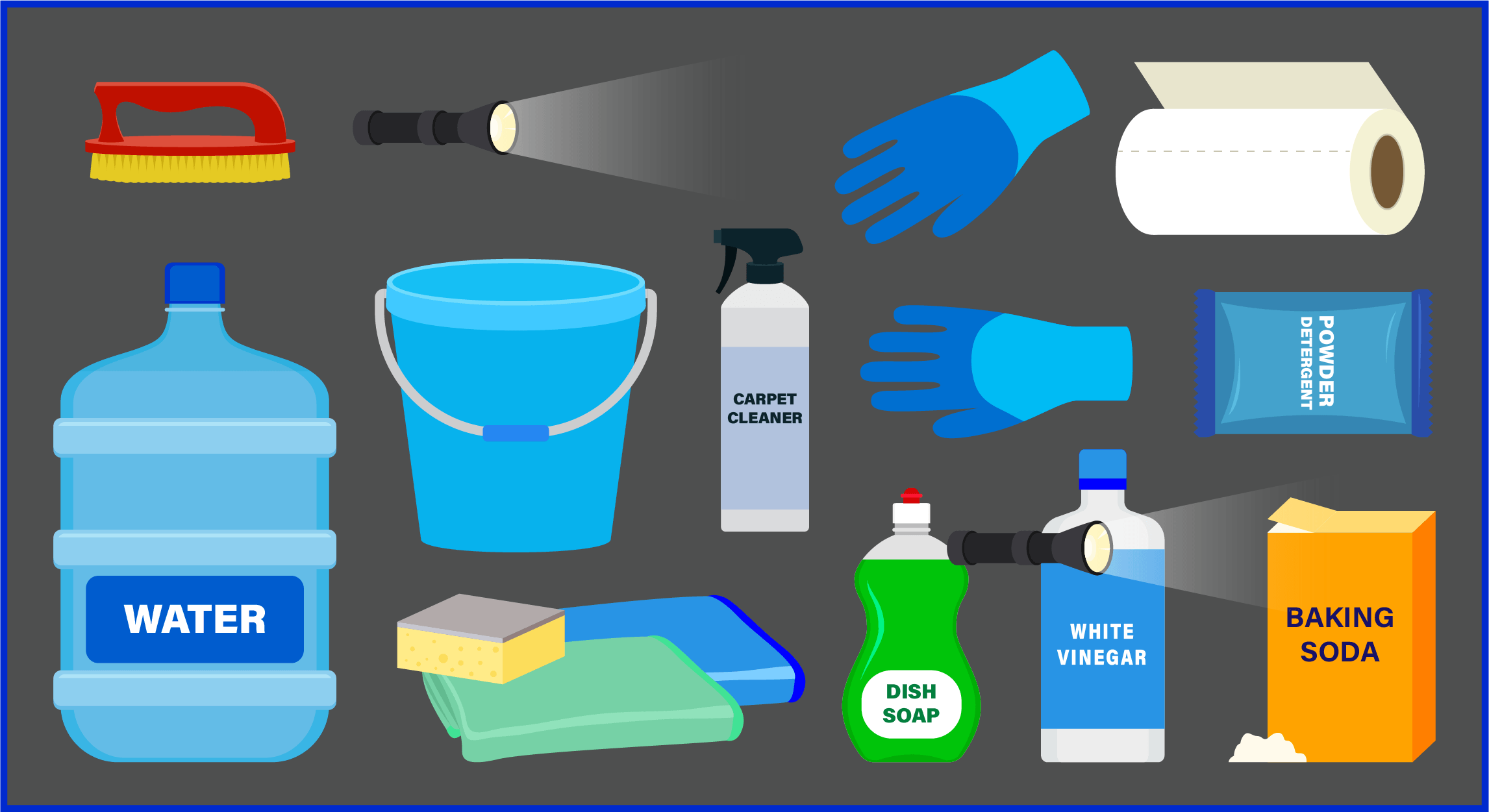 Here are the essential supplies and tools that you'll need to get your car trunk carpet looking brand new:
Wet-dry vacuum
Sponges
Paper towels
Baking soda or cornstarch
White vinegar
Stiff-bristled brush
Commercial carpet cleaner
Dish soap and powder detergent
Water
Bucket
Flashlight
Gloves and goggles
Pre-Cleaning Steps

To properly clean your car trunk carpet, you must first assess the overall condition. Start by finding a clean and well-ventilated space where you can work, and then empty out everything you can from the trunk (pay extra attention to any items you remove that could have contributed to stains or dirt and set them aside).
Next, take a flashlight and get a closer look at the carpet and any hidden corners to determine if there are any stains you'll need to tackle. As we'll lay out in the next section, different types of carpet stains will require different cleaning solutions.
Lastly, if the carpet can be removed from the trunk, take it out and give it a good shake to knock any larger pieces of dirt or debris loose.
Types of Car Trunk Carpet Stains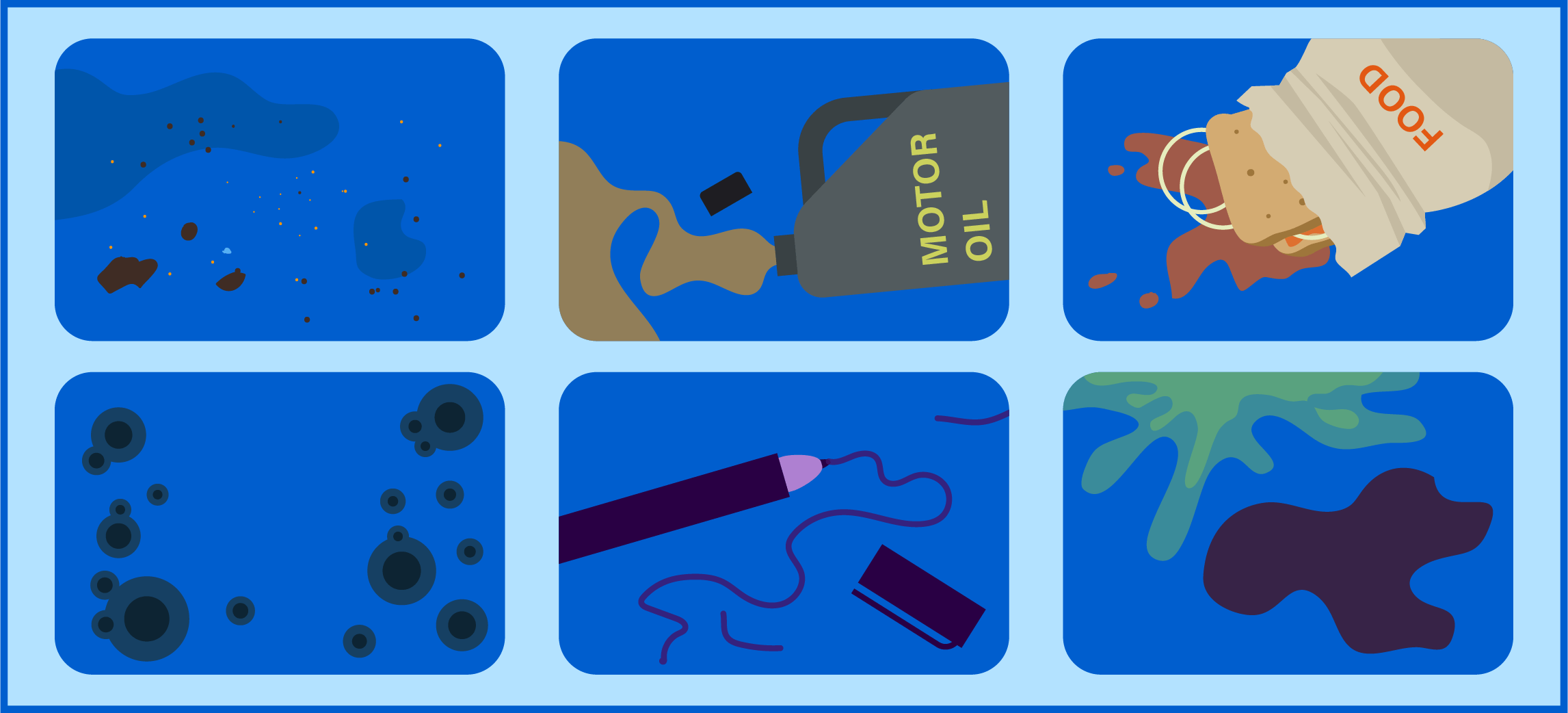 With all of the different things our trunks haul around, there's a plethora of stains that you may encounter. Here are a few of the most common stains and the best method for cleaning them:
General Stains: These are your run-of-the-mill stains brought on by dirt, mud, water, and other natural means. WikiHow recommends that you handle these stains with a mixture of a gallon of hot water, a few drops of dish detergent, and a cup of white vinegar. Soak the stain with a sponge or cloth dipped in the mixture, then follow up with a bristle brush in a circular motion. Blot with a paper towel and repeat as necessary.
Motor Oil: For this slightly more stubborn type of stain, Cleaner's Advisor suggests that you start by sprinkling baking soda or cornstarch on the motor oil stain, leaving it for 15 minutes, then following up with a vacuum. Afterward, blot with a small amount of dish soap on a cloth, followed by blotting with a dry cloth. If the stain persists, continue with the same instructions for a general stain.
Food Stains: Unlike general stains, you want to avoid using warm water on food or drink stains – this will only make them set in further. Instead, use cool water to dilute the stain and then blot with paper towels.
Mold Stains: If you find that moisture has led to mold in the trunk of your vehicle, you'll want to handle these stains with extra care. Dilute white vinegar into a fresh spray bottle, then heavily spray onto mold stains. Once you've sufficiently soaked the area, follow up with a scrub brush and wipe clean. If there is a persisting smell, use baking soda to neutralize it.
Ink Stains: Soak stains from a pen with hairspray, then rinse with cold water after a few minutes. Repeat as necessary.
Blood and Vomit Stains: Whenever dealing with bodily fluids like blood or vomit, it's best practice to protect yourself with gloves. Vomit can be cleaned with unflavored club soda, while blood should be soaked with a mixture of laundry paste and cold water. Both should be given plenty of time to soak in before blotting with paper towels.
How to Clean Car Trunk Carpet: Step-by-Step Guide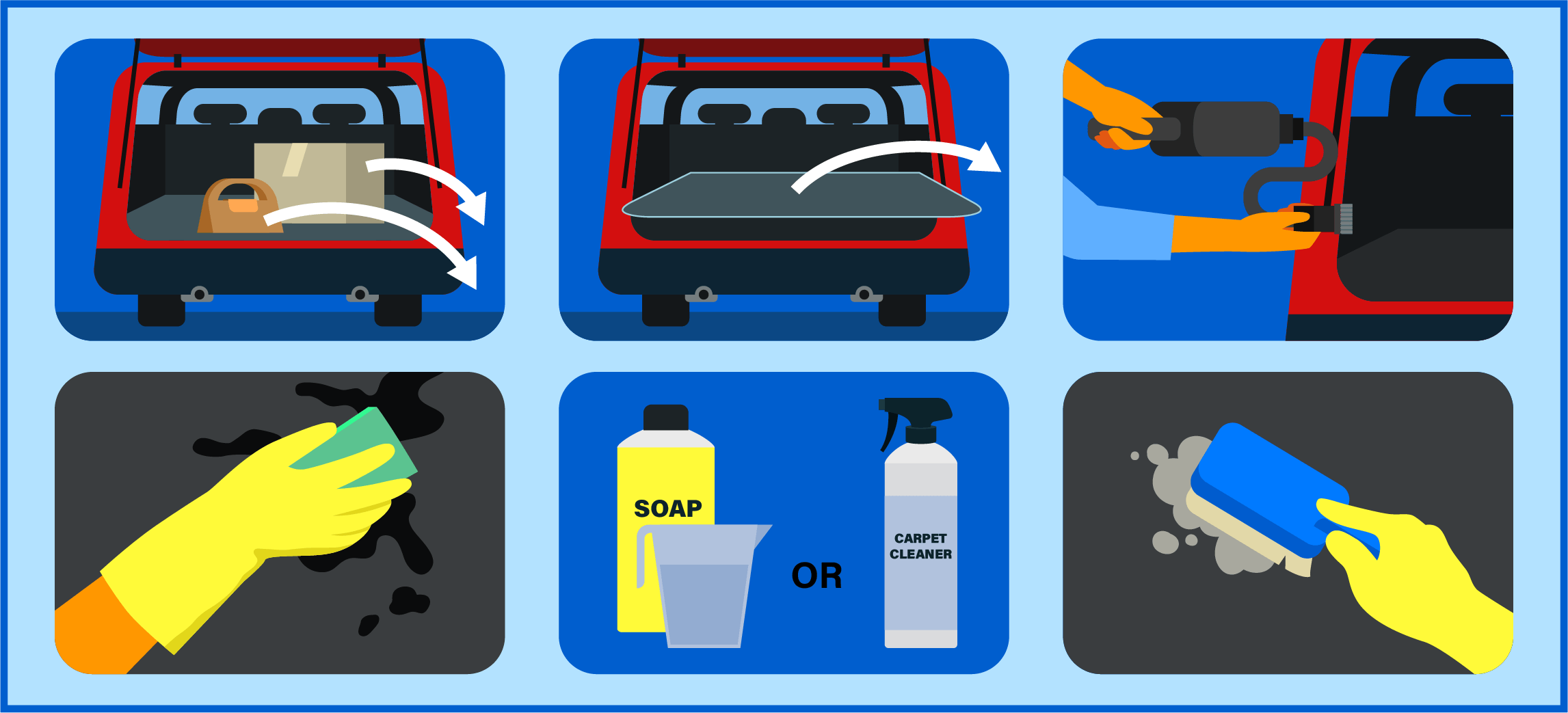 Ready to get your hands dirty and your car trunk carpet looking spotless? Follow along with this step-by-step guide:
1. Empty the trunk: In order to get a clear view of your workspace and determine what type of stains you'll be dealing with, it's important to get your trunk empty before you begin working.
2. Remove the carpet if possible: You'll want to remove the carpet from the trunk and shake off any dirt or debris. This will also make it easier to give it a deep cleaning.
3. Vacuum and wipe down: Do a preliminary vacuuming of the removed carpet and the trunk's interior, getting all the bigger pieces of loose debris taken care of and out of the way. Be sure to remove any spare tires or tools so you can get into every nook and cranny. Also, take some time to use a wet cloth to wipe down any solid surfaces in the trunk that may have accumulated dust and debris.
4. Inspect for stains and assess condition: Grab your flashlight, then closely inspect the carpet and trunk for any stains that may have been set in. Check the carpet for any signs of fraying or damage. Consider replacing the carpet if it's in too poor of condition.
5. Clean stains: Now that you've identified any stains, refer to the previous section for specific cleaning instructions on how to remove them.
6. Wash the carpet: When all of the stains have been tackled, it's time to give the carpet a deep clean. Use a mixture of soap and water or carpet cleaner on a clean cloth, then scrub the entire carpet. Follow up with a hose and rinse, being careful not to apply too much pressure.
7. Let everything dry: Hang up the carpet and give it ample time to dry before returning it to the vehicle (typically overnight is enough time). Park the car in a sunny spot, leaving the trunk and front windows open to get a cross-breeze going.
Importance of Drying and Ventilation
Ensuring your car trunk carpet is thoroughly dry is a crucial step in cleaning. If the carpet is left damp and placed back into the vehicle, it can lead to the growth of mold, mildew, and unpleasant odors, requiring you to repeat the cleaning process.
Moreover, a wet carpet is more susceptible to staining, wear and tear, and can transfer moisture residue to other trunk parts. To facilitate proper drying, working in a well-ventilated area is essential. If parking your car outside in the sun isn't an option, you can place a fan pointed at the open trunk to aid in drying.
Post-Cleaning Car Trunk Carpet Maintenance

Once you've been through the process of deep-cleaning your car trunk carpet, you probably won't be looking to do it again anytime soon. Thankfully, there are a few ways that you can prevent stains and make it less of an ordeal in the future when they inevitably occur:
Regular Vacuuming: Making a habit out of vacuuming your car trunk carpet is one of the easiest steps you can take to maintain it properly. By keeping it free of dirt and debris, you'll avoid them getting ground into the carpet and becoming those stubborn stains that require scrubbing. As a bonus, you'll also become proactive about keeping your trunk uncluttered and organized if you remove everything to vacuum every month.
Immediate Stain Treatment: Although you'll unlikely have the chance to clean every stain as soon as they happen, it's important to go the extra mile and try. When left to sit or dry, removing a stain becomes more challenging. Keeping a bottle of carpet cleaner, some paper towels, and a brush in the trunk will make the decision to clean easier and more accessible, no matter where you are.
Trunk Liners: If you're constantly transporting pets or other things that lead to dirty trunk carpets, consider purchasing a plastic liner. These materials are made of easier to clean and less likely to stain. For a small investment, you can protect the value of your car and make dealing with everyday stains a trivial activity.
Avoid Excessive Moisture: Be extra careful when transporting wet or damp items in your car. Use plastic liners or bags to keep wet things contained and off of your carpet.
Fabric Guard: Consider purchasing an automotive fabric guard for another layer of protection. These products can be sprayed directly on the carpet and repel water, oils, and other substances from penetrating the fabric.
Regular Inspection: There's no substitute for regularly inspecting your car trunk carpet for dirt, debris, and stains. Whenever you're loading or unloading things into your trunk, take a compulsory glance around for anything out of the ordinary and spot clean areas if you have the time.
Using Professional Cleaning Services
There may be cases when it makes more sense to consult a professional automotive cleaning service instead of cleaning your car trunk carpet. Consider hiring a detailer if the stains are too large or too extensive for you to handle or if you don't have the free time to do it.
According to AutoTrader, the average cost of an interior detail starts at around $100 but can go as high as $250 depending on the size or condition of your vehicle.
To find a detailer, ask your mechanic to see who they recommend, or search online for detailers in your area. For someone too busy to take their car in, consider a mobile detailing service that will come to you and clean your car at home or the office.
Products We Recommend to Clean Your Car Trunk Carpet
Searching for the best products for removing stains and keeping your car trunk carpet looking and smelling fresh? Here are our three favorites based on in-depth market research:
Our Pick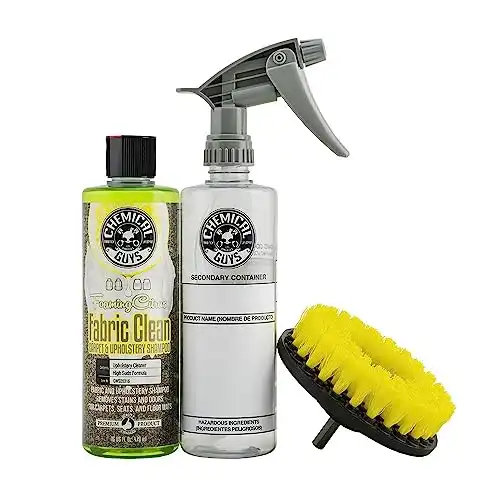 While vinegar and baking soda are effective cleaners, some of the toughest stains require more power. That's where the Chemical Guys come in. Their fabric cleaner is specially formulated for automotive carpets, fabrics, and upholsteries.
The intense foaming power gets deep into stains and pulls them to the surface while eliminating odors. One of the best features is the carpet brush drill attachment – just slap it onto the end of your eclectic drill and let it do the rest! Skip the hours of scrubbing and give yourself a break with this incredibly effective product.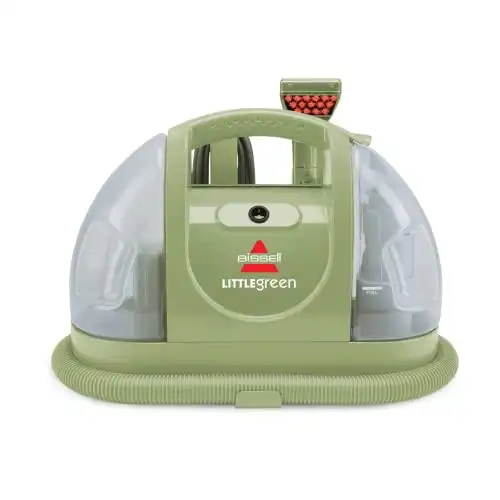 Shampooing your car trunk carpet can be a laborious process without the right tools. Instead of scrubbing it or taking it into a detailer, get your hands on BISSELL's Little Green! The effortlessly portable vacuum is lightweight and has all the tools you need to tackle stains effectively and keep your carpet fresh. Combining powerful suction and spray, you can clean deeper and dry easier – shortening the drying process and getting you back on the road sooner.
Our Pick

Scotchgard 4306-10 4104D Auto Fabric & Carpet Protector, 10 Oz
$18.85
$17.98 ($1.80 / Ounce)
Helps keep auto interiors looking life new
Repels oil and water, blocks stains, and protects against soiling
Powerful barrier causes liquids to bead up on the fabric surface for easy clean up
Buy from Amazon
We earn a commission if you make a purchase, at no additional cost to you.
09/21/2023 09:30 pm GMT
A good defense can be your best offense against stains in your vehicle. Leave it to the professionals at Scotchgard and pick up a bottle of their highly-rated auto fabric and carpet protector. The state-of-the-art formula provides a powerful barrier that repels oil and moisture, blocks stains and protects your carpet from soiling.
After you've given your carpet a complete and comprehensive detailing, spraying this product on will keep things cleaner for longer and make the next round of interior detailing much easier.