What Is a Windshield Wiper and What Purpose Does It Serve?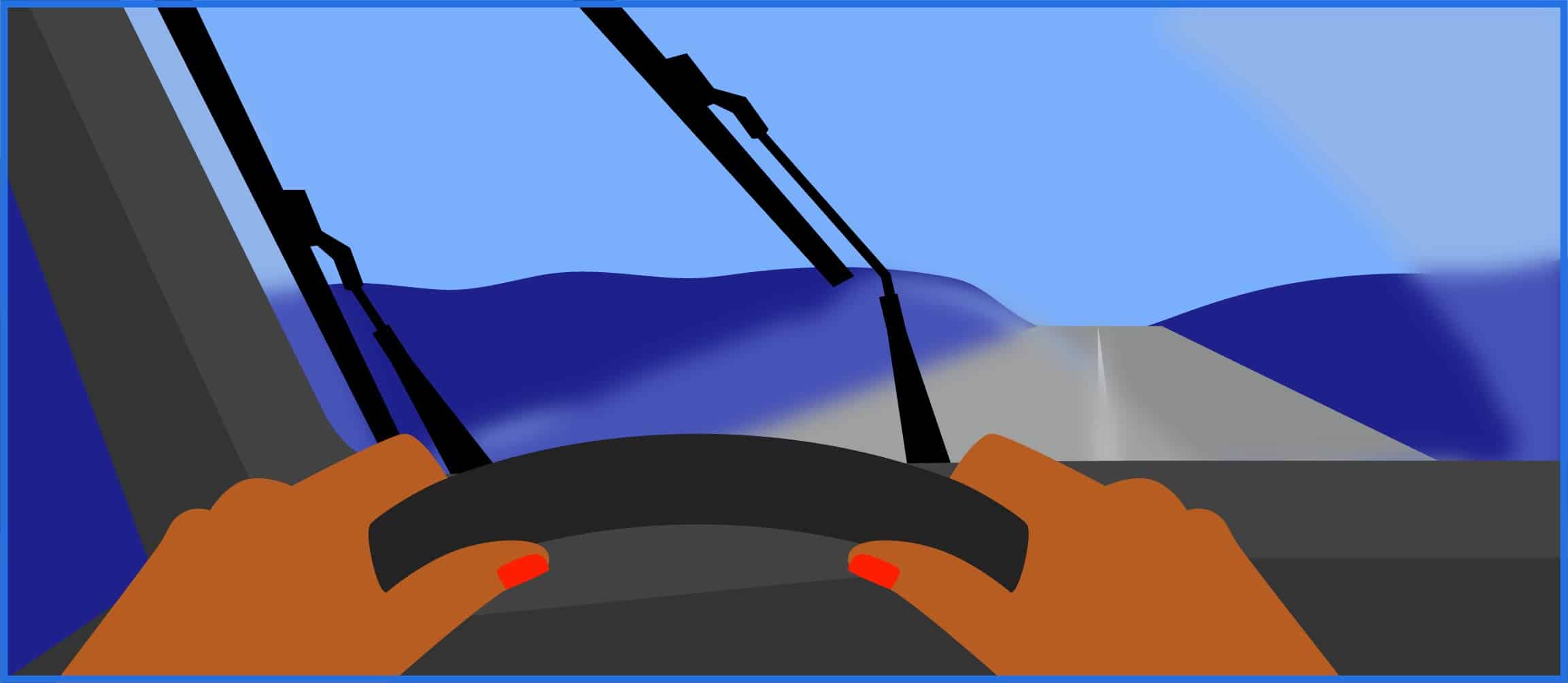 A windshield wiper is a device that sits against the windshield of a car and moves back and forth to remove debris and liquids like rain, snow, frost, condensation, dirt, and pollen to ensure that you can see the road in front of you and behind you as you drive. Virginia Tire and Auto describe their functionality as follows: "The windshield wiper motor moves the windshield wiper arms across the windshield. The metal or hard plastic arms drag a thin rubber (or silicone) blade across the windshield to clear away water, giving you a better view of the road."
Read our guide on how to repair cracks in your windshield.
Although windshield wipers are quite simple, they're essential to driving safely because being able to see where you're going is one of the most basic safety requirements for driving. If you don't replace the wiper blades often enough, your wipers can become increasingly ineffective, putting you and your passengers in danger if it happens to rain and you can't maintain proper visibility while driving.
How Often Should I Replace My Vehicle's Windshield Wipers?

On average, it's recommended that you replace your wiper blades once or twice a year (every six to twelve months). However, this depends on a few factors, including:
The weather and climate where you live
How much time you spend driving
The type of blades you're using (some materials and designs last much longer than others)
Many drivers use oil changes as the gauge for when to get their wipers checked and replaced. Anytime you get an oil change, you should also ask your oil change technician to check the wiper blades. Or if you do your oil changes yourself, that's a good time to check if the wiper blades are in good condition–keep reading for an explanation of how to tell when the wiper blades need changing.
How Do You Know When to Change the Wiper Blades?

As you might have guessed, the most obvious indicator that you need to change your wiper blades is that you can't see the road as well as you used to after turning on the wipers. Things will generally look blurry, and your windshield won't be as clean as it was in the past. But there are several other indicators that tell you when it's time for a new set of wiper blades:
They're making a loud screeching/chattering noise: Your wipers should not be very loud because they should move fluidly and evenly against your windshield. If they are making loud noises when you turn them on, it probably means that the blade's frame is bent out of shape. Keep in mind that some low-quality wiper blades will make loud noises even right after purchase–this is a clear sign that the product is poorly constructed and unreliable.
Corrosion of metal parts: Wiper blade frames are made out of metal that can rust over time. The risk of using a wiper blade with a corrosion-related breakdown is that these blades can break off at any moment. This is an unsafe situation not only because you could be without a wiper blade in bad weather, but also because it could hit another car or even someone walking nearby.
Visibly deteriorating blade: If you can see that the rubber (or sometimes silicone) blade piece itself is showing signs of wear and tear, this means that it isn't working as well as it could be. This can manifest as the rubber piece crumbling, splitting, coming loose from the frame, and so forth.
It's a good idea to check your wiper blades at least once a month to look for these signs of deterioration, and as soon as you notice them, to get them replaced (or do so yourself–we'll explain how to change windshield wipers in our step-by-step guide below).
How to Choose the Right Type of Windshield Wiper Blade
There are many different kinds of windshield wiper blades for sale, so how do you know which ones to purchase?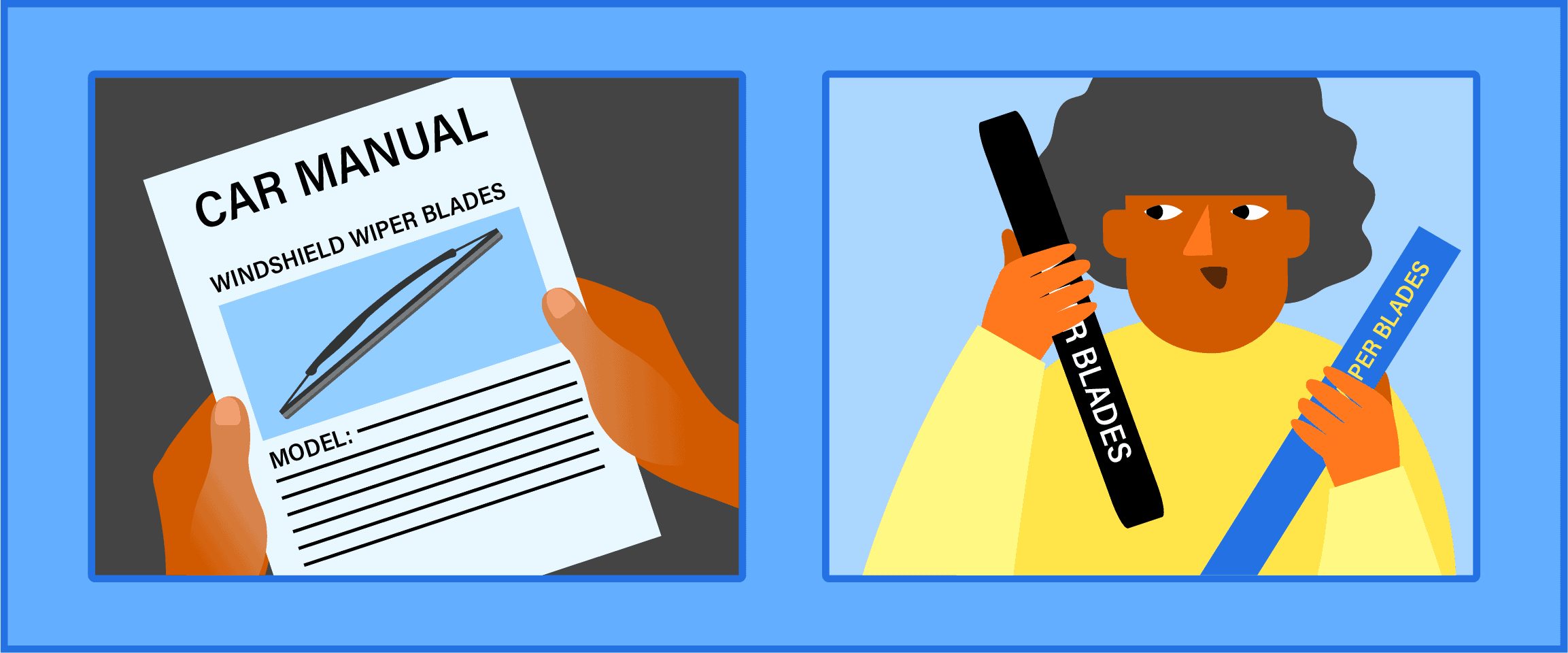 A. Figure out what size wiper blades you need
The first step is determining what size wiper blades you need. Check your car manual to learn what size wiper blades are compatible with your car (some cars will be compatible with multiple different sizes of blades). If you aren't able to check your car's manual, an alternative option is to measure your car's existing wiper blades with a measuring tape or ruler. Many vehicles have wiper blades that are two different lengths, so if that's the case, you should measure both wipers.
B. Decide what kind of wipers you want for your car
The most affordable and commonly-used wiper blades use rubber pieces akin to squeegees attached to a metal frame. But if you have a little bit more money to spend, silicone wiper blades last longer than rubber, are better at clearing water and other debris from your windshield, and make less noise. They are more expensive, but in general, when it comes to choosing wiper blades, the more expensive the product, the higher its quality.
Beam blades are made of rubber and spring steel and don't include an eternal frame, so they're more effective and flexible. For this reason, they're a better choice if you have a curved windshield or are going to be dealing with a lot of ice and snow or other tough debris (if you have cold, snowy winters). Some blades incorporate strengthening materials like Teflon or graphite for cold weather, making them incredibly durable.
C. An easy shortcut for choosing the right wiper blades: Amazon "Filter by your vehicle."
As you're looking for the right product, one piece of advice we'd offer is to use Amazon's "Filter by your vehicle" function. Doing so ensures that the wiper blades you're looking at are compatible with your car's make and model, because it only shows products that work with your car type. It'll save you plenty of time and energy, so be sure to give this awesome tool a try.
How To Change Windshield Wipers On Your Car

Replacing the windshield wiper blades on your car is a great idea, because it can save you labor costs of $8 to $12, according to the experts at John's Automotive Repair. If a standard windshield wiper replacement costs $23 to $28, doing it yourself will only cost you the price of the replacement blades: $15 to $26 on average. If you want to save some money and learn to replace your windshield wiper blades, rest assured that the process is super easy–keep reading for our step-by-step explanation!
1. Put your wipers in the correct position
Start your car, squirt some wiper fluid on your windshield, and then turn on your wipers. This step will require some careful timing: as the wipers move back and forth, wait until they're pointing directly upward and turn off your car right at that moment. Then, step out of your car and pull the arms of the wipers forward so that they're sticking straight out, perpendicular to the surface of your windshield. They should lock into place with an audible clicking noise.
Since wiper arms are spring-loaded, be careful not to let them snap back onto the windshield (they could potentially crack it). In case this happens, while doing this, it's a good idea to cover your windshield with a towel or thick piece of fabric to protect it from direct contact.
2. Remove the existing wiper blades
You might have to go to your car's manual for specific instructions on how to do this, because some cars have different mechanisms holding the wiper blades in place. But in most cases, there will be a plastic piece keeping the blade in place at the joint where the blade is attached to the metal arm of the wiper. If you push this plastic piece back, you should be able to unhook the wiper blade and free it from the arm.
In some cases, instead of a hook, there might be pins holding it in place. You might need to use a flathead screwdriver to remove the pin, so check your car's manual if you're unsure how to do it.
3. Put on the new wiper blades
Now that you've removed the old wiper blades and know how they attach to the wiper arms, you should better understand how to replace them. For each of the two arms, put the new wiper blade onto the hook (or secure them in place with the pins) and snap it into place, then gently flatten the wiper back down onto your windshield.
That's it! It's a very simple process on how to change your windshield wipers.
The Best Replacement Wiper Blades We Recommend
Now that you know how to replace your windshield wiper blades, if you need to purchase new wiper blades to do so, we'll advise you on which to choose. Here are three of our top recommendations:
This product is the site's best-seller among all the wiper blades available on Amazon. This is probably because it strikes an outstanding balance between affordability and reliability–you know you're getting a good product, and you won't be paying exorbitant costs for it.
The fact that the Amazon listing for this product has more than 100,000 (!!) reviews adding up to 4.5 out of 5 stars, backs this up even more. Rain-X products stand out because the wiper blades are coated in a water-repelling formula that the wipers apply to the windshield of your car as you use them, which lasts for months. In addition, it's incredibly easy to install, with a pre-installed universal adaptor that takes minutes to use and is compatible with 96 percent of vehicles.
Here's another affordable product that has a 4.5 out of 5-star rating, coming from more than 1,000 reviews. Their most notable feature is that they're made out of a novel material called neoprene-infused natural rubber (NNR), which provides the best features of both rubber and neoprene. NNR "combines natural rubber's cold weather resistance and airtight adhesion to glass surfaces with neoprene rubber's extreme durability to heat and protection against abrasion that guarantees lifelong noiseless operation."
They also belong to a category of wiper blade known as "hybrid" blades, which means they have the aerodynamic frame of a conventional blade (minimizing friction) along with the tension spring tech used in beam blades (ensuring an even wipe every time). Finally, they come with a 6-month warranty in case you have any issues with the blades during that period, which reflects the manufacturer's confidence in the quality of their product.
If you're willing to spend a little bit more on your wiper blades, the Rain-X Silicone Endura is worth it solely because the silicone squeegee lasts twice as long on average as more common natural rubber squeegees. It's also going to be a particularly good product for you if you live somewhere with particularly extreme weather.
Its wiping efficacy has been tested at temperatures ranging from -20°F to 194°F and has proven consistent. But even if you have a more temperate climate, you'll appreciate that these wipers are ultra-effective and don't leave streaks, even when used while dry. Finally, they're designed to be extra easy to install, using what they call a Uniclick Adapter System to make installation quick even on specialty wiper arms.